The table is set for some bracket fireworks.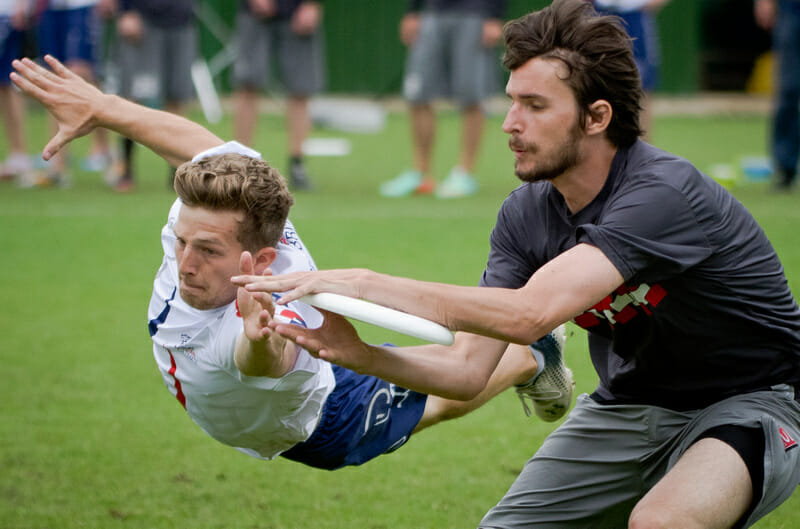 Day four in London saw some slightly better weather, and some even closer contests. Despite some early rain, most of the weather during gameplay was the best it's been all week. The Open Division began power pool play, while Mixed positioned themselves for theirs. The Women continued their never ending round robin, and some of the top seeds finally matched up. All in all, it was another wild day as we prepare for some exciting bracket play.
Open Division
Germany has been dominant so far this tournament. Their first real contest came this morning against Japan this afternoon. They dispatched the Japanese 17-14, thanks to an impressive performance from captain Mo Brucklacher (four assists, two goals). In their win, 15 German players had either an assist or a goal. Head coach Tim Buchholz noted this as a huge advantage for his squad. "If you look into the stats, you see that every team has their main players," said Buchholz. "But if you look into ours, it's a broad and even spread. We are very strong at every position."
In talking with Buchholz, you find that the German team exudes confidence. "If anyone comes onto the disc, we are very confident that they can get it downfield," he said. That confidence stems perhaps from this team being a unit longer than most, if not all, other teams in attendance. Their roster has been set since around November of last year, and they've traveled and worked together as a team. They even set aside a few weekends in the spring to travel together, just for fun. "Once players now how to act around each other, like what to say, it can be extremely helpful," Buchholz added.
He also mentioned Germany's small pool of players to choose from, noting that at one point recently the city of Toronto had more registered Ultimate players than the entire nation of Germany. To make up for that, the German ultimate national program has been teaching three main pillars for success. "The first is physics. We are very strong this year," Buchholz said. "Then it's tactics. I think we in Germany have good youth programs, and we've gotten broad experience with international competitions." That may be an understatement. The German U23 squad has 13 players who play on Germany's national open squad.
"The last is focus," Bucholz said. "We knew that if we do the right things today, and we keep our head in the game, we have the feeling that there is no problem to win against some of the big Ultimate countries."
Germany plays Canada tomorrow in what could be one of the best games of the week so far.
Later in the day, Australia took on the host nation. Great Britain got off to a slow start, going down 4-1. But after a slow and steady comeback, Great Britain was able to force a double game point. An Australian miscue on an under throw gave the British an opportunity to keep themselves in the hunt for bracket play. Andrew Hillman hit Benedict Poole on an around bladey flick, sealing the deal in front of the home fans.
"We want to be proud of representing our country," said head coach Jools Murray after the game. Like Germany, Great Britain as a unit has been together for quite some time. They first played together in October, before setting a final roster in place. "We're incredible close," said Murray. "We haven't had any trainings; all we've done is compete in tournaments." Because of that, the Great Britain squad is used to being in a tournament environment together. "We understand what makes each other tick, and if you want a team to play better than the sum of its parts, that bond has to be there," he said.
It sure doesn't look like the British are finished. Throughout the week they've been polishing their offense and starting to tap into what it takes to win big games. "For a lot of these lads, they've never played at this level," Murray noted. "We're starting to understand what it takes to be on form for a whole week rather than just two days." The host nation will have to find their peak soon if they want to compete with some of the powerhouses of the division. But at first glance, the pieces are there.
Mixed Division
The first round of the day saw the Mixed Division's second double game point finish. As it turns out, it's Japan's second as well. The Japanese were the Canadians' first challenge of the week, forcing them into a tight contest late. After a 7-3 lead seemed comfortable for Canada, the Japanese rattled off four straight, tying it up. Enter Alan Scarth. On the big stage, Scarth was the man of the hour, with both a huge layout D and a vital handblock on double game point. After a wild point, Kinley Gee found Karen Hatch in the endzone for the win, 10-9. Scarth finished with three assists.
Canada wasn't done for the day. Next they had Germany, who have rebounded well after a surprising early week loss to Chinese Taipei. To have a chance against the now awoken Canadian squad, Germany would have to be near perfect. And for nine points, they were. Neither team turned the disc over for nine straight points, making it one of the cleanest games of the week so far. During a 5-4 Canada lead, the quest for German perfection ended. A dropped disc gave Canada a chance they wouldn't let go to waste. Canada took a one break lead, 6-4.
The German defense then began to lock in on what the gameplan for Canada was, resulting in two quick breaks. The Canadian response was good, but it still left them with their slimmest halftime lead at the tournament, 9-8. But the halftime adjustments were too good. Canada was still close to perfect in the second half. Matthew Ladyman was stellar with five goals and three assists. A 17-13 win put a bumpy day behind Team Canada. 
Women's Division
The Canadian women had the same tough matchup as their compatriots: Japan.
A quick few breaks from the start allowed Canada to trade for a 9-7 lead. They would trade two breaks in the second half, but the initial surge would end up being the deciding margin. Final score: 14-12.
For the better part of the game, Japan ran a diamond zone downfield. That zone was consistently broken by captain Mira Donaldson, who finished with four assists and a goal. "They're all over the place," said Donaldson after the game. "Colombia had something similar, so we've played a lot of zone O throughout the tournament."
With that big win over Japan in the books, the Canadians can finally tell how they react to a challenge. "It was a really good test for us," Donaldson noted. "We hadn't had a game together as a team where we had to fight through competition like that, so it was really nice to see how our team comes together."
Everyone will be looking at how team Canada comes together for the game that's circled on the schedule: USA. They'll play tomorrow in the second round of the day. Canada has definitely shown that they have what it takes to take down the favorites, but the USA has looked virtually unstoppable so far in the tournament. If they play their cards right, Canada may get two shots at the defending champs.
***
Thursday will host the men's quarterfinals, the USA vs Canada Mixed game, and the Women's final push towards semifinals. One of the beautiful things about this tournament is that the record, the hype, and the skill that you've developed all week can very quickly be taken away by a superior opponent. And what's even better is that every team has that chance to get the stunner win. Tune in tomorrow to watch the picture take shape.
Fun fact, all three of Canada's closest games have come against Japan. The Men won 15-12, Mixed 17-13, and Women 14-12.