Prairie Fire made Nationals in 2014. Can they do more than just get to the show this year?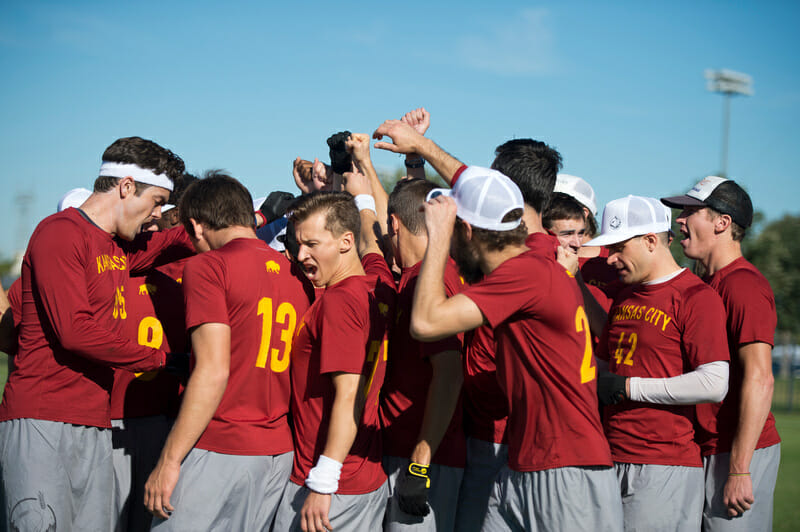 It took the ultimate community a good three months of the 2014 season before people finally believed that Kansas City Prairie Fire was the real deal. They had been ranked highly in the weekly Triple Crown Tour rankings, but until they spanked North Central heavyweight Madison Club twice at Regionals, they were just another mid-level, small market team from the middle of the United States. You could say they surprised some folks.
This year, Prairie won't have the luxury of surprise. With the strongest schedule in Prairie Fire's history, and a roster loaded with athletes and playmakers from all over the midwest, Prairie Fire isn't flying under the radar anymore. Last season was about making it into the spotlight, this season is about proving they belong there.
Athletes Galore
Prairie Fire, due to the relative lack of major club teams between Chicago and Dallas, has one of the larger recruiting pools in the country.  They've snagged former college stars from Kansas, Missouri, Arkansas, Oklahoma, and Texas, making up one of the more diverse rosters in the country. Valley Renshaw, an ex-Doublewide player, and Jay Froude, a former U-23 standout who played his college ultimate at Mizzou, are as athletic as anybody in the country and will be the downfield playmakers for this squad. Jesse White, who played well for Missouri this past college season, and the lanky Kaplan Mauer from Arkansas are just two of a number of other speedy young cutters on the roster.
Brett Hidaka, Abe Coffin (U23), and Joe Young are the guys that want the disc in their hands. They are quick and dynamic handlers, often starting downfield in the stack, and catching the disc on the move, where they can do damage from power position. In addition to their on the field skills, Hidaka and Coffin provide a bit of that youthful edge and fire that makes teams like this fun to watch (and hard to play against). Expect to see Coffin playing huge minutes on both sides of the disc. He's a joy to watch on defense, darting around the field like an inexhaustible terrier, making opponents miserable.
Finally, you have surely heard about it by now: Brett Matzuka will not be playing with Prairie Fire this year, leaving the team to join Chicago Machine. There isn't much left to be said about his departure beyond this: he is a talented player, but I think both parties are content (at least publicly) with the way things ended up.
Never Stop Moving
They key to Prairie Fire's offense last season, and early this season, was keeping the disc moving, and making sure it ended up in the hands of their athletes in space. They've got an endless supply of cutters that run hard; their handlers are similarly tireless.
They utilize the width of the field via a wide split-stack or horizontal stack. They are known to use their break side cutters as initiators on pull plays, sometimes putting Hidaka or Coffin in these positions, then clearing out the middle of the stack so they have room to sweep across the field, getting the disc with their defender on their back.
They beat defenses by ensuring that they are never comfortable, changing the angle of attack as much as possible. It's nothing particularly unique, just a fairly quick moving offense. Against teams that can't match their athletes, it runs smoothly. But on teams with equivalent athletic abilities, or who are equally well-conditioned, they can run into some problems. Beyond Coffin, they lack a player who can will the offense with his throws. If the cutting pattern is disrupted, their offense tends to stagnate.
Joe Nickels and the other team captains hope that they can make their team more than just about the athletes on their roster. "[Prairie Fire] has always been a young and athletic team, but we've added even more experience this year," said Nickels. "This perspective and veteran presence should increase our composure and focus in critical games." They know they will need more than fast cutters to beat the best. Time will tell if their roster has developed the veteran savvy needed to make the adjustments needed when their "tried and true" just isn't doing the trick anymore.
Just A Flash In The Pan?
Prairie Fire's schedule this year is the toughest it ever has been.  This brings both excitement and a little bit of apprehension to the leadership. Joe Nickels, had this to say regarding the differences between this year's schedule and last year's:
Last year, we had a little more time to experiment and adjust to speed of play, especially at tournaments. This was a great benefit for team-building and tactical development, but I think it hurt us from a player-development standpoint. We weren't challenged enough in the early season. This year, our individual players are being challenged much earlier, and much more often. That's a huge benefit in the long run, but we've had less tournament time to tinker with personnel sets and team-wide strategies.
We already can see some of the challenges their improved schedule brings. At this year's Elite-Select Challenge in Ohio, Prairie Fire was inconsistent at best. They finished 3-4 on the weekend, and few wins came against big name opponents they would hope to see in the postseason. Getting crushed by Philadelphia Patrol can't feel good, and close losses against Machine and Sockeye probably don't ease the sting of another loss to Garden State.
Their notable victory came against fellow North Central opponent Sub Zero. With Madison Club and Sub Zero yet to prove they solidly belong in Frisco this year, the jury is still out on who will emerge from a weaker looking North Central. Prairie Fire actually looks like the strongest candidate out of these three just based on early results.
The Prairie boys knows the eyes of the world are on them this year, as they try to establish their 2014 season wasn't a fluke. However, they are trying to "focus on things we can control. In general, people draw conclusions (positive and negative) based on a pretty small sample size. Our success or failure will depend on our play in a handful of games, not on anything anyone says about those games."
When it comes down to it, they are right. A few key games will determine the season for Prairie, and this year, those games should take place in late September, at Regionals. Their team goal is to once again earn a bid to Nationals, but as usual, Madison Club and Sub Zero are waiting. We will see if the "deepest and most skilled team [Prairie Fire] has put together" has what it takes to make it back to Frisco.
Likely Ceiling
National quarterfinalist.
This team, should they continue the rapid growth we saw last year, will have a more veteran and experienced lineup. If they can manage their in game adjustments, and remain mentally tough, they could easily surprise a team in prequarters, especially a team that they could outmatch athletically.
Likely Floor
Loss in Game-To-Go at Regionals.
Prairie Fire is talented, and the North Central is weak this year. But if the region ends up with only one bid, they could be in trouble. It could be tough for them to fight past both Sub Zero and Madison. Sub has been an offensive juggernaut in years past, and while they've been inconsistent to start the season, they remain a very difficult team to beat when they are clicking.