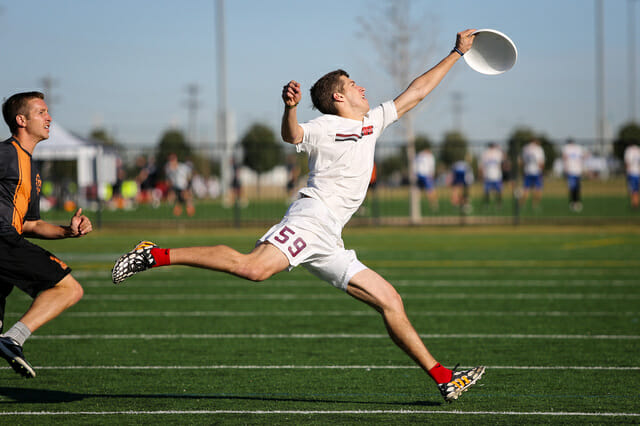 After making a splash in their inaugural season, Temper is looking to climb higher in 2015 as the Pittsburgh club begins year two of their involvement in the Triple Crown Tour. After merging with crosstown rival Dire Wolf in the offseason, expectations are sky high that maybe this is the year that Pittsburgh finally has a club program ready to take on the big names in the game.
Overall Indicators
2014 Nationals: 12th place
2014 Mid-Atlantic Regionals: 2nd place
2015 US Open: 9th place
Positives
Temper can reasonably claim to have the best young talent in the sport, with three U23 players on their roster to go along with the dynamic duo of Alex Thorne and Tyler Degirolamo.
The Dire Wolf pickups round out a squad that was top heavy at times in 2014. They now have a roster that really goes 27 deep.
Many of the names on the Temper roster were players on the AUDL's Thunderbirds this season. Temper will be looking to build off the chemistry and success of its semi-pro counterpart.
Negatives
This is still a program that hasn't managed to win "the big game" yet. They lost twice to their regional rival Truck Stop last season, including in prequarters at Nationals.
The merger with Dire Wolf has brought more talent to the squad, but potentially jeopardizes the chemistry from last year.
Potential talent is still just potential until it is realized, and right now several key players on this Pittsburgh team are waiting for their big breakout on the club level.
Season Outlook
After a successful first season, Temper was always going to be a team to look out for in 2015, but their merger with fellow Pittsburgh team Dire Wolf has taken expectations to the next level.
For a city with a large ultimate community, a historically great college program, and one of the best high school programs in the country, it was always odd that the Steel City could not put together a club team that could compete at an elite level year in and year out. Temper is looking to change that narrative this season.
Coach Ben Banyas has stressed that building a sustainable program is on the forefront of everyone's mind in Pittsburgh this year, not just wins on the field. This attitude, and the merger that accompanied it, are part of a process that Banyas claims will produce "the highest possible level of ultimate that Pittsburgh can play."
Putting the pieces of a great program together sounds good in theory, but things are always easier said than done. It takes time, patience, and collective buy in from a large group of people to achieve what Banyas and Temper are setting out to do. This can be especially tricky when on field results are not immediately what they could be. Something that Banyas believes will help the process is the team's focus on communication.
"The real measure of success for Temper," said Banyas, "is if the people involved truly feel at the end of the year that the season was worth their time, sweat, money, and blood. If we can communicate why that investment is worth it, then it will translate into more traditional measurements of success."
What exactly the expectation is for those traditional measurements for Temper this season is unclear. As a new team with lots of talent but no real experience of sustained success, Pittsburgh finds itself without a role in the hierarchy of elite club teams. Their lack of historic success precludes them from being mentioned in the same breath as Ironside, Revolver, or Doublewide, but their undeniable talent pool elevates them above teams like Prairie Fire that also made Nationals for the first time in 2014.
This season Temper are a swing team, capable of either leaping into the semis conversation or gestating for another year in the lower ranks of Nationals caliber teams.
Which of these possible futures comes to fruition will likely depend on how well the young studs on the team play, and how quickly they can adapt to being go-to guys on the club level. At Nationals last year, Max Thorne showed he was made of top shelf stuff after posting an incendiary 16 goal, 13 assist performance, but Temper will need more like him if they hope to take the next step.
A player who may need to raise his game this year for Temper — and it seems strange to say this since he might already be the team's best player — is Tyler Degirolamo. After definitely proving himself the best player in the college game at Nationals in 2013, Degirolamo has only been "okay" so far as a club player, at least by the standards of someone who has the potential to completely dominate the division.
This season with the Thunderbirds, he posted some ungodly stat lines, most notably his record breaking 86 assists on the season. If he can translate that performance to the club series, then Temper might be closer to the semifinals than their somewhat disappointing start to the year at the U.S. Open would indicate.
Likely Ceiling
National Semifinalist.
With Ironside, GOAT, and Ring all seeming to be dialing it back a bit this year, it isn't out of the question for a team like Temper to make the semifinals. To do so, Degirolamo will likely need to make a Mark Lloyd-like leap this year at Nationals and win an elimination game almost single handedly. They also may need to get the right matchups, as they have shown that they can scrap with the best of them, but have trouble beating teams like Boston or Seattle that play very clean.
Likely Floor
Prequarters Exit.
The talent is definitely there for Temper, and considering the top competition they will play during the regular season, they should be able to snag another bid for the Mid-Atlantic. Once they get to Nationals. however, the cohesion between the two merged programs will be put to the test, and the young talent on the team will need to perform when the lights get bright.
We saw a Pittsburgh En Sabah Nur team melt down at Nationals this season with several of the same players, and it isn't out of the question that Temper could see another first round exit in 2015 if they come out flat or lose composure in the elimination rounds.
In 2014 Temper showed at Nationals that Pittsburgh belongs in the conversation of top ultimate cities by putting together a real club program. Their day one performance showed what they could do well, but their day two losses showed how hard it is, and how far they have to go until they are really considered a no-doubt-about it first tier team.