Boston BUDA got their first-ever title in the U19 Boys' Division at YCC.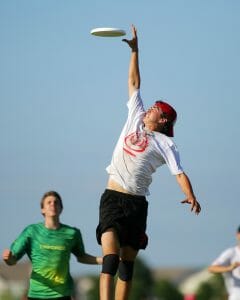 For the first time in Youth Club Championships history, Boston BUDA is the champion of the U19 Boys Division. After facing the tougher road to the finals, which included the 3rd and 5th place finishers, Boston took down North Carolina Triforce 13-10 in an intense and spirited game.
After both teams played their semifinals at 8:30 AM, a 2:30 PM start already meant for a long wait. It got even longer after the game was delayed two hours by thunderstorms. "The rain delay didn't really affect our team too much," said Boston star Tannor Johnson, also a player for Boston Ironside and a UMass commit. "If anything it slowed us down mentally and we had to climb back up to game ready in the warmup time we had."
It obviously didn't slow them down much as BUDA took half 7-5 with the only break coming on a goal from Luke Webb. Triforce started the second half strong as they quickly overcame the two break deficit. They took a 10-9 lead when a BUDA huck to a wide open receiver bladed into the ground.
Triforce was able to work it up the field and Elijah Long hit Matt Gouchoe-Hanas for the score after a timeout. But BUDA wasn't phased. "Even though we were down a break we didn't really lose our mental focus and kept to the things we knew how to do," said Johnson.
After an offensive hold, great reset defense by BUDA forced a stall nine huck from Liam Searles-Bohs that was knocked down. Boston's switch to a poaching man defense that generally fronted downfield cutters was key for them throughout the second half. "Getting an offense out of its comfort zone for an entire half can be a two point swing," said Triforce coach Jon Nethercutt. "And in a game that close, that can be all it takes."
Boston worked it up for the break on the back of Johnson to take an 11-10 lead. Webb sealed the game for BUDA with an incredible layout catch on a disc that looked sure to be a turnover to bring the score to 12-10. Although we had already seen a comeback from the same score in the mixed final, Triforce looked defeated.
"The last three points of the game, our legs were starting to go," said Nethercutt, who credited the Boston defense for tiring out their players.
After two uncharacteristic turns from the Triangle team, Tim Schoch hauled in the winning score to give BUDA their first ever victory in the Boys' Division.
BUDA was without the service of star handler and Pitt commit Noah Robinson. Robinson suffered a concussion on a huge layout D against Chicago and was only allowed to play very specific points. His counterpart, Johnson, however, was incredible all game. In addition to being a dominant deep cutter he often came out and handled near the end zone where he was unguardable. "You're in a bit of a catch-22 because there's no great way to play him," said Nethercutt. "He didn't kill us by himself, but he helped them out a lot."
Dillon Lanier drew the matchup for most of the second half and, despite doing a decent job, could not slow down Johnson, who racked up seven assists in the game.
Mac Hecht, headed to Brown this fall, was also a key player for BUDA. He would often initiate the offense and consistently found room underneath. From there he could beat you with either his throws or his legs.
For Triforce, the obvious star was Searles-Bohs. Despite having two more years of high school left, he was one of the most developed players at the tournament. Searles-Bohs impressed all weekend with huge throws that seemed to always hit his receivers in stride. He was usually alongside Matt Gouchoe-Hanas, an outstanding defender and Ultiworld 2014 College Rookie of the Year honorable mention. Gouchoe-Hanas rarely threw hucks but was a steady handler and defensive beast.
Additional reporting from Charlie Eisenhood.