There was so much talent at YCC this year.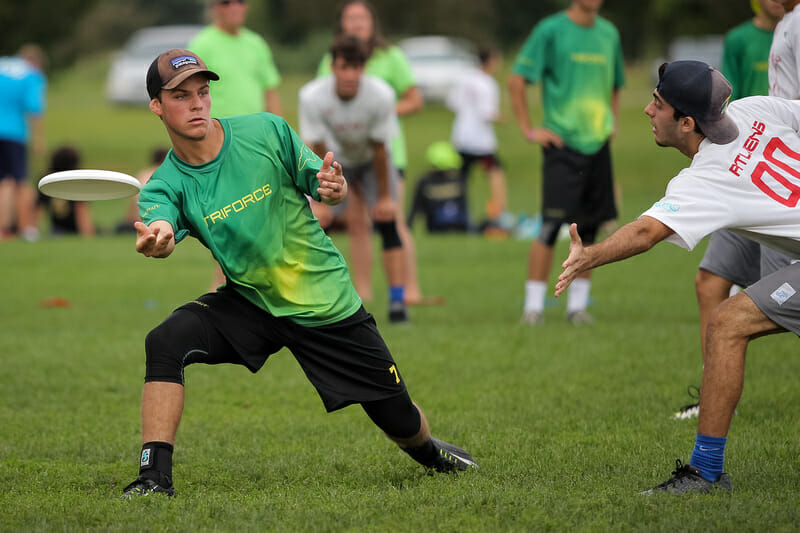 BLAINE, MN — With the biggest (and deepest) field in YCC history, the U19 Boys Division was a spectacular showcase of the country's top youth talent. Here's a rundown of all the action last weekend.
Pool A
Triangle Triforce came in as the heavy favorite in pool A and left little doubt that they were headed back to the finals. They capped off their undefeated run through pool play with a dominating 11-2 victory over Minnesota where they seemed to do nothing wrong.
WATCH: Triangle Triforce v. Minnesota Superior [Full Game Footage]
They were connecting on cross field hucks, playing aggressive defense and never gave Minnesota a chance to even think about a comeback. Liam Searles-Bohs and Matt Gouchoe-Hanas are the big names for the Triangle but the talent of Triforce goes far beyond them. Taek Lee had a few impressive bladey throws, Abe Eichner played some of the best reset defense at the tournament, and Henry Fisher is a soon-to-be star at Carleton. Marc Rovner was also deadly as a cutter and was the team's leading goal scorer on the weekend.
The best game in this pool came in the 2v3 matchup when Minnesota took on Pittsburgh. Pittsburgh came out with a zone and quickly took a 4-1 lead. The Minnesota handlers worked it between themselves for what seemed like 50 throws on some possessions but weren't quite able to break through. Minnesota was led by the cutting of Marty Adams of Minnesota-Duluth who was phenomenal all weekend. Superior showed some great mental toughness and battled back to tie the game at 7 after trailing at half and went on to win 11-7. Pittsburgh was fueled by some great plays by Nick Haser including a layout handblock followed by a deep score. They also got big contributions from Bobby Lincoln and Ben Morgenstern who were essential in working against the zone.
New York had moments of brilliance over the weekend but were unable to string together consistent play. The team relied heavily on handlers Nathan Shapiro and Eric Chen to get the offense moving. Their game against Minnesota showed the potential of this team when they traded until 8-8. However, in the last few points, New York was plagued by execution errors including a dropped pull to give Minnesota the 11-8 victory. Houston put together a nice weekend finishing with a 3-3 record in pool play. It was their first year competing at the tournament and had driven the entire 18 hours to be there. They seemed very excited to be there all weekend and it's a good sign for an area on the rise.
Pool B
From the start of the tournament, Pool B looked like it would come down to the game between Boston and Chicago. With the game coming late on Saturday, a large crowd from both programs gathered to watch this pseudo-quarterfinal match. BUDA's O-line was dominant, as usual, only getting broken once during the game. The twin towers of Tannor Johnson and Noah Robinson were able to shred through any junk zones Chicago threw at them with lofty scoobers that the defense never had a sniff at.
On the other side of the disc, great reset defense from BUDA often made Chicago go to their 3rd or 4th looks. They were forced to throw into a lot of tight windows which gave the BUDA defense many chances which they eventually took advantage of. Chicago was hurt by the fact that only one team from each pool advanced to bracket play. Although their 5th place finish was very respectable, Chicago has to feel that they had the potential to finish higher had they not run into the national champions in pool play. James Bongiovanni was excellent for Chicago and lead the entire tournament in goals with 24.
Indiana was clearly a very talented team but didn't have the experience to break through into the top tier. The team's play is best evidenced by a moment against Chicago. Coming out of a timeout on the end zone line, the Indiana handler put up a floaty IO backhand on stall 1 into a crowd for his receiver to bring down. This kind of play led to big wins but wasn't effective when they matched up with teams that could challenge them athletically, like BUDA, who beat them 13-2.
The rest of the pool was clearly a step below. Iowa and Michigan both brought very small rosters which made it tough to compete in a 3 day tournament. For Connecticut it was definitely a rebuilding year after their Cinderella run of last year.
Pool C
Pool C belonged to Seattle from the beginning. They were clearly the deepest and most talented team in the pool from beginning to end. Seattle mostly played as a faceless army with the exception of Kai Marcus, and not just because of his hair. Marcus would often look covered but then just outrun his defenders for easy deep scores. Seattle's closest game in pool play came against Texas but even then they were able to finish on a 12-4 run and showed total dominance. UW rising sophomore Steven Benaloh was impressive in the backfield.
The lone upset in pool C came from Colorado Cutthroat when they took down 6th overall seeded Texas Two Step. Texas held a lead all the way up until 10-10 when Colorado broke 3 times in the last 5 points to win 13-11. Texas was filled tall athletes with whereas Colorado played more fundamental ultimate lead by playmaker Will Lohre.
Carolina Sky took care of business against lower seeded teams but weren't quite able to make the same kind of run they did last year. Ethan Cole had a phenomenal tournament reaching double digits in both goals and assists while only recording one turnover.
Spirit award winners DC Deadrise really struggled with unforced turnovers. When they were "on" their offense looked crisp but too frequently they would just turf a reset or drop an in cut. Jonathan Malks was a bright spot as he lead the team in both goals and assists and ran their offense for much of the tournament. Deadrise will only graduate 6 players over the next two years so look for them to improve in years to come.
Pool D
On Friday, New Jersey DEVYL looked like the team to beat in pool D. They stormed out of the gate with a dominating 13-5 upset over Cincinnati. DEVYL's quick movement and relentless defensive pressure were too much for a Cincinnati team that struggled to find a rhythm all weekend. Cincinnati clearly had talent. Jordan Monnin was one of the most dominant cutters at the tournament and was able to get the disc at will. The team struggled with consistency when tired which lead to a lot of long points over the weekend. Elliot Skindzier was a bright spot for the team at the handler position where he initiated the offense and generally made the right decisions.
The best matchup in the pool came when DEVYL and Atlanta played on Saturday morning. DEVYL played a much more aggressive style. Every point was filled with layouts and they would often look deep to big targets such as Christian Duess, who was a beast in the air. Atlanta, by contrast, would rarely look deep and put a big emphasis on swinging the disc.
Atlanta stuck to their system religiously and had 3rd and 4th looks if their initial reset, often Jacques Perivier, didn't work out. After trading all the way until 6-5, a DEVYL huck was knocked away in the end zone. The DEVYL player called a foul despite seemingly having no play on the disc. After some heated discussion and a spirit timeout the call was eventually retracted. Atlanta would then march up the field and break to take half 7-5 on a huck from Leo Warren. DEVYL would threaten often in the second half but just threw too many incomplete hucks that the receiver never had a chance at. Atlanta would take the game and the pool with some outstanding play by Michael Dillard.
Nashville would end up taking second in the pool after an 11-10 win over a demoralized DEVYL team. Boone McClellan and Grant Waldron proved to be true stars and really carried the team all weekend. Bay Area suffered from much of their talent playing on the mixed team but were still able to put together a solid weekend. Despite finishing 5th in the pool, they played close against top teams and showed a lot of growth over the weekend. With most of the team returning next year expect better things from them.
Semifinals
All four teams in the semifinals had looked dominant in pool play and had realistic hopes of taking home gold. Atlanta took on Triforce in a rematch of last year's semi that finished with a double game point win for Triforce.
The battle between Abe Eichner and Jacques Perivier was a blast to watch. Perivier would always look for a dish as the first option and Eichner played excellent defense to prevent it. Atlanta continued to play their conservative style of offense and didn't even attempt a huck until 9 points into the game, when Leo Warren hit Eric Sjostrum. Both had outstanding games cutting and kept Atlanta alive. Warren will be attending Pitt and Sjostrum is a rising sophomore at Auburn.
Conversely, Triforce lived (and, in the final, eventually died) by the huck. Their first break came on an 80 yard bomb from Searles-Bohs to a wide open Fisher in the middle of the opposite end zone. Searles-Bohs would finish the game with an incredible eight assists, many of which came on difficult throws. The only break from Atlanta was at 11-7 with hard cap only a minute away. Long story short, Triforce simply outplayed Atlanta in all facets to advanced to their second straight national championship game,
One field over Seattle took on Boston in a battle of two offensive juggernauts. Noah Robinson was out for BUDA after suffering a concussion but Boston showed that they had more than enough stars to make up for it. Mac Hecht had a great game, recording six assists and powering the offense at times. Steven Benaloh did the same for Seattle but occasionally got too greedy and took shots that weren't there.
Overall, this game lived up to the hype; neither team ever had more than a one point lead. Hard cap sounded at 10-10 with the disc in the hands of Hecht. One throw later he hit Luke Webb for the double game point victory that stunned both the Seattle players and their considerable sideline presence. It was a tough way to go out for a Seattle team that was clearly one of the best at the tournament.
Finals
Check out the full finals recap.