Seattle looks to ride talent, experience, and positivity back to the top of the club game.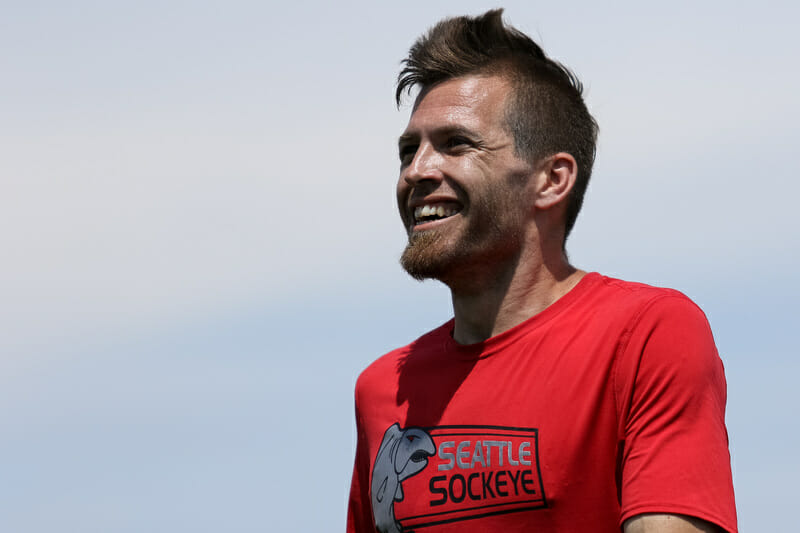 Even with their rich history of excellence and previous status as the best team in the world for multiple years in a row, Seattle Sockeye has been one of the more mercurial elite club teams in recent years.
In 2012, after winning the biggest regular season tournament, the Labor Day Ultimate Championships, right before the start of the Series, Sockeye got crushed 15-10 by Raleigh Ring of Fire in the quarterfinals of Nationals, despite beating them only a few weeks before.
A year later, after a modest but not exceptional regular season, Seattle stormed through Nationals, winning their first five games by a minimum margin of four points, before falling to a red-hot San Francisco Revolver in the title game.
Then, last year, after experiencing a similarly excellent run through Worlds only to lose to Revolver in the final once again, Sockeye mysteriously faltered at Nationals. They suffered a universe point loss in prequarters to a Portland Rhino squad they had annihilated at Northwest Regionals, and fell in another double game point heartbreaker to Washington D.C. Truckstop in the Pro Flight Play-In game, finishing tied for ninth after coming in as the overall three seed.
Such curious trends have already continued this year.
After placing fifth at the Elite-Select Challenge—which only had five total teams including Seattle that qualified for Nationals last year—Sockeye cleaned up at arguably the most competitive tournament of this regular season, winning the Pro-Elite Challenge with a convincing 13-9 win over Revolver in the final.
With no major tournaments left before Nationals, save a potentially thrilling Northwest Regionals, the story of how Seattle is likely to perform at the Club Championships remains a fairly large and murky question mark.
The leadership knows, however, that no matter how you play during the regular season, it all comes down to how you finish in Frisco.
"We're at the point now where we've had one very disappointing tournament and one massively successful tournament, but we can't let either of those results define us," captain Reid Koss said. "We know we need to keep getting better if we want to still be competitive with the best teams in October."
Luckily for the fish, they most definitely have the kind of personnel to do just that, as their roster this year looks to be perhaps their most dangerous in recent memory.
The Fish
Though Sockeye retains the bulk of their squad from last season, they are not without some significant departures. Namely, mainstays Nate Castine, Tyler Kinley, and Matt "Skip" Sewell all did not return this year.
Koss said, however, that Sockeye has never been the kind of team to think too hard about the pieces they've lost.
Certainly, looking at the list of returners, that indeed seems like a non-issue.
Danny Karlinsky, Adam Simon, Mario O'Brien, and Justin Lim are all top-notch handlers capable of moving the disc lightning quick and hitting deadly inside breaks without the slightest hesitation. Cutters Phil Murray, Joe "BJ" Sefton, Donnie Clark, Ray Illian, and Mike Caldwell have been shredding defenses together for years. And gritty defenders like Koss, Spencer Wallis, Frank Barich, Duncan Linn, and Matt Russell can apply the kind of pressure that generates turnovers at alarming rates.
Oh, and having one of the world's best deep targets in Matt Rehder certainly doesn't hurt either.
Moreover, when one considers the kind of talent Seattle is adding this year to that already impressive base, it's tough to see the perennial Northwest contenders as anything but that much more powerful.
Renaissance man and recent MLU West MVP Mark Burton will be returning to Sockeye after playing with Seattle Mixed last year and is sure to provide a dynamic presence regardless of position or which line he plays on. Similarly, the crazily athletic Zane Rankin will bring his huge skys and big throws to the squad, having already have built up chemistry with the majority of the roster, thanks to his time on the Seattle Cascades.
Other young talent, such as Jesse Bolton, Sam Hart, Zack Smith, and Dongyang Chen, is also sure to add another dimension to the Seattle team by the end of the year.
The Culture
Just as important as having all the right tools is knowing how to use them and being able to do so when it matters most, which is something the Seattle leadership knows all too well.
"There's so much that goes into a team besides pure skill," Koss said. "Just look at (Denver's Johnny) Bravo last year. They didn't really put things together fully until Nationals. So while that might be a great example of talent winning out, that wasn't necessarily the case throughout the season."
Particularly considering how much more talented and athletic elite ultimate becomes every year and how programs such as Raleigh and Michigan/Ohio are combining squads and setting up feeder teams just to remain competitive at the highest levels, it seems as though no matter how much skill or experience a team has, there's likely to be a handful of other teams just as deadly and capable of winning any given match.
As a result, even top squads like Seattle are having to do everything in their power to stay in contention for that coveted national title.
Koss said that if there's one thing about the Sockeye culture that keeps them among the best in the nation and perhaps most defines them as a team it's positivity and support.
"We think that we win because we have fun, not the other way around," he said. "We're really a team that just tries to go with the flow on offense and trust ours and our teammate's instincts."
As just about any footage of Sockeye in recent years can attest, this philosophy is most definitely at the core of Seattle as a team, both in terms of how they play and how they interact.
Take just about any game and you're bound to find an abundance of points where, once Seattle hits that crucial first breakmark completion, a flurry of perfectly timed break continuations are sure to follow, often culminating in a score so quick and easy you might wonder if the defense was even trying.
The way every player that catches a break pass turns to look at the next throw with a certain confidence, just knowing that a teammate is sure to be there, exemplifies the kind of trust that Koss takes so much pride in about his team. And the flood of smiles and celebrations that greet every score only further attest to the Sockeye spirit of positivity and togetherness.
The only question that remains then, as it does every year, will be whether or not that will be enough come October.
Koss has stated in no uncertain terms that Sockeye's goal is the same one that they've always had, and it's pretty much the same one every other elite team has: win Nationals.
Considering their stellar roster, all the experience they've gained from playing together as the Cascades this year, and some already superb results this season, Seattle looks to be among the squads in the best position to do just that and return to their former glory as the greatest team in the country.