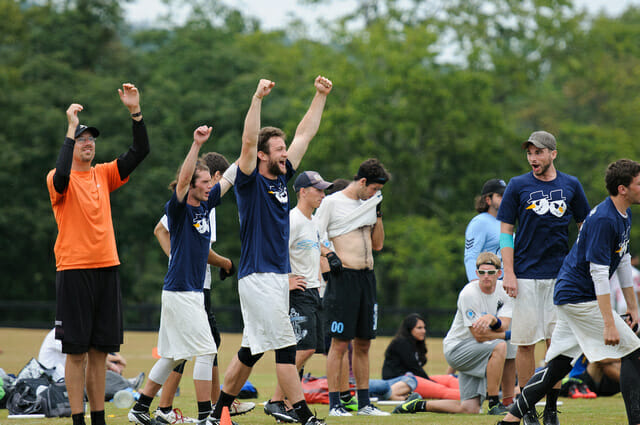 See last week's rankings and bid scenarios to put the below predictions into context.
A windy weekend wrapped up the regular season with the Pro and Bro Flight Finales offering up some final high-level competition before the dust settles on the regional bid allocations to Nationals. More recap coverage of both tournaments is coming to you later today, but first we want to take a first look at how bids might shift after this weekend.
These are predictions only — the final USA Ultimate rankings will be out later this week.
Men's Division: Sub Zero Likely In; GOAT, Chain Likely Out
Minneapolis Sub Zero had to head down to Madison for the Bro Flight Finale despite the Pro Flight Finale taking place in their backyard. At the end of the day, they're surely fine with that.
Sub Zero had just two losses on the weekend — and both came to Japan's Buzz Bullets, which means they have no bearing on the USAU rankings. A three point win over Doublewide, a stunning six point comeback against Temper, and a bevy of sizable wins should comfortably vault Sub into the top 16 and earn the North Central a second bid. There is also a decent chance Prairie Fire could snag the last bid at #16, landing the North Central three bids this season.
Up in Minneapolis, Toronto GOAT did not fare so well. Coming off of a golden but draining push to win the Canadian Championships, half of GOAT's starters decided it wasn't worth the trip to Minneapolis and Toronto mostly got shellacked at the PFF. A consolation bracket win over Johnny Bravo likely won't be enough to save GOAT, who took some huge losses (13-6 and 13-4 to Machine, 13-5 to Ring, and 13-8 to Revolver), from falling out of the rankings. Boston Ironside's strong Sunday run to the final should keep them safe, leaving the Northeast with two bids.
That has to be gulp-inducing for New York PoNY, who have been the third team out of the Northeast for a number of years now. Still, they will be competitive, especially considering the down year for Ironside and a fatigued GOAT team.
Atlanta Chain Lightning was generally expected to move up from #18 into the rankings and earn a third bid for the Southeast. That now looks a lot less likely. Chain went winless, taking some lumps along the way (11-6 to High Five, 12-4 to Truck Stop). Most of their games came against highly ranked competition, a plus for them, but it's hard to see the math working out. The Southeast will likely end up with two bids.
The big question is: who is last in? The Santa Barbara Condors might just hang on. They came in at #15 this week, but Ring of Fire and Sub Zero likely moved past them (though GOAT fell below them). That should leave them at #16, giving the Southwest a second bid behind top-ranked Revolver. However, Kansas City Prairie Fire (North Central) was just 14 points below them in the rankings — it's hard to predict how the results of this weekend will align those two.
Predicted Final Bid Allocation
Great Lakes: 2 bids
Mid-Atlantic: 2 bids
North Central: 2 bids
Northeast: 2 bids
Northwest: 2 bids
South Central: 2 bids
Southeast: 2 bids
Southwest: 2 bids
Women's Division: Showdown Did Just Enough
The big question heading into the Pro Flight Finale was whether or not Austin Showdown would have enough firepower to hang on to the final bid spot at #151.
Showdown took some big losses (13-5 to Molly Brown, 10-4 to Ozone, 13-6 to Riot) but also got a badly needed win over Scandal (11-8). They also took care of business against Chicago Nemesis.
Will the Scandal win be enough to keep them in front of Hot Metal? Tough to call, but the wide gap between the two teams (59 points) could be enough of a cushion.
Ultimately, I think we'll see no movement in the Women's bid allocation.
Predicted Final Bid Allocation
Great Lakes: 1 bid
Mid-Atlantic: 1 bid
North Central: 1 bid
Northeast: 4 bids
Northwest: 3 bids
South Central: 2 bids
Southeast: 2 bids
Southwest: 2 bids
Mixed Division: Did Cosa Make The Cut? Will The Southwest Lose A Bid?
The Mixed Division is the toughest to predict because connectivity has been slower to converge. We saw huge changes from the first set of rankings to the second — more still could shift this week.
Austin Cosa Nostra came into the weekend sitting at #17 and looking for an insurance bid in the South Central. Their wonky results make predicting their outcome tricky. They went 2-2 on Saturday with wins over #6 Wild Card and #9 AMP. Things were looking bright. But Sunday's crosswind didn't play into their strengths and they got slammed 11-3 by #4 Slow White and then 11-4 by Wild Card in a rematch.
Despite the big losses, the Saturday wins should help them a lot — there is a big point differential between them and the two teams they beat. Considering that #15 San Francisco Blackbird, the team that was last in in last week's rankings, had a rough weekend (only wins came against #27 Steamboat), Cosa Nostra will probably take that bid from the Southwest for the South Central. It's going to be close, though: Blackbird played some close games against top teams.
Predicted Final Bid Allocation
Great Lakes: 1 bid
Mid-Atlantic: 2 bids
North Central: 2 bids
Northeast: 4 bids
Northwest: 2 bids
South Central: 2 bids
Southeast: 1 bid
Southwest: 2 bids
---
#15 is the cutoff because no Great Lakes team is in the top 16. Every region gets an auto bid. ↩