A bid-rich Northeast played out largely to expectations in Devens.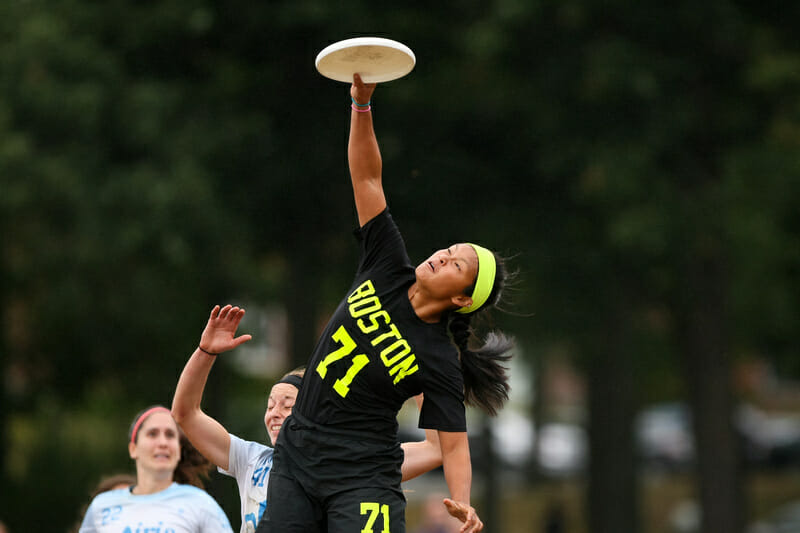 With four bids and four top teams, Northeast Regionals was a battle for placement and pride. Brute Squad cruised to victory, Iris earned national respect, BENT avenged their mistakes from a year ago, and the Capitals did just enough to return to Nationals.
Textbook Brute Squad
Boston Brute Squad had the top seed going into the tournament, with only two losses on the season, both by a margin of two points. Going into Nationals last year they had an undefeated season, including a dominant Regionals showing where they had an average of two points score against them over the course of the tournament. It was almost too easy.
This year, Brute Squad got broken on their first point of the tournament after an errant throw and an easy drop. But this was the only time they would trail all weekend. They traded points early with Boston Siege, but soon pulled away, going on to win the game 13-5.
By the second game against New York BENT, Brute Squad was in characteristic dominant form. They had worked out their jitters and were connecting as textbook Brute Squad does, with shut-down handler defense, strong transitions, and unstoppable break throws. They beat BENT 13-5, holding them to a single point after half.
Brute Squad is fantastic at keeping their level of play high, even against less skilled opponents. They put games away early and were able to coast through pool play. By the end of Saturday, before pool play was even over, they had already secured their spot at Nationals.
Brute Squad came into the first place game again Quebec Iris, ready to assert their dominance. They started on offense and scored in three throws, all to the break side. From there, teams traded points until Brute Squad broke away and took first place with a 15-5 win against Iris. After the game, Emily Baecher said, "It was a good opportunity for growth for both teams. The score in the final didn't show how close it felt. We were fighting for every point."
With the number one spot in the Ultiworld Power Rankings and a belief that their team is still getting better, Brute Squad is looking to make a strong showing at Nationals and overcome their disappointing 2014 semifinals blowout loss at the hands of Scandal.
Iris Earns Respect
Iris burst onto the scene this year as a new team, comprised of experienced players from teams like Nova, but they had not been significantly tested. They attended only two mid-level tournaments in the United States, but did well at Canadian Nationals, with a resounding 14-7 win against Toronto Capitals and a two-point loss to Vancouver Traffic in the finals. Going into Regionals, they were ranked third, behind the Capitals and Brute Squad.
In the game against the Caps, Iris showed that they deserve international recognition and respect. They were patient and threw high completion throws. They used their athleticism to do a phenomenal job shutting down in-cuts and forcing the Capitals to throw late stall count, difficult passes. With the game tied at fours, Iris turned it on. They scored four points in a row, three of which were breaks, without a turnover. The Capitals got back a break or two in the second half, but Iris was able to come away with the 13-10 win, and capture Pool B and a bid to Nationals.
"This is how I've wanted them to play all season," said coach Mathieu Bordeleau. "They finally got it."
In the first place game, Iris fell to Brute Squad, but not without putting up a fight. They made Brute Squad work, but midway through the game they had a series of execution errors that Brute Squad capitalized on. In the placement game against BENT, they used their athleticism and bye to beat them a grueling game that went to cap to claim second place.
Iris had a weaker regular season schedule than many other teams, so Regionals was all about working out the kinks against challenging opponents and getting reps. "The main objective for us was to go to Texas to have the chance to play a lot of good teams and have a good experience for all our players," said Bordeleau.
BENT Rewrites Their Story
BENT had a heartbreaking Regionals last year. They beat the Capitals in pool play only to lose to them in the game to go after taking half 7-5 and then giving up four points in a row. The feeling of that heartbreaking loss was not forgotten entering the weekend. "Last year was definitely a moment we will always remember, and in some ways the fuel to rewrite our story, to control our story to make it this year to Nationals," said Akina Younge.
After going down 0-2 against Boston Vice in their opening game, BENT fought back tooth-and-nail to take half 7-6, and win the game 13-8. Despite a loss to Brute Squad, New York made it through the rest of pool play unscathed, with no team scoring more than seven points on them.
Then, in the game to secure a bid, BENT faced their old foe, the Capitals. Right out of the gate, the Caps got a break and narrowly missed an opportunity to go up 2-0. From then, it was clear: BENT didn't want to suffer a similar fate as in years past. They flipped a switch.
They rattled off a couple of breaks, making it 4-2 before pulling away to take half 8-3. BENT had more confidence, energy, and fluidity than they had all weekend. They were moving the disc quickly and connecting on deep looks and handler movement that they were having trouble with during pool play. The Capitals looked fatigued and were dropping easy throws, and BENT was able to claim their berth at Nationals, winning 15-8.
BENT had avenged their stunning loss of 2014 with a season-defining win that secured them a spot at the show. The excitement was palpable.
"We couldn't think about last year," said Younge. "We couldn't think about the outcome of that game. We needed to focus on every single point because those distractions were part of what made us lose it last year."
Emotionally and physically burnt out from there grueling game against the Capitals, BENT went on to lose to Iris 11-14, but they still walked away with third place and a chance to return to Nationals.
The Capitals Do Just Enough
With a lot separating the top four teams from the rest, the Capitals won the games that mattered to secure the fourth bid. Their team varied drastically from the one they sent to Canadian Nationals, and chemistry is still forming among the team. Against Iris in pool play, they were most successful when they moved the disc quickly and took high risk-high reward looks to the end zone. They had some unforced drops and had trouble resetting the disc against Iris' lock-down defense, and they went into half down 5-7. The second half was more of the same and they lost it 13-10.
The Capitals coasted through the rest of their pool play games, claiming second place in the pool. In a game-to-go against BENT, they were looking for a third consecutive victory against their Regional foe–the others coming from the TCT Elite-Select Challenge and 2014 Regionals. To start the game, the Capitals got a break, and almost notched a second one before they lost control of the game. The energy on the BENT sideline was high and the Capitals looked fatigued and could not find their flow. They had sustained some injuries on Saturday and it appeared as if BENT wanted it more.
In their second game to go, the Capitals handily beat the less talented Siege, 15-7, to secure their bid.
Reflecting on the weekend, Kaylee Sparks said, "Working with our recent additions and developing new on-field connections led to some moments of greatness, but also to inconsistent play."
The Capitals are going to Frisco with a small roster, but they are focused on continuing to improve their chemistry before they reach the big stage.