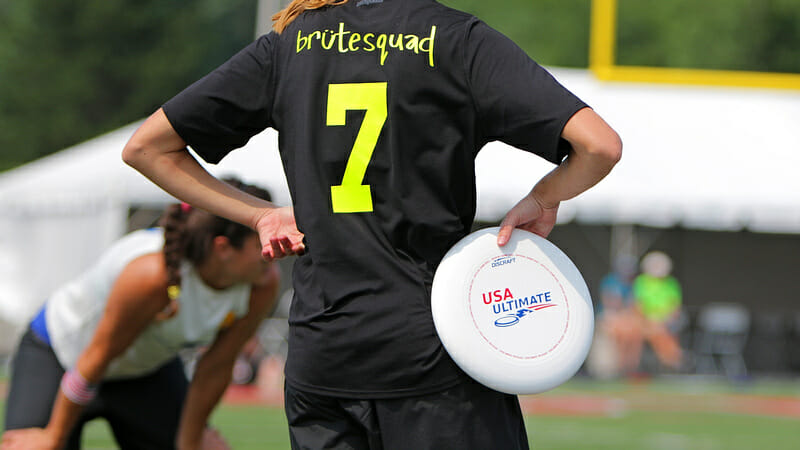 Pool A:
Boston Brute Squad 15-10 Madison Heist
Boston's (overall #1, seeded A1) first round foray with Heist (overall #12, seeded A3) was closer on paper than in person. After a mixed start, Boston's defense picked it up. Taking advantage of the early crosswind, Brute Squad's zone began to pester Heist into mistakes. The turnovers piled up and Boston opened up a 6-2 lead. Madison struggled to really get a rhythm and couldn't capitalize on a pair of first half breaks, trailing 8-6 at half.
In the second half, the Brute Squad cutters began really asserting themselves, with Lien Hoffmann, Becky Malinowski, and Laura Bitterman finding lots of green. Bitterman added a pair of goals and an assist to finish with a 3G, 1A line for an efficient offensive unit that went unbroken in the second half. Enabled by patient handling, Brute left Heist was unable to climb out of the hole and the number one seed closed out the victory, 15-10.
San Francisco Nightlock 13-10 Toronto Capitals
In a game of runs, Nightlock (overall #8, seeded A2) was able to fight back against a scrappy Capitals (overall #13, seeded A4) team to score a first round victory. The defining factor in the game's flow seemed to be San Francisco's red zone efficiency. They applied a lot of defensive pressure to Caps, culminating in a four point run to shoot out to a 6-2 lead. When their ability to convert plentiful Toronto turns faltered, so did their edge. The 13 seed stormed back to draw even at 7-7 on Miriam Tingle's third goal of the first half, hauling in a floaty Kaylee Sparks forehand. Nightlock responded swiftly to take half.
The second half, Nightlock returned to form, taking off with a series of short field conversions. Their 8-7 lead expanded to 13-9, as Capital's errors – forced and unforced – eventually buried them. Melissa Dunbar tallied 4 assists and 1 goal in the losing effort, while Nightlock was lead by Bree Cahn's 5 goals and 1 D. It was a big win for San Francisco in a parity-filled pool.
Pool B:
San Francisco Fury 15-7 New York BENT
In the end, it was an expected easy win to begin pool play, although San Francisco Fury (overall #2, seeded B1) did trade points with New York City Bent (overall #11, seeded B3) to start the game. Bent received the pull to start and 3 clean points to start resulted in a 2-1 lead for the New York women. Fury turned the disc three times over their next two offensive points, but were not broken to hold for a 3-3 score and keep the game on serve. Fury went on a massive run at that point in the game to very quickly end any hope of a Bent upset. 3-3 turned into a 10-3 lead for Fury, despite few clean points for either their offensive of defensive lines. With the game over and the intensity from both sides obviously down, Bent was able to again trade points with the pool favorites to close the game out.
Atlanta Ozone 14-11 Texas Showdown
By far the more competitive game of Pool B, Ozone (overall #7, seeded B2) and Showdown (overall #14, seeded B4) traded points for large periods of the game in a with the difference being Ozone's better ability to capitalize off of its opponents turnovers being the difference between the two. After trading points early, Ozone broke to take a 4-2 lead and were never up by less than a break from that point on. Ozone broke again to talk half after a flurry of turns near the Showdown end zone and Showdown was never able to get back into the game. The last few points of the game were especially competitive, as Showdown looked to spark a late rally. Defined by lots of turns and contested calls, Showdown was still unable to cut into their deficit, as their D-line offense struggled to even turn field position in their favor after turns.
While Ozone was balanced on offense, Katherine Wooten led the way with 5 assists and Kate Wilson and Meg Harris each chipped in with three scores. Katey Forth was the standout for Showdown with 3 goals and 2 assists.
Pool C:
Seattle Riot 15-9 Portland Schwa
Playing a rematch against a regional rival probably isn't the ideal way to begin Nationals, but Portland Schwa (overall #10, seeded C3) seemed bent on making the most of it against Seattle Riot (overall #3, seeded C1). Schwa's offensive skillset looked like an amped up version of Fugue, with names like Bethany Kaylor, Hayley Wahlroos, and Alex Ode moving the disc like butter and making a number of holds seem so easy.
Portland broke to start the game and held tight through 9-10 before Seattle showed why they're world champions. Though it often didn't look easy and Riot threw away lots of chances to make the game more of a blowout, they eventually managed to put it together and rattled off five straight at the end to win 15-9.
Jaclyn Verzuh, Shira Stern, and Sarah Griffith were beasts downfield, particularly the latter, who looks scary fast and fully recovered from her devastating injury in semis last year. Expect her to keep ripping up defenses all weekend.
Schwa, too, illustrated that they have the skills to fight with anyone, as long as they can take the good shots and execute more consistently.
Washington D.C. Scandal 12-7 Raleigh Phoenix
A very sloppy first half for both sides ended in an 8-6 lead for Scandal (overall #6, seeded C2), as they were just a bit better at capitalizing on break chances. Points 5 and 6 proved to be the most important in the half. After a Jessi Jones sky near the goal, she quickly found an open receiver for the would-be score and break. A foul was called on Jones' catch, however, and the throw was sent back to her. The foul was contested and overturned, but Phoenix (overall #15, seeded C4) were unable to get the disc into the end zone again for the point. The following point ended in one of the easier breaks of the game for Scandal. An ill-advised flick blade from Jenna Dahl into the end zone gave the disc to Scandal, who promptly marched it down the field for the score. Phoenix were able to hang around in the first half, largely thanks to the stellar play of Jones, who proved to be both the point guard and athletic play-maker for the bottom seed of the pool. Jones had a pair of impressive layout grabs for scores, racked up a couple of assists, and nearly missed a few more, but her individual performance was not enough to combat Scandal's cleaner play in the second half. Scandal had just 4 turnovers in the second half after committing over 20 in the first and Phoenix was left to rue its inability to capitalize on its chances earlier in the game. Jenny Fey and Nada Tramonte led the way for Scandal, as the two combined for 5 goals and 2 assists in the expected win.
Pool D:
Vancouver Traffic 15-7 Chicago Nemesis
Traffic (overall #5, seeded D2), behind an exceptional second half romped over an outmatched Nemesis (overall #16, seeded D4), after a tightly contested first half faintly resembled a one-sided second half.
Denver Molly Brown 15-3 Quebec Iris
It was never close in this one, as Molly Brown (overall #4, seeded D1) dominated Iris (overall #9, seeded D3) in all phases. Denver's offense found a variety of targets, tossing their 15 goals to an incredible 13 different receivers. Even in the crosswind, Iris was unable to gain traction defensive, failing to force a single turn in the first half on the way to an 8-1 deficit. Molly Brown's efficiency dipped in the second half, but they suffered just eight turnovers in the game.
It was an impressive performance against a solid Iris team, setting Molly Brown up with a lot of momentum. Quebec will need to bounce back, a difficult task for a team with limited experience at the Club Championships.