Here's a recap of the action from the final round of pool play on Thursday at the 2015 National Championships.
Ames Chad Larson Experience 15-14 Atlanta Bucket
Despite jumping out to a big 5-1 lead, Chad Larson Experience (overall #2, seeded B1) had to dig deep to fight off a crazy comeback by Bucket (overall #7, seeded B2), eventually winning on universe 15-14.
After their first game meltdown, Bucket began to look better and better with each game, maybe even each point. By the end of their last game they looked like the potential semis contenders that they appeared to be all season.
One particular point exemplified this: On an away pass that started tailing out of bounds, Dylan Tunnell laid out and caught it about head high and immediately snapped it back toward the endzone where a laying out Steven Hicks reeled it in to make it 12-11, CLX. That was the kind of freewheeling balling out that Atlanta was tapping into by the end of the game.
Unfortunately, Ames was just too good. Though Bucket had a chance late to steal it away from them and force a three-way tie for first, in classic CLX fashion, they ended the game on a perfectly placed O-I huck to the open shoulder of a streaking receiver for the win and the pool.
If it's true that this really might be CLX's last season, then they're certainly playing like they're determined to make the most of it.
Washington D.C. Ambiguous Grey 13-8 New York Metro North
For the second time today, Ambiguous Grey (overall #14, seeded B4) came out firing like the legit contenders they clearly believe themselves to be and stomped Metro North (overall #11, seeded B3) with an impressive 13-8 performance.
With lots of zone and tons and tons of dumps and swings, Ambiguous Grey looked like a team beyond their years and beat an opponent filled with veterans by playing the responsible old man game and just taking what was given to them.
Their vitality was contagious and Washington D.C. rushed the field multiple times, further complementing their solid play with relentless energy, leaving New York to walk back to the line and think about what they needed to change.
Although their deep game looked good in their first match against CLX, Metro North failed to find a greater dynamism for the rest of the day. Their opponents made them pay for it.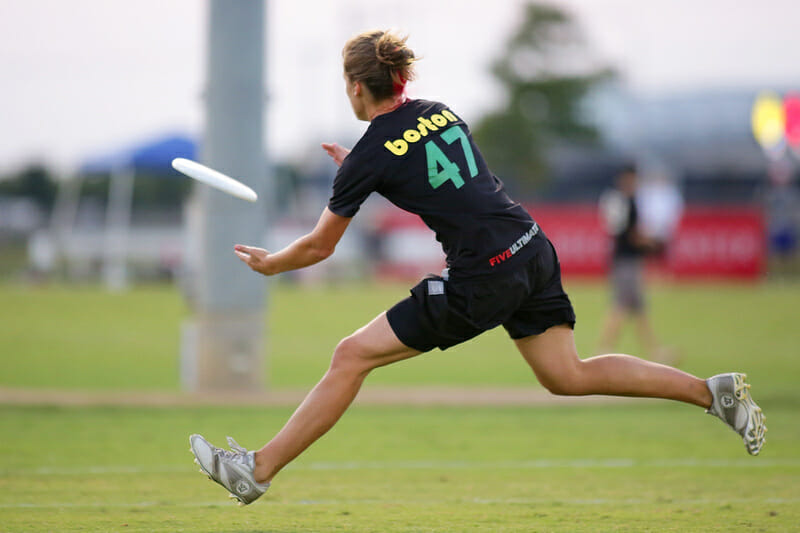 Boston Wild Card 15-10 San Francisco Polar Bears
If a 15-10 final score sounds like it was remotely close, let's be clear: it wasn't. Boston Wild Card (overall #3, seeded C1) routed San Francisco Polar Bears (overall #6, seeded C2) from start to finish and PBR tacked on a few at the end.
Boston stayed tight on the unders all game and San Francisco had no answer.
Moreover, PBR began to stray from the (mostly) disciplined game that had helped them get there in the first place. They took a fair amount of bad looks, didn't move the disc enough, and failed to establish a deep game, which only exacerbated their problems.
Wild Card jumped out to a 7-2 lead on the back of stifling defense, turnover gifts from PBR, and a strong break conversion rate. Boston moved the disc around, broke the mark repeatedly, and just all-around outplayed San Francisco.
Expect Wild Card to be deep in the hunt for the title game come bracket play.
Boston Slow White 15-9 San Francisco Blackbird
Likely upset at their embarrassing defeat at the hands of Chicago The UPA, Boston Slow White (overall #4, D1) came out hyper-focused against San Francisco Blackbird (overall #5, seeded D2) and smashed them to a 15-9 final.
Based on the kind of fire that Slow White was playing with all game, it was pretty clear that they were going to come out on top, even when the score was knotted at 5s. Boston rattled off four straight, and when San Francisco earned a break back to make it 9-7, Slow White answered with a 6-2 run to close out the day with an emphatic knockout.
Almost everything seemed to go Boston's way in the second half. Deep shots to tight windows and an open shoulder (rather than an actually open receiver) seemed to repeatedly connect, despite Blackbird's athleticism. Slow White's cuts were made with fiery intensity, even when they were clearing. And when they didn't have openings downfield, they dumped it ten times in a row until they did.
On the flip side, San Francisco seemed to take turns flubbing routine throws and catches and taking questionable looks that just didn't work out. They'll need a complete 180 to make it past Drag'n Thrust in prequarters tomorrow.
Seattle Mixtape 15-9 Minneapolis Drag'N Thrust
Seattle Mixtape (overall #8, A2) bounced back from an early three point deficit with a 8-0 run through halftime to blow past defending National champion Minneapolis Drag'N Thrust (overall #1, A1) 15-9.
Brad Houser, Claire Revere, and Khalif El-Salaam were standouts for Mixtape, which used a combination of stiff downfield defense and an outstanding deep game to manhandle the team that defeated them a year ago in the National final.
Houser (2G, 3A) had multiple big skies, but Revere (3G, 1A) stole the show with her blazing speed. On the game's final point, she sprinted towards the endzone, chased down a huck, and made an enormous layout for the game-winning goal.
Josh Hemmesch and Erika Baken were standouts for Drag'N Thrust.
Drag'N opened up an early 5-2 lead but couldn't score again until Mixtape had 10 points on the board. Drag'N's deep game was very sharp at the start of the game, but adjustments from Mixtape started to tighten things up down field; Minneapolis had no answers.
With the win, Seattle Mixtape took the top spot in Pool A as Drag'N took the #2 place. Mixtape will take on AMP in prequarters; Drag'n Thrust faces Blackbird.
Other Games:
(#13, A4) New York 7 Express 15-9 Madison NOISE (#12, A3)
(#15, C4) Seattle Birdfruit 15-8 Boulder Love Tractor (#10, C3)
(#9, D3) Philadelphia AMP 15-5 Chicago The UPA (#16, D4)