Could we get another classic?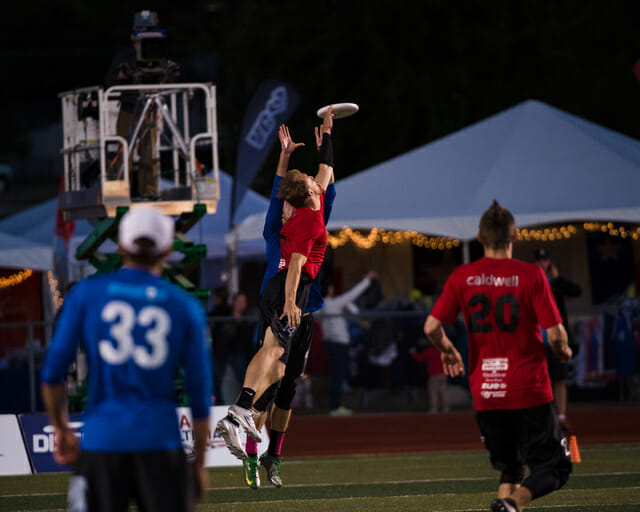 A dump swing to the break side cone. The receiver strides past his defender and secures the disc, dragging his feet in the endzone for a goal before his momentum carries him out of bounds. This exact sequence happens thousands of times a year, but if you described it to players on Sockeye or Ironside in 2013, they would likely have one particular iteration jump to mind.
When these two teams met in the semifinals at Nationals in 2013, the game was an absolute classic, one that has resonated and become the benchmark for a great game in the video age.
Two years later, they will meet again. Two of the most storied teams of the past decade, from two of the biggest ultimate communities in the country, with a trip to the finals at Nationals on the line. What more could you want?
Redemption of a Different Color
Both of these teams have a grudge from Nationals last season that they are on the road to exorcising, but from opposite ends of the spectrum.
Sockeye comes into Nationals looking to redeem their shocking prequarters exit in 2014 to regional rival Portland Rhino. Last season they may have taken the early rounds for granted, but the shock of early elimination has them laser focused this time around. After narrowly avoiding another upset at the hands of Madison Club in quarterfinals, they find themselves back in the semis.
Ironside had almost the opposite experience last season, as they made it all the way to the Championship game before falling at the hands of Johnny Bravo in agonizing fashion. Every year seems to end in a new heartbreak for Boston, as it is now eight consecutive years they have qualified for the semis without winning gold.
This trip to the final four may have some special resonance for Ironside, however, as there were plenty of doubts about the team's roster heading into the season. You know by now the names of all the superstar players Ironside lost in the offseason. Stubbs, Wallack, Babbitt, Malacek…those names have lingered over Ironside's season as much as any player actually plying his craft on the team this season.
For this group of players to fight all the way back to the semifinals without their stars from 2014 is certainly an achievement. In some ways, the new faces have allowed Ironside to undergo something of an identity change. After Ironside sealed their semis berth, veteran cutter Danny Clark said that the big roster changes actually took some of the pressure off of Boston this season.
"There wasn't exactly a chip on our shoulder," said Clark. "But there was definitely a release of expectations. We carried that into out play today; we were able to just stay loose and execute."
A trip to the finals of Nationals at stake is enough to motivate any team, but there is a little something extra on the line for these two teams, and that should make tonight's game all the better.
Contrast In Styles
"Styles make fights" is a common saying among boxing fans, and while the battle on the field tomorrow will hopefully only have pugilistic qualities in a metaphorical sense, that aphorism rings true in ultimate. The 2013 showdown between these two teams was so great because of how differently the two programs approach playing the game.
Seattle's free flowing horizontal offense cascading down the field was a stark counterpoint to the disciplined, industrial vertical stack of Ironside. Boston's pulsing, physical D-line drew a clear distinction from Seattle's more subtle poachy schemes. There has been some tactical evolution from both teams in the two years since they last met, but the main point holds, these two team play classically contrasting styles of ultimate. Seeing them juxtaposed on the field together leaves a wonderful sweet and salty, peanut butter and chocolate, taste in your mouth that only comes from the combination of two different yet equally satisfying flavors.
Sockeye's offense has been as hyperactive as ever this weekend, moving the disc all over the place and changing the angle of attack at will. This should provide an excellent foil for Ironside's defense, as the two teams both pride themselves on being able to control all of the angles on the field.
Especially without players like Jeff Babbitt and George Stubbs, the Ironside defense isn't known for getting a bunch of insane blocks. Instead, Boston has focused this year on winning the battle at the point of attack and forcing teams to move the disc into spaces Ironside permits them to. If Boston can force Sockeye to play their way and limit the mobility of Seattle's run and gun approach, it could be an uncomfortable game for Danny Karlinsky, Aly Lenon, and the rest of Sockeye's offense.
Ready For Primetime
With the spotlight of the entire ultimate world shining right on this game, both teams will needs players to step up and excel under the pressure.
So far this weekend familiar names have been getting the job done for Ironside on offense, with Josh Markette feeding Danny Clark and Alex Kapinos downfield to great effect. Tyler Chan has been a huge impact rookie for the Boat, and his speed acts as a nice fulcrum for the bigger cutters on the O-line to revolve their cuts around.
On defense, Christian Foster has been outstanding for Ironside. A big part of their team since coming out of college, Foster never quite got the same level of respect and notoriety as the rest of Ironside's big names during their string of semis runs. That could very well change this weekend, as Foster as arguably been the most important piece of Boston's D-line.
In Ironside's quarterfinals shellacking of Doublewide, Foster marked up against Will Driscoll and Kurt Gibson (both 1st Team All-Club in 2014) and despite giving up several inches won both of those matchups. Ironside's defense is not particularly tall, so Foster's ability to provide blanket coverage on players four or five inches taller than him is invaluable. Off of a turn he has been key for Ironside as well, as his big O/I flick hucks are likely giving opponents flashbacks to George Stubbs's flick bombs in years past.
For Seattle, several players have stood out for the team during their 5-0 run so far at Nationals. Reid Koss has been his usual dominant presence on D, and Zane Rankin has had a great weekend, giving Seattle an athletic element that they haven't always possessed.
The player who has really been a rock for Seattle all tournament is Phil Murray. A classic inbetweener, Murray has proven his bona fides as both a handler and a cutter, willing and able to do whatever the team needs from him. In the quarterfinal against Madison Club, the big physical North Central defenders were causing some problems for Sockeye's smaller handler crew. Murray responded by coming behind the disc, taking some lumps from Madison's "hands on" defensive approach, and delivering a clutch five assist performance.
Sockeye would need each and every one of them as they held on by the skin of their teeth to survive that game and reach the quarterfinal.
Showtime
The stage is set, the players are ready, all we have to do now is wait for the first pull to go up in what has the potential to be one of the very best games of the year.
Luckily, we don't have to wait long.