Can Machine hang in there with the overall #1 seed?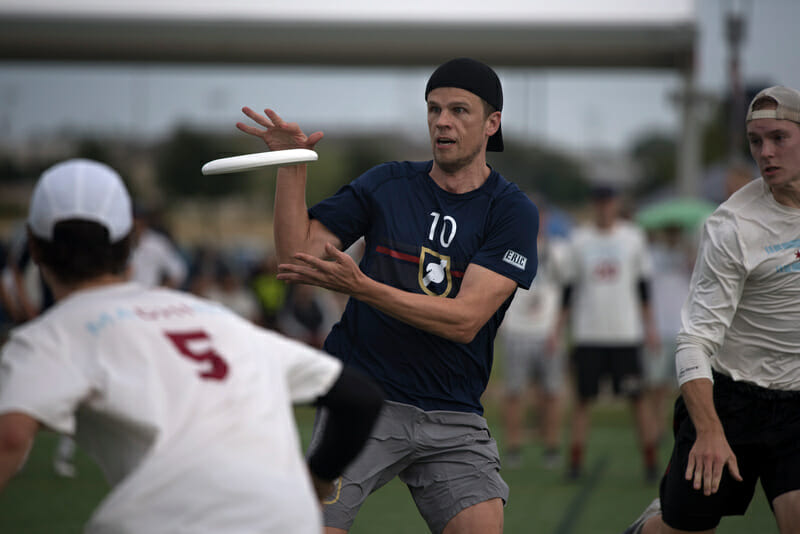 Forget that tonight's semifinal under the lights is a rematch from pool play. Ignore the scoreline of San Francisco Revolver 15-8 Chicago Machine. Perhaps think back to a one point Machine win in a blustery game at Pro Flight Finale over the perennial favorites, but the results of that game (much like yesterday's pool play game) didn't matter overall for the tournament.
What's much more relevant is the pair of scrappy pair of wins that Chicago put together over Denver Johnny Bravo and Raleigh Ring of Fire to land them in this semifinal matchup, by a total margin of three points  And it's worth noting Revolver remains undefeated through two days, with a point differential of +27. That's the best differential in the division, even with a razor thin, one point quarterfinals win over Washington D.C. Truck Stop.
That monstrous differential is there for a reason. Beyond the unmatched skill of Revolver's offense and depth of their talented defense, there is a more ineffable quality to their composure and mental game. In moments where the game is close, or their opponent scores a break, nothing has changed on the Revolver sideline. There's little exasperation–what might be visible or audible is drowned out by a driving sense to improve in the next point, marked by positive encouragement and loud communication from the sidelines.
For the most dominant team in the Men's division of recent years to say very little about winning, or to take the energy from giving up a break and consistently focus it on the next point instead of letting out some verbal steam, is to define a winning attitude that spans many seasons. Every team in attendance is brimming with talent–it's Revolver that has been able to kick into the necessary higher gear at a moment's notice.
And then there are the game-breaking talents. Cassidy Rasmussen leads the way, showing his versatility all over the field and on both sides the disc. He's racked up seven goals to go with his team-leading 15 assists so far. The youngest player on the roster, 6'4" Simon Higgins, leads the team in goals with 10. And in case any had cared to doubt Beau Kittredge's health of ability to affect an outcome, they need only reference his quarterfinals-winning catch.
Revolver has continued to show their cutting coordination, which works to isolate the next cutter and provide options both under and away from the thrower. Teams that are unable to limit this system face a tall order when slowing down Revolver, and it's that very task that falls to Chicago Machine.
The Windy City men have their own stars who are extremely difficult to limit, many of whom made the difference in Friday's play. AJ Nelson leads the team in goals scored with 13 on the weekend, and Machine gameplans are often geared to clear the way for the 6'4" cutter and let a thrower send the disc to him in open space. Jonathan "Goose" Helton is one of those throwers, and he's notched 16 assists playing a power cutting role. 2015 pickup Brett Matzuka pairs nicely with Machine-mainstay Bob Liu in the backfield, both of them in command of arcing scoobers and hammers that can slice through a defense and ignite downfield flow.
The Machine leadership is a well-prepared bunch, and the biggest challenge they've faced so far may have been keeping their teammates bought in to their rigorous game-planning, cutting systems, and defensive goals. Straying from those paths lead Chicago to their major pool-play stumbles yesterday, and as the day closed out, it was simply the forgiving format that excused the team's departure from doing the work and making the plays they've practiced.
Machine also brings a good deal of height to the table, something that Revolver lacks and has often forced them into a pace-changing zone (if their heavy-hitting man defense and bracketing isn't serving to limit an opposing offense). Chicago's George Hughes may not have the goals-tallied to match Nelson, but at 6'6" he could pose a problem when he gets himself into good position.
There's no doubt that Machine has the right parts to put together another big win, but after two days with results on opposite ends of the spectrum, their biggest challenge will not be buckling when they find themselves trading with the unflappable San Francisco squad. Two collapses from Thursday will need to be clear from the mind of Machine's offense, and their strong defense will still a lot of work to do to limit Rasmussen, Kittredge, Higgins, and others.
Revolver brings more talent and poise to this matchup with a mindset built to withstand and overcome breaks. An early lead for San Francisco could put the game to bed quickly, and a two or three point deficit isn't enough to knock them from contention. Count on Machine to make it interesting, but they've yet to show the edge necessary to stop Revolver from returning to the finals.