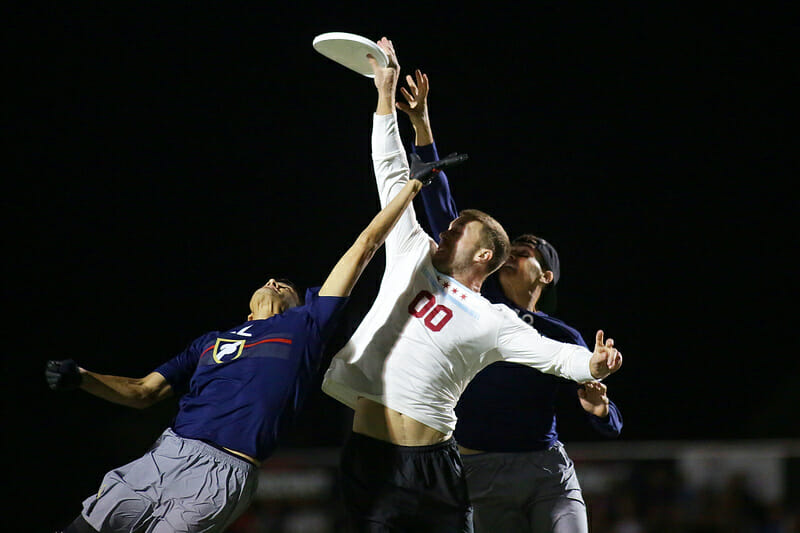 San Francisco Revolver had just finished a clinical performance under the lights, putting away Chicago Machine 15-11 in the latter's first trip to semifinals in Frisco. As the stands cleared of fans and the feeling of loss settled in on embracing pairs of Machine players, Jonathan "Goose" Helton walked slowly off the field, in pain after his last-point collision with Jamie Quella.
Helton racked up three goals and two assists for his team in one of their best offensive efforts all season, but in his mind, there was more work that could have been. Did he think that his team had given their best?
"I don't. We were close to our best, close…" he said as the moment continued to sink in.
Chicago entered the game confident that they had the players and game plan to win, believing that they could unseat San Francisco from their throne with a well-executed game plan and maximum effort. Machine bounced back in prequarters and quarters to land in this game, using their 0-3 pool play performance as motivation, and with 2014's early exit at Nationals simmering in the background.
For those that followed the performance of this Windy City program in 2015 alone, a semifinals berth may have seemed almost of the question. Despite an embarrassment of talent on the roster, including the high profile addition of recent National champion handler Brett Matzuka, there were no major tournament wins in the regular season. Michigan High Five took away the Great Lakes Regional title. It didn't look like the team was capable of putting together a deep run in Frisco –they needed improvement, and where exactly may have been unclear.
According to Helton, an imperfect season may have been just the thing for a team needing to learn about overcoming hardship. Expectations had perhaps gotten the better of the 2014 edition of Machine, which won both the Pro-Elite Challenge and the Pro Flight Finale, along with the Great Lakes title. Raleigh Ring of Fire quashed dreams of semis and beyond last year in prequarters, taking Chicago out of their game and out of contention. It was a disappointing end to what had been a strong and promising season.
Half a year later, through the AUDL's Windy City Wildfire, Helton built a close friendship with Matzuka, who gave the Machine star and its leadership some critical advice.
"He basically told me whenever we kept not winning tournaments, unlike last year, that that sort of adversity –that sort of disappointment– drives you to be better," he said. "Even Day 1 of Nationals [2015], he was right. Because we came out against Bravo and Ring wanting to play our best ultimate and having made enough mistakes [in pool play] at that point to learn and play better."
Last night's performance, in fact, capped a mirror image to Machine's 2014 Nationals record. Hot off their Regional title, they took down Minneapolis Sub Zero, D.C. Truck Stop, and Portland Rhino in pool play. Then Ring of Fire put an end to their hopes with a decisive three-point victory.
Instead, in 2015, Machine arrived with a lack of consistency. They caved in against Madison Club in the first round, ceding a 13-10 lead and losing 14-13 in a capped game. Immediately afterward, with a lead heading into half against Philadelphia Patrol, Chicago again folded under pressure and lost on double game point. By the time their third pool play game against Revolver arrived, falling to last in the pool was unavoidable. It was the simple prospect that pool play games would not affect their chances at the bracket that gave Machine hope.
Captain Kevin Kelly and the rest of the team's leadership knew that the format's forgiveness could give their team a clean shot at a deep run, and pulled a mental 180 that saw them hand in two major wins to land them in the semifinal under the lights. The emotional pitfalls associated with loss were familiar this time around, and that knowledge may have combined well with the team's experience at Nationals last year. In essence, the team could move on faster and refocus effectively having been forced to do so earlier in the season.
Perhaps it made Machine more fearless.
Helton and fellow phenomenal O-line cutter AJ Nelson hadn't quite handed their own stellar performances on Thursday, but they turned themselves around and finished the weekend leading the team in goals, with 9 and 15 respectively. Nelson himself had two goals and two assists in Machine's semifinal debut against Revolver, getting himself into the deep spaces where he was most effective.
Matzuka and Liu were lethal from the backfield as well, and the two early breaks that gave Revolver the lead were nothing like the total mental collapses from pool play on Thursday. Chalk it up to semis jitters, since the offense was on fire for practically the rest of the game.
And even after all that, Helton thought they could have done more. "I'm a little disappointed, but I'm proud of my team and last year made us what we are this year," he said while holding his rib cage from the crash with Quella.
San Francisco Revolver has yet to show any signs of being anything less that than best team in the world so far this tournament. For Chicago Machine to trade with a team so steeped in a history of national titles and late season runs in all but four points of a lightning fast semifinal, and then want more? That's nothing but improvement.