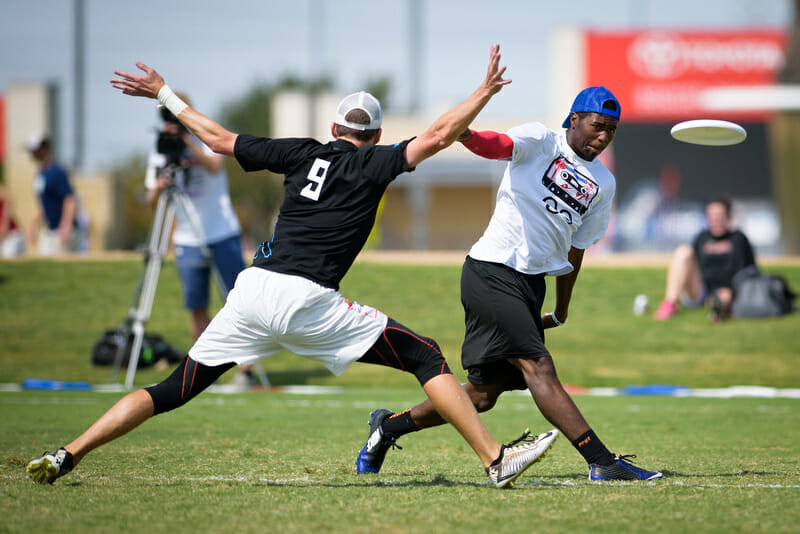 San Francisco Polar Bears seemingly did most everything right.
They stayed disciplined, applied consistent defensive pressure aimed at taking away their opponent's strengths, made mid-game adjustments, forced the other team into a bunch of bad shots, and just overall worked harder.
It didn't matter. Or to be more clear: it didn't stop Khalif El-Salaam.
Thanks in large part El-Salaam's second half domination, Seattle Mixtape came back from a 10-6 deficit to defeat Polar Bears 15-13 in the Mixed Division semifinals on Saturday.
El-Salaam scored five of Mixtape's final seven goals (a majority of which were flat-out incredible skies, sometimes over multiple defenders at a time), threw two assists, and snagged a pivotal poach interception that played a big hand in Seattle's late surge.
RELATED: The Hometown Hero: Khalif El-Salaam Has Big Plans
Brad Houser (3G), Cam Bailey (1G, 3A), and Evan Klein (2G, 2A) also turned in strong contributions.
Near the end of the first half, however, you would have thought that Mixtape's big money style was about to catch up with them when faced with an opponent bent on taking the smart choices. San Francisco moved the disc quick and worked hard to set up every cut, ensuring that if they got any chances to break they would make the most of them. It paid off, as Polar Bears jumped out to a 7-4 lead and looked to be the new fairytale team of 2015.
Mixtape's reset cuts were indecisive, their hucks were off, they seemed confused about where the open spaces were and how they should be cutting, and their energy was as flat as their confidence.
PBR was forcing them under, denying resets, and putting big, straight-up marks on their throwers. The strategy was taking away everything Seattle liked to do and a blowout seemed inevitable.
Once Mixtape got their first break at 6-7 and the sidelines got into it, though, everything changed. Players from fellow Seattle team BirdFruit — many of which played with Mixtape players on the MLU's Seattle Rainmakers — started chanting in rising tones and the shifting energy was palpable.
Whenever Mixtape notched a break, the BirdFruit members yelled "Break Pumpkin" and tossed around a Halloween pumpkin in a big circle. The chorus was overwhelming in comparison to PBR's quietly stoic, yet overtly supportive demeanor. As the sideline support for Seattle, which also included some Sockeye and Riot players, steadily rose and Mixtape fed off it more and more, just about everyone watching felt the déjà vu from last year's semis creeping up and knew what was coming: another crazy comeback.
Even when PBR held out of half and tallied another break to go up 6-10, it felt like everyone was just waiting for Mixtape to work their magic.
"We know our D-line can get three, four, five breaks in a row," captain Houser said. "We've seen ourselves do that. When you have that kind of team, you know you can come back in any game."
Sure enough, only a few minutes later, Seattle tied it at 10.
Thanks to a short field drop from PBR and some clutch defensive playmaking from Mixtape, Seattle climbed back into the contest, using breakside hammers and trust hucks to convert the break opportunities.
Klein swatted away a huck on the next point, but the disc mac-ed into Daniel Naruo's hands for the San Francisco hold. Then came the play of the game.
Phil Paul served up a steak dinner for El-Salaam. The entire crowd saw him rounding the route in preparation and took a deep breath. Two more hard plants and the 21-year-old phenom rises up into the sky to pluck the disc out of the air at a crazy peak. Defender Ethan Falat — perhaps the most athletic player on PBR — looked like a child at a charity shoot-around with Jordan.
The score was only 11s and San Francisco was on offense downwind, but a statement had been made.
They traded to 12s before a huck from Clay Miller sailed out of bounds and set up Seattle for a break opportunity. Daniel Walton put up a blading O-I flick to El-Salaam, who read it perfectly and snagged it on the backhand sideline.
A few resets kept it in the backhand corner just a few yards shy of the upwind endzone. At a high stall, Klein tried to jam in a quick backhand to the cone, but it caught a gust and floated up over a few players' heads.
Just at the last moment, Jen Cogburn ran in and rose up for the nasty sky and critical upwind break to give Mixtape the 13-12 advantage, their first lead since 1-0. PBR held after getting good field position before Mixtape worked it up to about half field and put up another jump ball to El-Salaam. He once again skied his defender in the back of the endzone for a key upwind hold.
Seattle came down on the next point with some fiery defense and forced a punt. Immediately after getting the sky block, Phan picked up the disc and lobbed another floater to El-Salaam in double coverage. San Francisco got a hand on the disc, but it only fluttered and fell right into El-Salaam's hands for the game, sealing the miraculous comeback.
PBR was essentially left to wonder what more they really could have done to stop Mixtape's late rally. "We tried to play bigger on the mark and force them to throw wide and big," captain Naruo said. "But it just ended up being part of their game."
Naruo said Mixtape somehow managed to work around all of PBR's strategic adjustments, no matter what they did.
When PBR put on aggressive marks and stayed tight on the resets, Mixtape threw dumps to space and had receivers run them down. When PBR went straight-up, Mixtape took the bait and threw big arcing floaters around the mark. And when PBR forced Mixtape into taking those bad huck looks and got deep help from the wings, Seattle came down with it anyway.
"Those are the match-ups we wanted," Naruo said.
What's more, after the game, Houser admitted that Mixtape thought about making some adjustments due to the early success of PBR's defensive schemes, but figured that Seattle would eventually settle into their groove and start clicking again.
"We figured we'd keep doing what we know how to do," Houser said.
That may sound a little silly, but it's hard to argue with results.
Although San Francisco played a great game and had a remarkable weekend and season — especially considering their high turnover rate from last year — there's not much you can do against a team like Mixtape when the latter is on fire.
After being the most dominant team all weekend, Seattle will get a chance to avenge their finals loss from last year on Sunday when they enter a rematch with Minneapolis Drag'n Thrust in the championship game at 10 AM Central. When asked about how they're feeling about getting to play Drag'n Thrust again on the biggest stage for the opportunity to earn Mixtape's first national championship as a program, Houser had this to say: "We just can't wait."