Brute Squad found themselves in another blowout. This time, they were the ones coming out on top.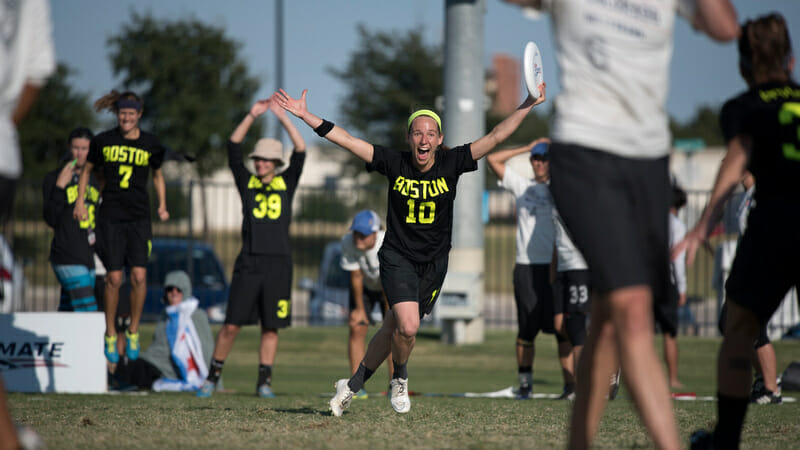 If you told Boston Brute Squad that this year's semifinal would be just like last year's, they would have likely been very disappointed. But when it turned out that way, there were quite pleased. That was, because of being on the receiving end of a complete win, they were delivering the early knockout blow to Molly Brown in a 15-7 runaway win.
The top seeded team began asserting themselves part way through the first half. They showed signs with an early break, set up by a huge Becca Ludford block in the lane and finished by Kami Groom to make it 2-1. It was the beginning of a monster performance for Groom. She added a block, a layout, and another goal (finishing with four goals and 2 blocks) on the team's second break to get up to a 5-3 lead. Brute followed that up with another for a three goal advantage, and yet another before the half to lead 8-4.
"We never let our foot off the gas defensively and made it hard for them to get back in," said Boston captain Emily Baecher. "What we really worked [on this season] was to be able to play a grinding defensive game and become a more composed team when our D gets the disc, and we showed that we could do that today."
Molly Brown's offense did not deliver. It wasn't a personnel issue. Their offense very rarely moved smoothly, regardless of who was operating it, and they were stifled by both the defense and the gusts of wind that reared up over the course of the game. There were so many occurrences of open side flicks just too far for a bidding Denver receiver; Molly Brown was miscalibrated.
"[Brute Squad's] defense was great and the windows were small. Our throws were off just enough today that we were missing the small windows that were there," admitted Molly Brown coach Mike Whitaker after the game. "And that tends to compound because you start to press a bit."
Boston's offense, which has been the division's best, gave the disc to Molly Brown four times; zero of those opportunities ended in breaks. The red zone – an area Brute Squad excelled in – proved to be a troubling space for the lower seeded challenger. And Denver gave the Boston defense a couple of short fields and extra chances, generously digging a deeper hole.
"Red zone efficiency [is where we lost the game]. They were very sharp and methodical in their red zone efficiency and converted a very high percentage of the possessions they had inside the offensive brick mark," said Whitaker, "especially going into the upwind end zone."
While the second half was more grinding for both teams, then Brute O-line never really ceded opportunities to Molly Brown. They were never able to curve their unforced turns and even missed out on the few chances they were given – or rather taken by Dena Slattery, desperately trying to keep team in it with killer defense – in the second half. Leila Tunnell, who recorded five assists in the win, continued to march the offense forward for Boston.
"We played hard ultimate and we got beat by a team that played better ultimate than us today," said Whitaker. "Our execution wasn't quite there to compete with a team at that level."
It is hard not to feel like Molly Brown was satisfied with making it this far. Beating Scandal, particularly in such gritty fashion, felt like a relief for the team, as if they had finally gotten to the top of their mountain. They were clearly fighting, but coach Whitaker was very proud of the team's performance this year and said they accomplished their goals.
"I'm a firm believer that sometimes you have to get to a level and lose before you can get to a level and win. You very rarely see a team go from quarters to winning it all in a one year jump…There's a natural progression as teams grow, as they move from good to great, and into that elite tier," said Molly Brown's coach in his first year with the team. "Our goal this year was to take a major step up in our tier. We did that, with how we performed against the rest of the field at Nationals."
The parallels between last year's Brute Squad team and this year's Molly Brown team didn't escape Whitaker. He said he hoped his team was on the same trajectory, and he hoped to come back next year with the same sort of fire Boston displayed today. They were integrating a lot of new personnel and a new coach with a new system, which should all be easier to manage in year two.
For Brute Squad, the victory is worth feeling good about – there were certainly tears of joys postgame – but was just a step towards a greater goal. But Baecher said her team still had room for growth that they were still exploring.
"We love the grind, we love the gritty games, where's there's turnovers and multiple possessions," she said. "That's where we excel, but we can always do better."
Her demeanor after the game certainly radiated confidence and focus. Her team's defense played excellent, but she said they expect themselves to. Baecher wasn't bubbling joy. Not yet. She and Brute Squad advance to the final to play against Seattle Riot. Whatever emotions await Brute Squad will come out after that game, when their journey for this season is truly finished.