Other sports don't ask young players to play on the same field or use the same equipment as adults.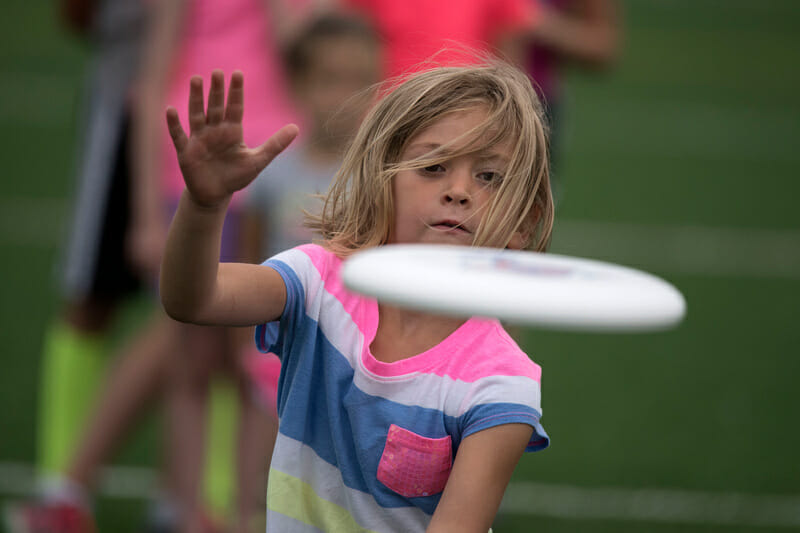 I attended Spring Reign for the first time this past April. Spring Reign is the largest mixed gender youth tournament in the world, features elementary, middle school and high school divisions, and draws teams from Oregon, Washington, British Columbia, and beyond.
I was there to promote VC ULT Camp. While most of that promotion was toward the high school-aged players, my tent was set up right next to the elementary fields. While I'd seen a few practices for my neighborhood elementary school team in our local park and coached a season of U-10 ultimate in our parks and rec league, this was my first time watching elementary-aged players play in a tournament.
I was surprised to see that the elementary school division was playing on nearly full-sized fields, 7-on-7, with a 175 gram disc.
With the almost full-sized field, points went on for a long time (meaning subbed-out players could have become disengaged), and, due to the small stature of the players, the field size, and the player skill level, the optimal strategy for scoring points seemed to be throwing it as far as possible and hoping for a completion (which were not terribly common). It was the equivalent of putting new adult players on a 200-yard-long field.
With 7-on-7 and so few completions, many players didn't touch the disc for long periods of time.
And, with the full-sized discs, these young, smaller players had to make unusual adjustments to their throwing mechanics and had additional trouble catching the disc.
Having watched those games, I do not believe that the structure that we were providing for these young players was the best structure to introduce young athletes to the sport and help them to develop the skills they need to move to the next level.
Beyond the developmental aspect (and more importantly), I don't believe that this structure was the most fun way for them to play. Watching the games, I felt a little like this.
Seattle is on the leading edge of youth development for ultimate. Ultimate is an officially sanctioned school sport in many high schools and middle schools, and elementary-aged ultimate is growing quickly. These new challenges that Seattle is encountering, however, will soon be faced by many communities.
Ultimate Canada has shown exceptional leadership in this area by developing a Long-Term Athlete Development model. USA Ultimate has begun the process of doing the same, although this process has been slowed some with some of the organization's recent turnover.
Ultimate Canada's recommendation for the eight- through twelve-year-old age group includes using a smaller (140-145 gram) disc and playing either 4v4 or 5v5.
These are good starts, yet there is still a great deal more that we need to explore about what is best for development at this age group and younger.
What disc should we be using to teach these players? Discraft makes both the 160 gram Sky-Styler and the 145 gram J-Star. Wham-O makes a 160 gram Pro Freestyle disc. Do one of these discs outperform the others, providing a better disc for developing ultimate skills? Do any outperform the 175 gram Ultrastar?
Another important line of understanding is this: How do we teach proper mechanics to young players and how do we modify the game or create activities that support those proper mechanics? Speaking with Pittsburgh coach Nick Kaczmarek this summer, I learned that the Thorne brothers, Max and Alex, standouts for Pittsburgh during their championship runs and two of the best throwers in the game, started throwing rollers (using a forehand grip to blade the disc at the ground in order to roll it) at a very young age. This may have allowed them to execute the proper wrist snap at a young age and be a contributing factor to how much spin they are now able to put on the disc.
Michael Baccarini, coach of the boys team at Paideia High School in Atlanta and an elementary school PE teacher, uses the Fun Gripper Flyer, a soft dog-disc that has remarkably good flight characteristics. This may help his younger players learn how to catch appropriately and aggressively without fear of injury when making mistakes.
What equipment and techniques have you used for young ultimate players to help them develop as players and appreciate the sport?