Leila Tunnell displayed an almost effortless dominance this season.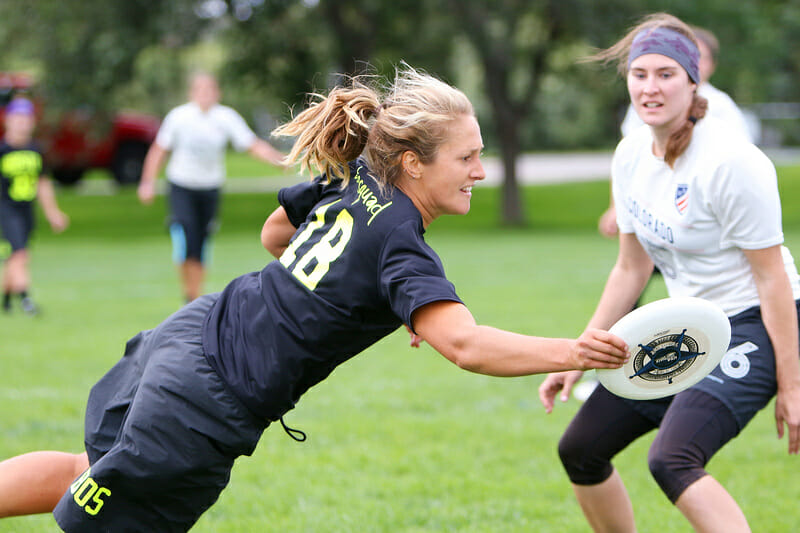 In ultimate circles, Tunnell has widely been considered one of the best – and most spirited, as evidenced by her 2014 Kathy Pufahl Spirit Award – players in the women's game. She was the most dangerous player in the Women's Division with the disc in her hands this year. Marks crumbled against her snappy inside breaks and whipping arounds, zones fell before her varied release points and crossfield blades, and the title is hers and Boston's to show for it. It may seem trite to choose the leader of the best offensive line in the division on the recently-crowned national champion. Watching her play will tell you differently.
The numbers probably don't accurately reflect her influence on the game. Her 16 assists were still good for sixth at the Club Championships this year; of players with more than 10 scoring throws, she had the 6th fewest turnovers. But that can't capture her reliability in the backfield, the attack angles she changed with her throws, or the confidence she instilled in her offense.
"We rely on Leila to be the cool-headed thrower and amazing skilled thrower that she is all the time," said Brute Squad captain Emily Baecher after the semifinals. "She just makes it happen with the disc, and keeps the disc alive. She's got great vision, especially in the endzone, and the skills to get the disc there."
Unquestionably, Tunnell was the engine in the unstoppable tank that was Brute Squad's offense. Her superior skill with the disc was never more apparent than when the wind kicked up. Nearly every player withdrew for fear of mistakes at the Pro Flight Finale or in the gusts of Frisco. The former Callahan winner pressed on, putting up the same impressive attacking throws she utilized in every situation throughout the season; Boston won both of those tournaments. The semifinal round was one of the tournament's windiest, and Tunnell put up a dynamite five assist to one turn performance against Molly Brown.
When the competition, the pressure, and the conditions were the most challenging, Tunnell only got better.
Stay tuned to Ultiworld for All-Club 1st and 2nd teams, the All-Defense team, and the Club Breakouts team later this week.