Seven fantastic players round out our All-Club 1st and 2nd team selections. Who got snubbed?
Check out the All-Club Women's 1st Team here.
With Nationals over and the winners crowned, it is time to take a moment to recognize the top performers in the Women's Division this season. While the talent of the division reaches far beyond short lists, these players put together what we believe to be the best seasons in the Women's game this year.
Players were selected based on both their regular season and postseason performances.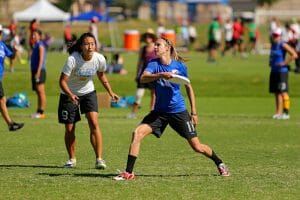 Dena Slattery (Denver Molly Brown)
Slattery was a bit of an unknown on the National scene, but those days may be coming to a close. After back to back big years at Nationals and helping lead her team to strong finishes, Slattery is becoming the type of player teams know they need to address to be successful. Along the way, with her take-no-prisoners play style, she's garnering fans, including here at Ultiworld.
There's no holding back with Slattery, who is a valkyrie on both sides of the disc. An Honorable Mention in 2014, Slattery's numbers actually declined at Nationals this year, in large part because of the added strength of her team. But despite taking on a lot of touches and difficult throwers, she only had two turnovers, helping give her a strong +13 plus/minus for the tournament.
Part of what is so compelling about watching her play is that she's willing to do whatever work is necessary. Slattery is just as comfortable cutting as she is handling, and doesn't take off moments for either. She's also perfectly happy going out and getting blocks. Hucks, hammers, breaks, skies, layouts – Slattery has the total package as a playmaker and is a rising star.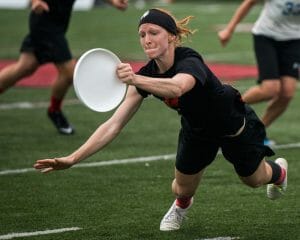 Kelly Johnson (Seattle Riot)
No handler wants to see Johnson racing down the field to cover them. The hard working and athletic defender has been a junkyard dog in the backfield for Riot's defense, forming a tandem this year with Ultiworld's collegiate Defensive Player of the Year this past season, Lauren Sadler, to disrupt handlers all season long. Seattle coach Andy Lovseth had so much faith in the defense's offense – well founded faith – that he trotted them out as the offense in the National Championship game, and that offense was held together by Johnson as the hub handler.
That's why when you look at Johnson's stats from Frisco – four goals and eight assists – you're surprised to find out she's playing defense.
With a great combination of power and mobility, Johnson's offensive skills are nearly as deadly as her defensive talents. Her ability to impact the game in so many facets is what her made her one of the best players in the Women's division this season.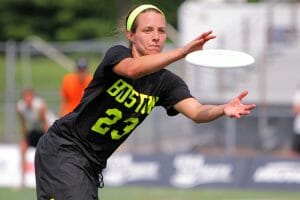 Emily Baecher (Brute Squad)
If there was a Club Player of the Year award last year, Baecher's name would have been tossed around at the top of that list. That level of production might have been slightly unsustainable, but she showed she could still put together one of the best performances this year. As the head of the Brute Squad defense after the turn, Baecher, one of the captain's of the team and a leader in the sport as a whole, played a pivotal role in winning Boston a title.
It doesn't take much of watching Baecher to get what makes her so special. She's a tenacious handler defender and one of the best positional defenders in the game. Her mark is excellent, trained by years as an elite thrower herself; she makes up for lack of blocks with denied touches. On offense, she's able to utilize that experience to get open regularly and has a wide range of release points to attack whoever is marking her; most of her 12 assists were to the break side. From the huge backhand huck to the trusty high release backhands – with either hand – Baecher will find a way to get her offense to the end zone.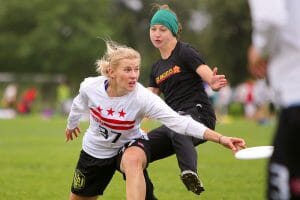 Sandy Jorgensen (Scandal)
The book is out on Jorgensen, but its still a best seller. One of the few players in the Women's division with enough clout to be known by just her first name, Sandy is a one of a kind playmaker. Quite simply, she often does thing that literally no other player in the women's club game could do. Since every team knows that what's normal – how much separation a cutter needs, how much space is in your deep zone, when a huck can go up – goes out the window when dealing with Jorgensen, just her mere presence changes the game.
Jorgensen uses her unique talents effectively. Run through blocks are just the start. No deep deep controls and patrols their region so effectively, and her range allows her teammates to clamp down harder. Because of how scary she is deep – and how often gets the disc a few yards away from paydirt – Sandy was able to put up 11 assists at Nationals compliment 8 goals and 11 blocks. So many Scandal possessions this season ended with a bomb launched early in the count to her. There's just nobody else like Sandy Jorgensen.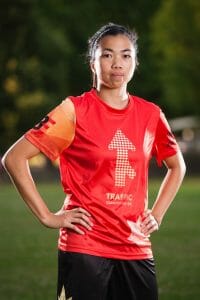 Catherine Hui (Traffic)
Few players are able to match the consistency and excellence of Traffic's star cutter. More American fans should know her, her talents really merit notice. Hui's throws have been rapidly catching up to her blazing (and relentless) speed and aerial attack and it makes her dangerous everywhere offensively.
Check out the numbers. A 15G/6A assist line from last year was very strong, but she's tacked on a lot more dime-dropping, with a 14G/11A performance at this year's Club Championships. She also added seven blocks, one of the most likely Traffic players to play O and D. Ask Iris, who she torched for a 2G/2A/2D line, or Heist for a 4G/1A/1D game, or Molly Brown, who she tossed some great bombs against on the way to a 3 assist outing.
With the ability to hit from multiple angles, and to hit each of those angles hard, Hui is one of the most well rounded weapons available.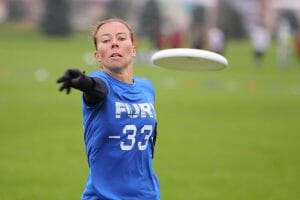 Anna Nazarov (Fury)
Not much has changed for Anna "Maddog" Nazarov. That's kind of the point. She's perhaps the most consistent player in the game. It didn't matter that her Nationals numbers took a dip to a 1G/8A/4D line, and a +8 plus/minus. It was what the did between the end zones that made all the difference. Tasked with taking on a hefty load of touches, she, Alex Snyder, and Carolyn Finney gave Fury a deep, skilled, and experienced backfield.
Of those, Nazarov is, appreciably, the middle ground. Snyder's a dominating break thrower and Finney's motor is tough to defend. Somewhere between that is Nazarov, dependably available but equally threatening with her legs and her throws. She's also an excellent defender after the turn, perhaps the best defender on Fury. All in all, she can do whatever her team needs her to do, generally whenever they need it.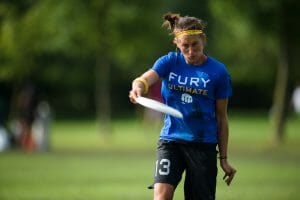 Cree Howard (Fury)
Speaking of Fury and versatility, Cree Howard fits the model perfectly. The San Francisco dynasty has been built around players capable of filling multiple roles like Howard (and Nazarov) can do, and she personifies that. She's still a fearsome athlete with good size and range on both sides of the disc, capable of winning battles in the air or in the lanes.
It is clear how confident and connect Howard has become with her Fury teammates in how easily she moves into different positions on the field. She's a lethal enough deep threat to draw the opposition's best downfield thoroughbred, but a good enough thrower to yank them into the backfield to give her teammates room to roam. This multi-role star is far from a role player, able to contribute to team success in a multitude of ways, allowing her to play a part in nearly every Fury outcome.
Stay tuned for Ultiworld's All-Defense and Breakout teams, coming later this week.