Gritty defense and brilliant second half performances drove Drag'N Thrust to a historic third straight Championship.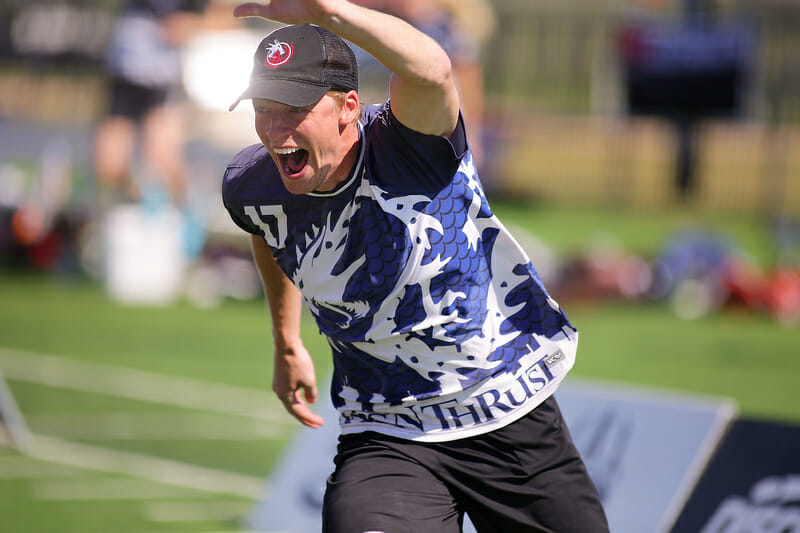 It was a wild weekend for the now three-time reigning National champions from Minneapolis.
In their prequarters game against Blackbird, Drag'n Thrust faced an 8-5 halftime deficit, but promptly outscored their San Francisco foes 9-5 in the second half to secure one of the most dramatic comeback victories of the day.
Against Slow White in the semifinals, Drag'N used a 4-0 run out of half to turn the game from 7-9 to 11-9. They never looked back, closing out the game with two holds and winning 13-11.
In the finals against Seattle Mixtape, a team that had trounced them in the final round of pool play on Thursday, Drag'n again finished strong, closing the game with a 3-0 run, coming from behind to win the game 14-12.
From Saturday onwards, Minneapolis Drag'n Thrust came from behind in three out of their four games, outscoring their opponents by a margin of 29-15 in the second half of play. And let me be clear, these weren't blowout wins. If they didn't score that many points, they were going to lose.
This stat-line reads like an improbable Disney movie script, not a third straight Championship for one of the most dominant mixed teams in history. How did Minneapolis pull off this many gritty wins without collapsing under pressure or fatigue?
Not Your Typical Championship Run
Drag'n's amazing run through the bracket highlighted some key aspects of their team makeup and this year's tournament.
First, the parity that the Mixed Division exhibited this Nationals at the elite level was unmatched in recent years. Slow White, Mixtape, and Blackbird were all clear threats to win a title. On the other side of the bracket, AMP, Ambiguous Grey, and Polar Bears heavily tested Seattle in Mixtape's march to the final. It is clear: there are few easy games in the bracket at Nationals.
Second, the mental strength and confidence that Drag'n Thrust exhibited in their three come-from-behind victories was razor sharp. These wins weren't easy. Frankly, it's Cinderella stuff, not what you expect to see from a reigning national champion and overall one seed. Sure, every title winner usually has a close game or two during the course of their tournament, but to make it a routine like Minneapolis did? That's special.
Defense Wins Championships
Normally, one seeds are like Revolver, taking command early and squeezing you.  You don't come back against Revolver. One seeds are like Brute Squad, up by five on Riot at half, and never looking back. Hell, last year Drag'n Thrust won their title game going away, blowing by an outmatched and simply "happy to be there" Seattle Mixed team.
Instead, this weekend was about Drag'n's defense, their depth, and their confidence in those two facets of their game. When you stood on their sideline this weekend, you didn't feel panic or frustration, despite multiple break deficits. Austin Lien had a simple explanation for their calm sideline: "It just boils down to defense. We think we have the best defense in the Division."
Frankly, it's hard to argue with him. Jay Drescher, the Lien brothers, Emily Regan, Sarah Meckstroth, Sarah Anciaux: they've got some absolute headhunters. Regan and Drescher were tenacious all weekend, playing a combination of lockdown coverage and baiting in the hopes of a huge block. In two straight Minneapolis breaks late in their semifinal game against Boston, both players blew up under-cuts with layout blocks near Slow White's end zone, leading to easy scores for Drag'n.
The word "clutch" is normally used to describe offensive play, but in this case, it's hard not to apply it to Minneapolis' defense. Take Emily Regan's layout, for example.
"I had been guarding in cutters for the past couple of points, and I know they like to push their ladies under, so I tried to bait a little bit," she said. "I knew that we had to capitalize on that point." Capitalize she did, rocketing past her cutter and leaving no doubt after the layout block, throwing a silky flick around for the break and score.
Even if when it wasn't generating blocks, Boston coach Marshall Goff noticed the Drag'n Thrust pressure. "Basically if we did something that wasn't really committed, or a less than definitive move, they [were] feasting on it," he said. Boston's offensive rhythm was noticeably disrupted. "Suddenly option one is four seconds later in the stall count."
Finally, and perhaps most importantly, Minneapolis didn't give it back after the turn. "They are a good team," said Goff. "The truth is, at the end of the game, we make a couple mistakes, and they've been here and they don't hand it to you. When they are stingy with the disc, they are real tough."
Fresh Legs
To add to their already phenomenal defense, Drag'n had a seemingly endless supply of energy late in games. While it might have been on account of their conditioning and training, when you talk to their players, it's clear who is largely responsible for their late game surges.
"Our coach [Jake Henderson] played that perfectly," said Anciaux after the final. Lien, following the Boston game, admitted similar sentiments. "Thank God for coach," he said. "He can keep an eye on who is playing well and put them on the field."
Henderson kept his players well managed all weekend, tweaking handler pairs, saving legs for the most opportune moments, and generally dominating the matchup game.
If you paid attention to Drag'n Thrust's personnel this weekend, you noticed two things. The first is that they try keep players on their respective lines in the first half, no matter how poorly things are going. Against Slow White, for example, they ran their traditional O- and D-lines well into the second half, waiting until seemingly well past the last minute to throw out their "universe lines" on defense. Lien, Drescher, Regan, Meckstroth, Mike Petersen all trotting out with fresh legs? Game over, folks. A 4-0 run out of half, then two straight easy waltzes down the field for holds. The combination of athletic ability, offensive IQ, and, most importantly, energy was way too much to handle.
Against Mixtape in the final, the story was a little different. Mixtape threw essentially everything they had at them, putting heavy hitters Evan Klein, Khalif El-Salaam, and Cam Bailey on nearly every single point.  Seattle went up big early. Messages from friends hit my phone: "game over," "seeya, Minneapolis." It didn't feel over though. Minneapolis didn't look like a team that was going to quietly.
Henderson knows his players. When miscommunication and simple reset turns plagued them against Seattle's athletic and poachy defense, he turned to so-called "chemistry lines." Dave Klink and Josh Hemmesch, who've played on offense together for years (all the way back to their time in college), took over in the handler spots.  The miscommunications stopped, the resets looked smoother, and the holds started coming more easily for Drag'n, even with big name players like Austin Lien on the sideline.
Late in the second half, with Drag'n Thrust down 12-11, Minneapolis trotted out their retooled seven-deep offense for maybe the biggest hold of the game. Austin Lien and company noticeably remained on the sideline. Seattle, as they had done all game, had their studs out there. It was a risky move.
But the Minneapolis O-line held easily, as they had all second half, tying the game at 12. Drescher, Lien, Anciaux and the rest of the D-line stalwarts entered the game for the first time in seemingly ages, and when you looked across the field at Seattle, you saw the same players you had seen all game: Klein, El-Salaam, Phan, Bailey…they looked gassed. They looked like they were holding onto this game by a thread. Mixtape had thrown everything at them, and they were running out of steam.
Drag'n Thrust, as always, was the picture of poise. They patiently waited for the turns, they punched in two straight breaks with the poise befitting of a repeat National champion, and they celebrated with their coach as they made it three straight for the first time in the history of the Mixed Division.
When asked about his contributions after the game, Henderson was modest. "I didn't play that perfectly, the guys and girls on the line played that perfectly," he said. "We run 27 deep, and we trust everybody." But his players told a different story.
"[Henderson] definitely crushed O-line," said Anciaux. "Once he figured that out and he was only running those seven, our D-line was so deep and we were able to run everybody." Austin Lien echoed that sentiment: "It was about one or two points with the big names out there and then just keeping the pressure on them with our fresh legs."
Mixtape fell into the trap of playing their best players the entire game. Whether or not they could afford to do anything differently is worthy of debate, but the fact is that Drag'n Thrust had more gas, more weapons, and more poise at the end of the game, as they did all tournament long.
You might think that winning three in a row takes some of the shine off of their latest championship, but there's a sense that Minneapolis players are enjoying this one quite a bit. After a weekend that showcased their trust, poise, and chemistry, this win is just as sweet, if not sweeter, than all the others.
Minneapolis' run was the definition of a champion performance. They used every player on their roster and they simply won when it mattered. When it comes down to it, that's what champions do.