How do you get players to apply skills learned in drills during game play? Change up your scrimmages to reinforce the concepts you practice.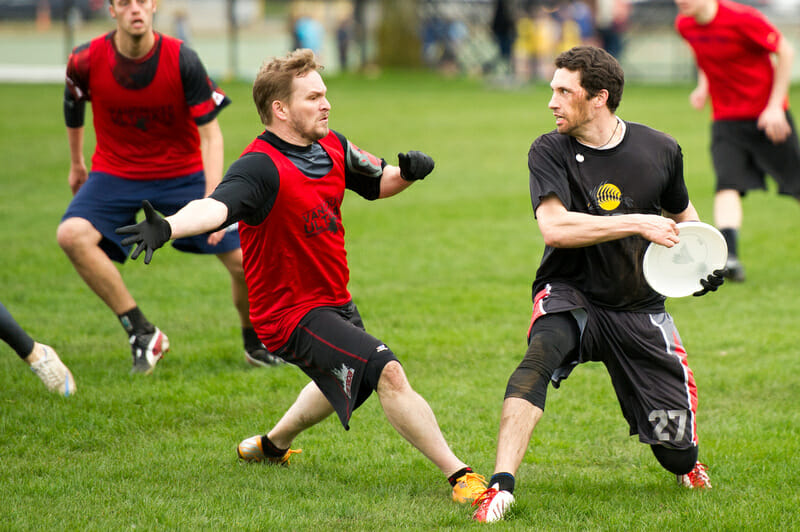 This article is presented by Five Ultimate; all opinions are those of the author. Please support the brands that make Ultiworld possible and shop at Five Ultimate!
One frequent challenge for teams is taking skills and concepts learned in a drill setting and applying them in simulated game situations at practice. This step is a critical one for ensuring that skills and concepts are not only executable, but that players have the wherewithal to recognize when to apply them in dynamic situations and the practice to apply them instinctually, with a minimum of conscious thought.
The challenge for coaches and team leaders is often creating a setting that both mimics a game while also ensuring repeated of opportunities to apply the specific skills and concepts that you are working on. Smartly modifying the parameters, rules, or scoring of a scrimmage can give your team extra opportunities to apply skills and concepts while maintaining the variety of a scrimmage which, unlike most drills, challenges players to recognize when they should be applying the skill or concept.
Scrimmage modifications can also be useful for teams on the other end of the development spectrum. Many teams simply scrimmage at practice and have no interest in structured drills. By using scrimmage modifications, they can work to improve certain aspects of their game without ever having to run drills. Scrimmage modifications are a great intermediate step for a program that's looking to take their improvement more seriously but is not ready to go all the way to a traditionally structured practice.
Here are 12 useful scrimmages that can be used to help develop a variety of skills and concepts.
1. 3v3
What: Three players versus three players. Field size is 15 (width) x 25 (length) x 5 (endzone) (although, according to the official mini song it should be 20x30x6). Stall count of 5. Optional: Make-it-take-it. Optional: Turnovers count as a negative point. Optional: 4v4. Play games to 3 (or more) or -2 if you count turnovers as negative points.
Why: Much has been written about 3v3;  the benefits are myriad. The biggest is that players don't need to have a grasp on strategy in order to get plenty of touches, so they get to practice skills like catching, throwing, cutting, and marking without having to worry about more complex skills like spacing and timing. 3v3 is also great if you have low numbers. With low numbers, players get more than twice as many touches (which disproportionately help the less experienced players who can easily disappear in a 7v7 setting. 4v4 can be helpful as well but once you get to 5v5, the game play feels more like a full-field scrimmage.
2. Double-Score
What: Game play operates exactly like a normal scrimmage until one team scores. The player that scores walks the disc 10-15 yards out of the endzone. Teams set up and play restarts with a check. The team must score a second goal before turning the disc over in order for the point to count. If they turn it over, play continues as normal. Optional: Triple Score. Optional: Receiver can run the disc out and ground check it to replicate non-stopped disc endzone sets.
Why: The classic endzone rep scrimmage. Due to limited space for the offense to work with and the extra value of possession in the redzone, many teams find it valuable to get extra endzone reps at practice in game-like settings. Double score also acts as a mental toughness drill, replicating those situations where a score is erased by a call and your team is forced to battle through and score again.
3. 10-Pull
What: One team always starts on defense, the other always on offense. The offense gets one possession to score and the defense gets one possession to score if they force a turnover. If neither team scores on their first possession, the point is over. Do this for up to 10 pulls. Score is tracked: (O Score)-(D Score)-(No One Scores).  
Why: 10-Pull is useful to get extra scrimmage-like reps focused on the critical initial possessions of a point. The offense gets extra opportunities to work on pull plays. The defense gets extra reps to work on getting down on the pull, disrupting pull plays, and transitioning defenses. 10-pull puts the focus on possession and punishes teams for playing loose with the disc.
4. Short Field Make-it-Take-it (MiTi)
What: 7 v 7 but make the field 15-25 yards long (instead of 70 yards) and play make-it-take-it.
Why: Short field make-it-take-it is a great way to both get lots of endzone reps while also simulating fast break scenarios. Another benefit of Short Field MiTi? You can do it as a warm-up at tournament on half a field—just bring cones.
5. No Pulls – Paused Make-it-take-it.
What: Following a score in a regular scrimmage, offense walks the disc out to predetermined spot (e.g., brick, sideline), checks it in, and play continues with teams going the opposite direction. Pause for subs every second point (or after a long point).
Why: No Pulls MiTi is the opposite of 10-pull. This modification is useful for minimizing down-time at practice (never wait 2-3 minutes after every score). It can help to get more stopped disc reps from whatever deep situation you think is appropriate (goal line, sideline, brick). No Pulls MiTi is also a great way to get conditioning in a scrimmage setting.
6. Three Hell
What: Game is to 3 but every time the score is tied it goes back to 0-0.
Why: Three hell is a mental toughness game and puts the pressure on teams to get and then hold a break. Give plenty of time for this game as it can go on for a long time.
7. Incentivized Scrimmages
What: Manipulate the scoring to put a focus on specific skills or concepts that you want to work on. Examples could include: 3 points/score and 1 point bonus for breaking the mark; 1 point for scoring or 2 points for a fast break score; normal scoring but teams receive a bonus endzone opportunity after the game for every (good decision) huck.
Why: Put that skill or concept that you worked on during your practice in drill-settings into practice on the field. This is a bit of a catch-all scrimmage modification. Adjusting the incentives can help you give the right focus for players. Be aware though that many players and teams aren't great at internalizing incentives right away and may not adjust their play how you want them to.
8. Scores for Turns
What: Defense gets a point for every turn from the offense. Disc then goes back to the thrower and defense gets to set back up. No points for scoring but offense gets to pull and become defense. Play until both teams get to play defense three times.
Why: Scores for turns is great when introducing new defensive or offensive strategies to allow teams repeated opportunities to work on those strategies without having to play on the other side of the disc immediately. The pauses after each turn allow for feedback and then the team can immediately put that feedback into play. Scores for turns also is a great mental challenge as players that make mistakes are immediately put back on the spot. And it can be used to create focus on defense as it creates a larger reward for defensive play and effort. Scores for turns is the best way to introduce and practice Zone O and D.
9. Frank's Rules
What: Use any combination of the following rules: 5 second-stall count, traveling is a turnover, receptions on the ground must be played from the ground, pivoting or running out of bounds with the disc is a turn, players must first pivot/fake in the direction that they received the disc from, strips are legal.
Why: First, it's fun. But, more importantly, Frank's rules change the shape of the field and the value on certain skills in ways that can open up a new dimension to your game. Your team will benefit from more throwing and going, quicker checkdowns between looks, and a value on throws that allow receivers to immediately become throwers and throwers to immediately become receivers.
10. Bullies
What: Secretly assign some player or a team to cheat (intentionally foul, call BS travels) or otherwise create drama (spiking, arguing about calls, trash talking).
Why: Successful teams manufacture pressure in practice so that they feel "harder" than games. While hopefully your team doesn't face teams that take advantage of the rules in real games, simulating that experience in scrimmages can help your team better understand how and when to apply the rules and deal with conflict when it comes up in games. This also allows the coach and more experienced players to help players understand and address more difficult or nuanced rules situations. No player's first foul call should come at a tournament.
11. Unfair Scrimmages
What: Stack one team with your best players or give one team a significant lead to start the game.
Why: Unfair scrimmages are another way to increase the pressure and learn to deal with the various scenarios you will encounter in games. Your team will face situations where you are better or worse than your opponents and you'll need to judge your success by something other than the outcome. Or you'll end up with leads to protect or deficits to overcome. You should be addressing these situations in practice so that you have language and mental preparation to deal with them.
12. Combo Scrimmage
What: Combine multiple modifications. For example: Three Hell Double Score or 3v3 Bullies.
Why: Tailor your scrimmages specifically toward what you need to work on. Three Hell Double Score is great for endzone mental toughness. 3v3 Bullies ensures all players have to deal with conflict.
Be creative, create pressure, and reinforce skills and concepts so that when there are no extra rules, your team plays the game you want to be playing. What scrimmage modifications do you like to play with?