Here's a look at the most popular articles of 2015.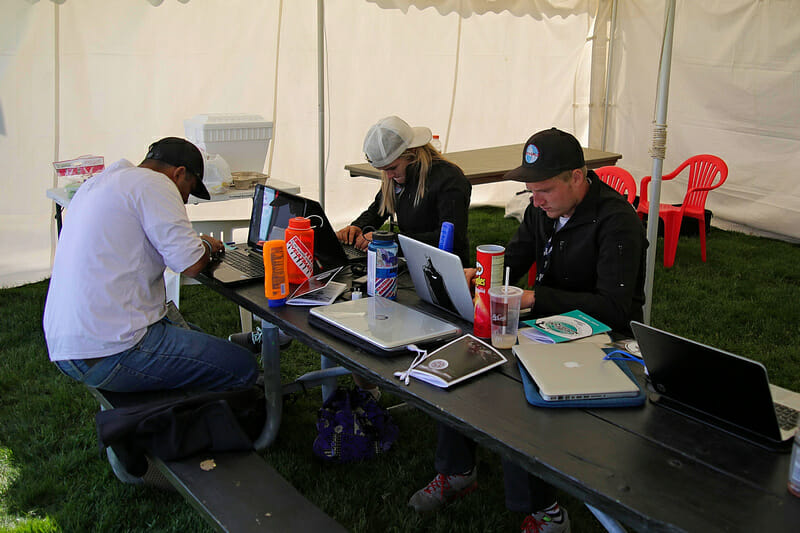 Today begins one of our favorite Ultiworld traditions: the annual Year In Review series. We will look back over the biggest stories, most popular articles, the "best of" the year, and more all this week, including year-end retrospective podcasts from both Deep Look and Sin The Fields. We kick things off with a look at the 15 most popular articles — based on pageviews — from 2015.1
15. Ultimate Bucket List: The Top Field Tournament In The World
Sion "Brummie" Scone cracked the top 15 with the second of his two part series on 'bucket list' tournaments that everyone should attend in their lifetime. The grass edition featured tournaments from Potlatch to Windmill to USA Ultimate Club Nationals. There's a list of beach tournaments as well.
14. 8 Reasons Your Team Should Be Playing Mini
Steven Wartinbee authored a number of excellent articles (here's his author page) over the summer about self and team improvement. His opus on the benefits of playing mini struck a chord and has, we hope, inspired many developing teams to get some 3v3 going at practice.
Patrick Stegemoeller, half of the Sin The Fields crew, delivered an instant classic that we will return to every summer on how best to experience the mega New Jersey beach tournament, Wildwood.
12. The Forehand: Part Four (Best Practices)
Kyle Weisbrod makes his first appearance in the top 15 with the conclusion of his four-part series on the forehand. In it, he breaks down the elements common to all great forehand throwers and builds a framework for assessing flick weaknesses for a thrower at any level.
11. Tulane Disqualified From Nationals, Auburn Invited In Their Place
Arguably the biggest news story of the year, Tulane's disqualification rocked the college ultimate world in late April after their surprise run at Regionals to a Nationals berth.
10. 25 Tips For Being A Clutch Role Player
Alex Rummelhart has put his experience playing at a high level and his time coaching youth ultimate into many articles about improving as a player. With advice for rookies and veterans alike, Rummelhart has been a feature of Tuesday Tips since the summer. This piece dives into the little things it takes to be a great role player.
9. GOAT's Remi Ojo With An Insane Catch Block
Perhaps my personal favorite highlight of the year, Remi Ojo's unbelievable catch block went viral, but, sadly, didn't reach a deserved slot on ESPN's Top 10. Don't miss the leg kick from GOAT coach Scott Hastie.
8. Why You Should Be Throwing Every Day
Steven Wartinbee makes his second appearance on the list with this seven point list about the benefits of throwing every single day. Do you think basketball players don't work on shooting or ball handling every day?
7. How Japan Took Down USA U23
The Team USA U23 team in the Women's Division took a shock loss to Japan in the tournament final. Benyamin Elias broke down the tape to show you exactly what Japan did to reverse their fortunes after a loss to USA earlier in the tournament.
Alex Rummelhart lands his second of three pieces in the top 15 with this clear guide to laying out. He takes on both the physical and psychological aspects of the key skill and gives a blueprint to improving your ability to get horizontal.
5. Dylan Freechild: Give & Go Moves
Benyamin Elias lands his second piece in the countdown with his breakdown of Dylan Freechild's stellar offensive abilities. With video examples and clear writing, Elias outlines both the how and why of Freechild's attack.
4. F*ck: Language Penalties Plague The First Two Days Of Nationals
Scott Dollen wrote up one of the biggest stories of this year's Club Nationals: the frequent — and often game-changing — language penalties. From Jimmy Mickle's exhortation to The UPA's upwind disaster, curse words and their associated technical fouls were a major topic of conversation at the tournament and beyond.
Pat Stegemoeller made a wishlist of throws he'd love to absorb from some of the top players around the country. With gifs included, it is an inspiring list that may jumpstart your own.
2. Five Handler Moves Guaranteed To Get You Open
Alex Rummelhart has another Tuesday Tips classic here at the #2 spot: five moves that handlers can use to find space up the line, in the backfield, or on the break side for a reset.
1. Basic Concepts Of Person Defense In 42 Seconds
Kyle Weisbrod earns top honors on the 2015 most-read list with his video-based breakdown of excellent person-to-person defense. With a robust comment section, clear video examples, and takeaways for players of every level, it was an immediate hit and a worthy recipient of 2015's #1 banner.
---
We excluded longer-term content like Power Rankings, as well as announcements and other 'meta' articles. ↩