A look back at 2015 through the lens of the lens.
What better way to capture a wonderful year of ultimate than with a photo essay. This is always one of my favorite articles of the year to compile, both because of the chance to look back over some amazing moments but also to see the depth and the breadth of the work of UltiPhotos, whose photos comprise most of what you will see below. Please support them. You can find UltiPhotos on the web, Facebook, and Twitter.
This is the final post in our 2015 year in review series; we hope you enjoy. All photos in this article are provided courtesy of UltiPhotos unless otherwise specified. No other use is permitted without UltiPhotos' express permission.
***
The Toronto Rush prepared to pull in the AUDL semifinals at San Jose's Avaya Stadium.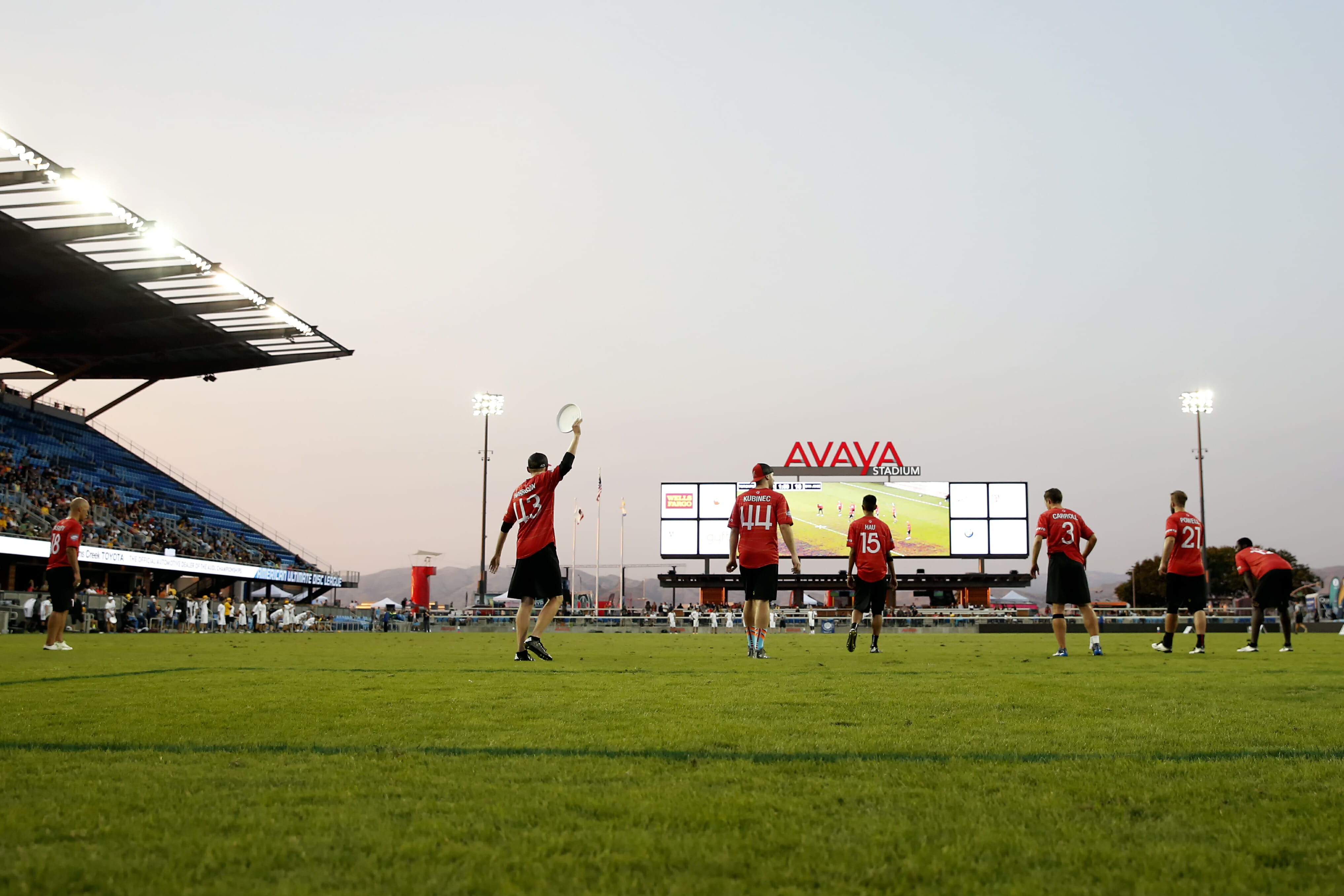 Texas A&M had a unique style all season.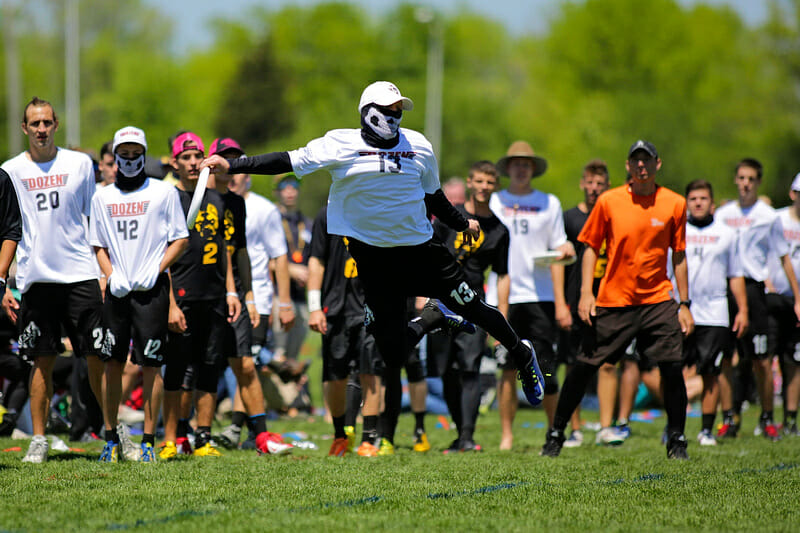 Drag'N Thrust's Eric VanderMolen celebrated Drag'N's third straight National title.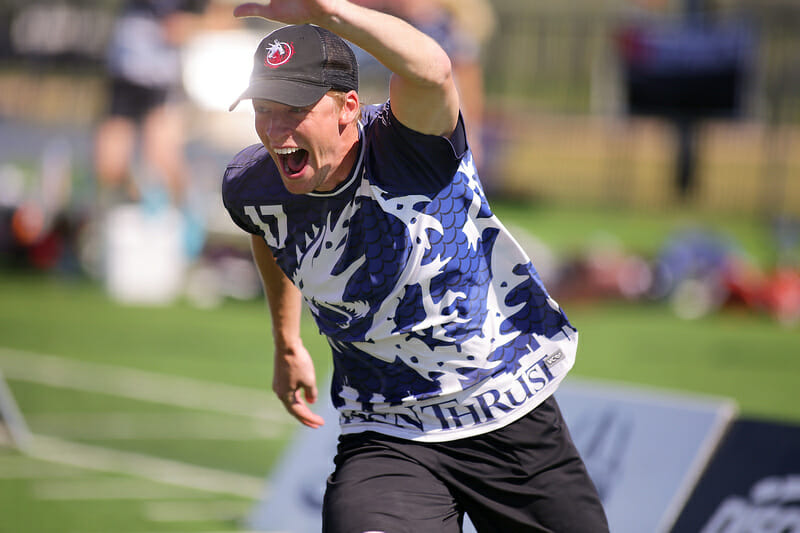 Pitt's Tyler Kunsa got an enormous handblock on UNCW's Xavier Maxstadt.

Drag'N Thrust's Brian Schoenrock made an unbelievable catch in the National semifinal.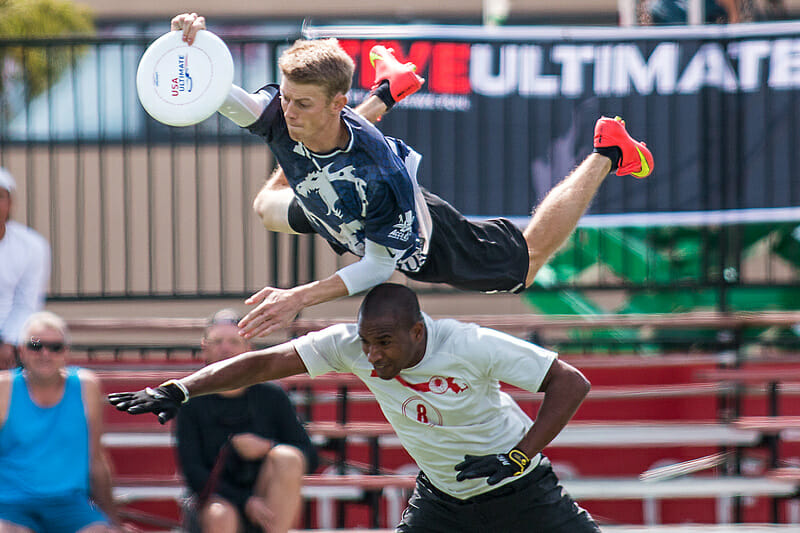 After torrential rain, Centex was a muddy affair this year.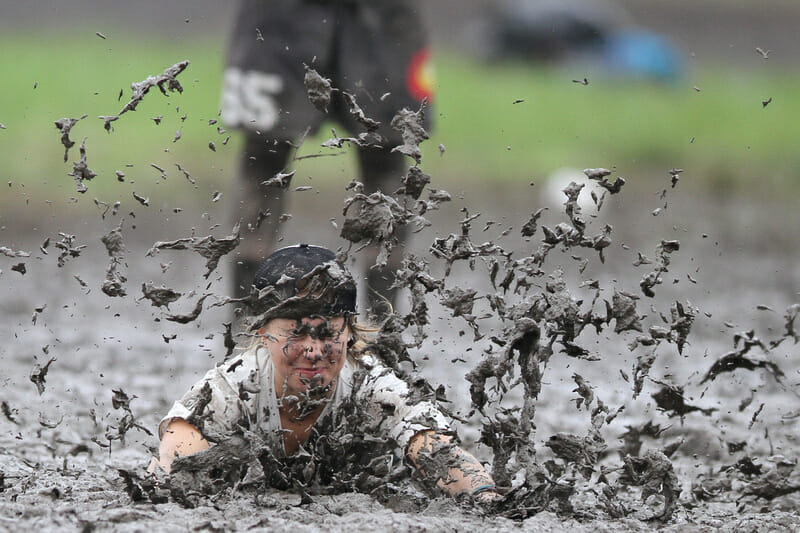 Seattle Mixtape's Khalif El-Salaam was one of the brightest stars of the Mixed Division.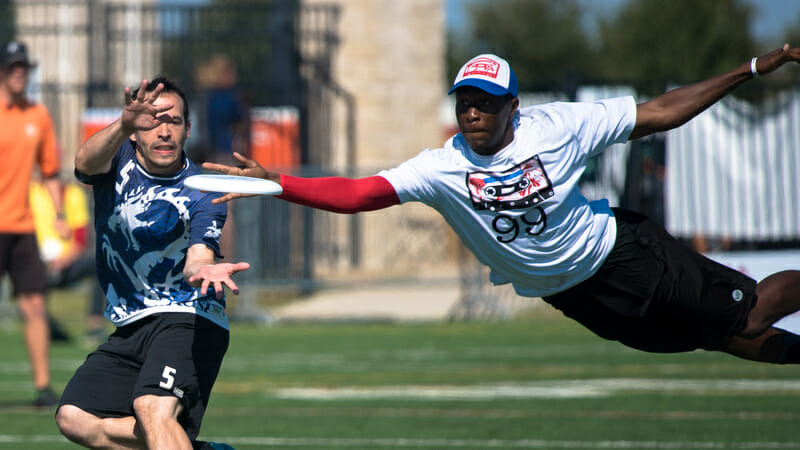 Cat Philipps helped Australia's Ellipsis become the first team outside North America to win the US Open.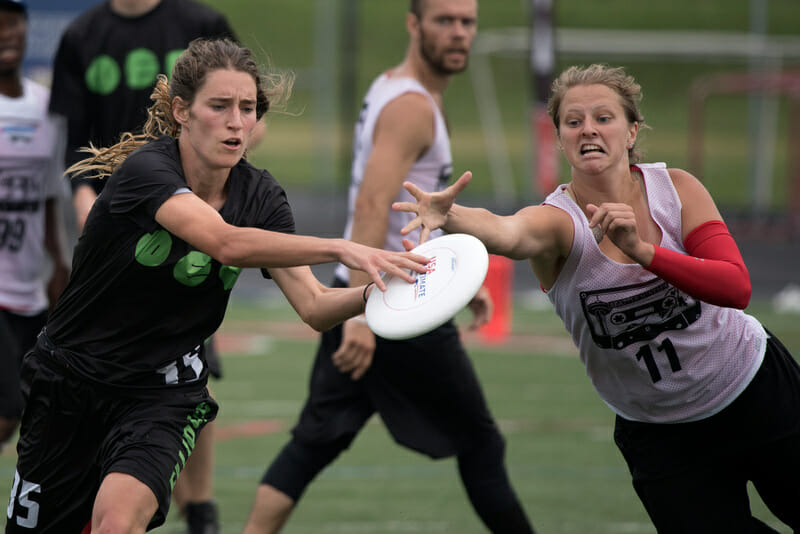 Cincinnati celebrated clinching a bid to the College Championships.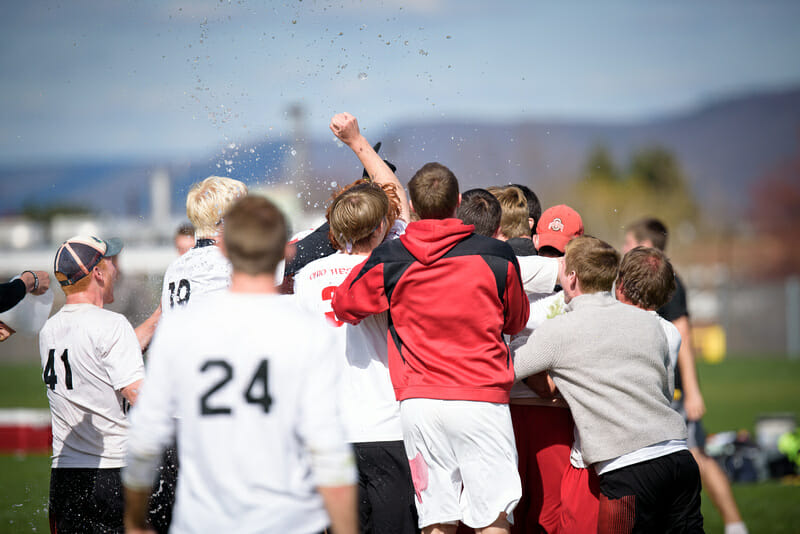 Franciscan won their first-ever Division III title in their second year as a program.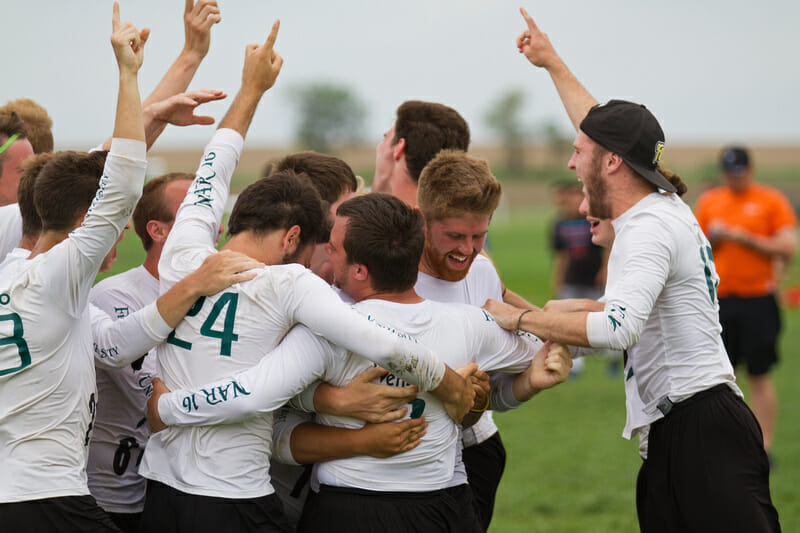 UMass freshman Brett Gramann won Rookie of the Year, but not for this play.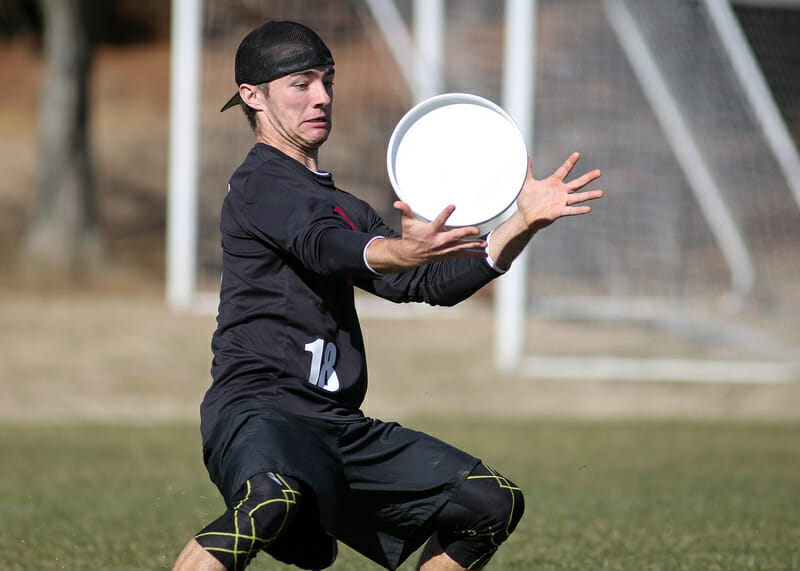 Boston Brute Squad celebrated a victory at the National Championships.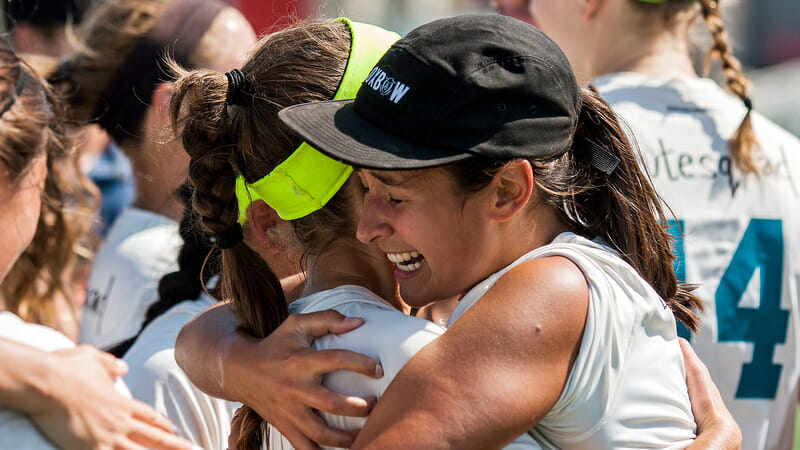 The San Jose Spiders won their second straight AUDL title.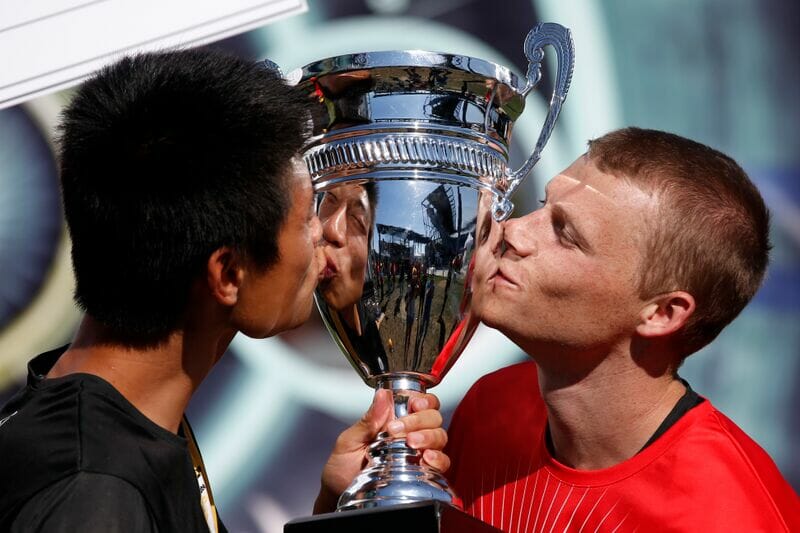 Middlebury stunned the New England region by claiming a bid to Nationals.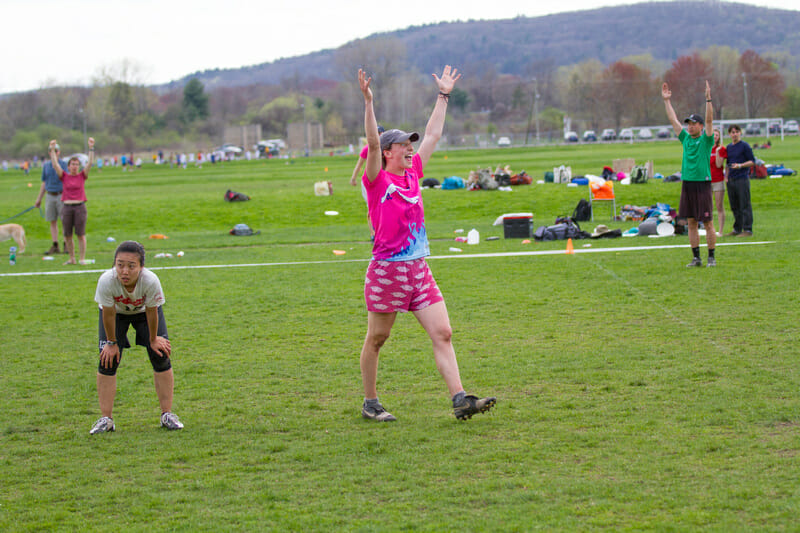 A budding star?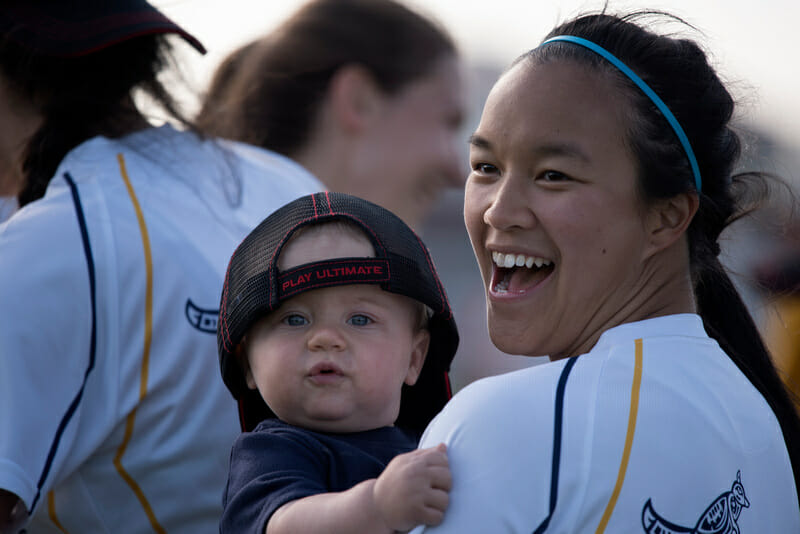 Philadelphia Patrol threaded the needle to find Matt Glazer.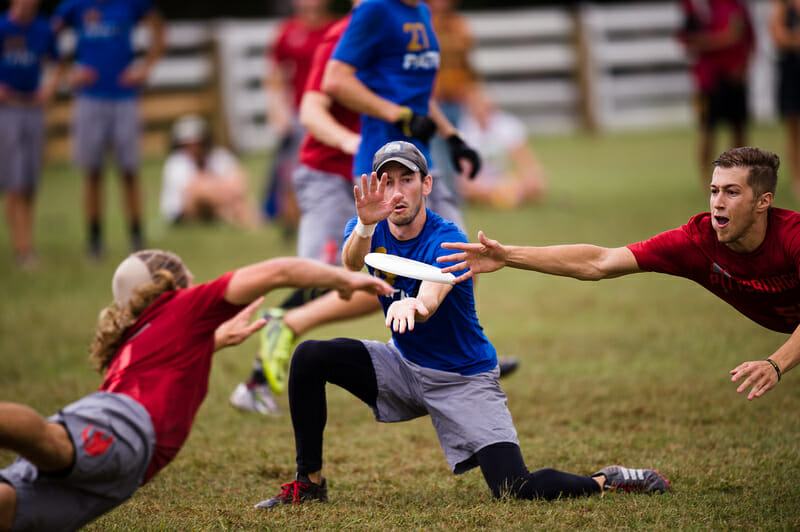 Seattle Riot player and high school senior Jaclyn Verzuh burst onto the scene in 2015.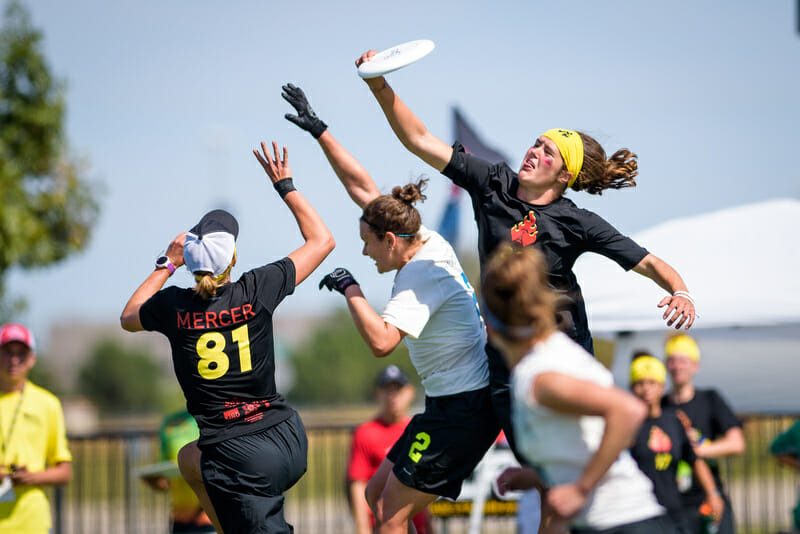 Seattle Cascades' Matt Rehder took flight in an iconic 2015 photo.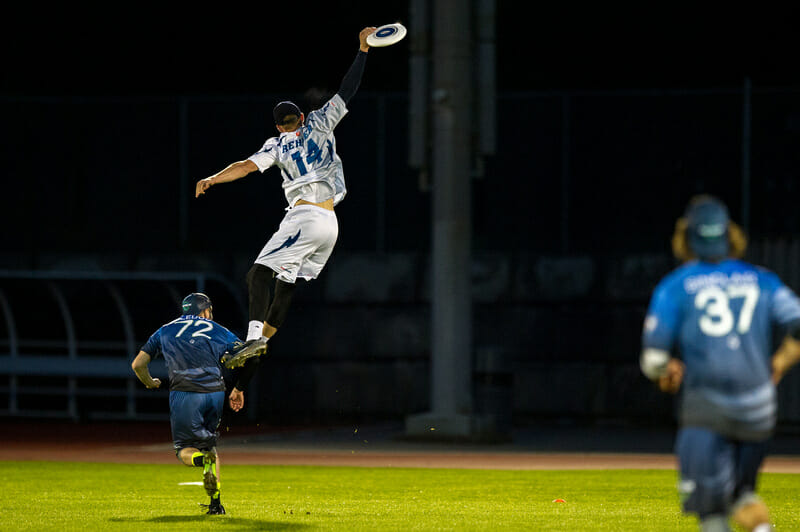 Toronto GOAT's Remi Ojo casually made another jaw-dropping play at Northeast Regionals.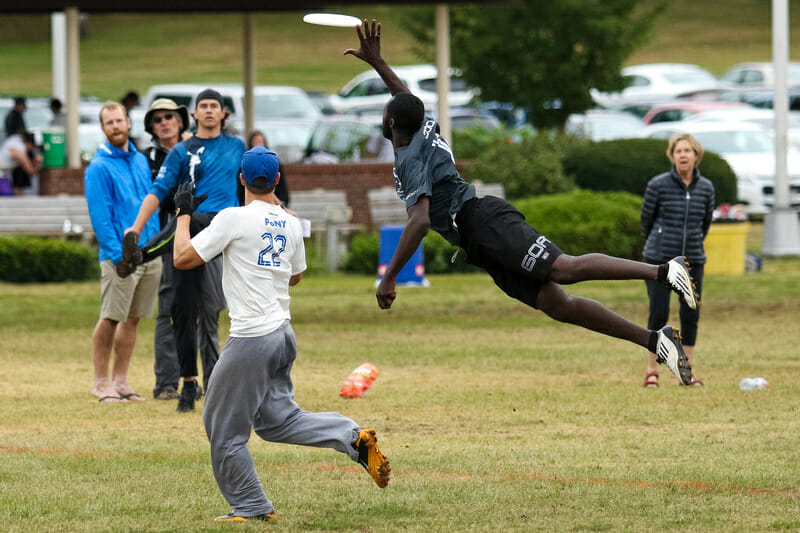 Birdfruit's Luke Jesperson surely won 'best beard' at Nationals.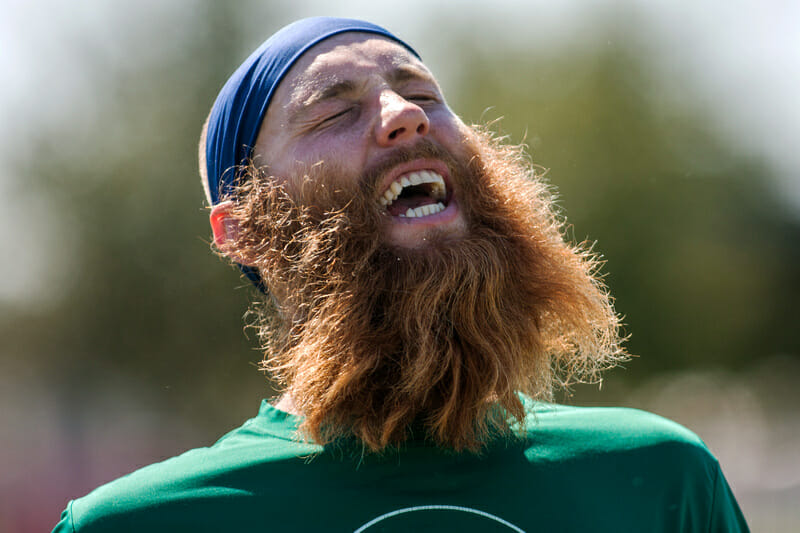 Chicago's The UPA brought all kinds of fun to the National Championships.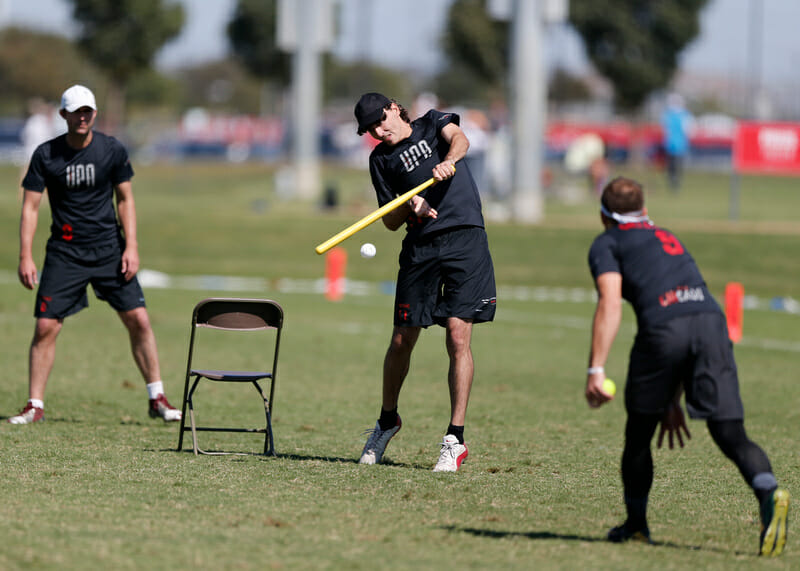 Pittsburgh's Pat Earles had a big year.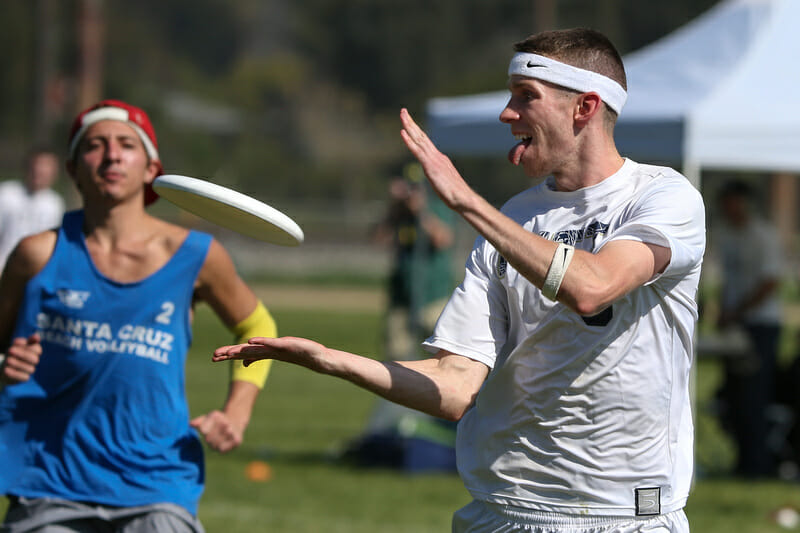 Lei Out.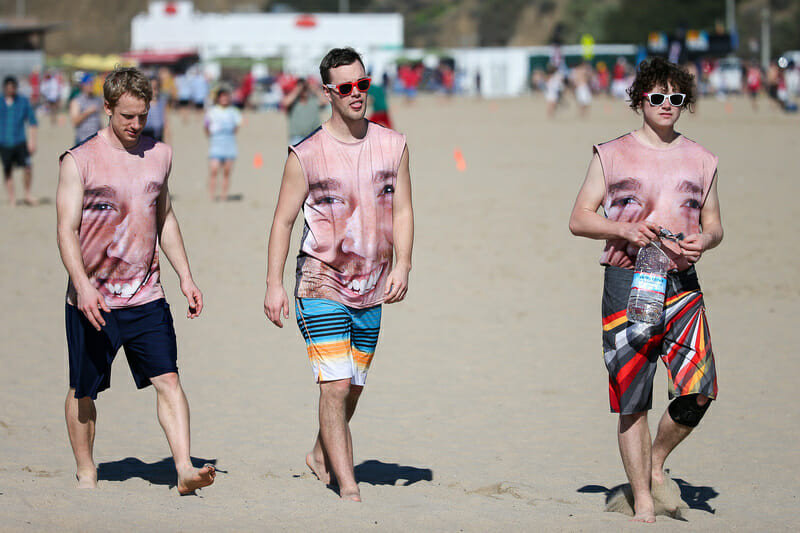 One of Khalif El-Salaam's biggest plays at Nationals helped rally Seattle Mixtape to a semis victory.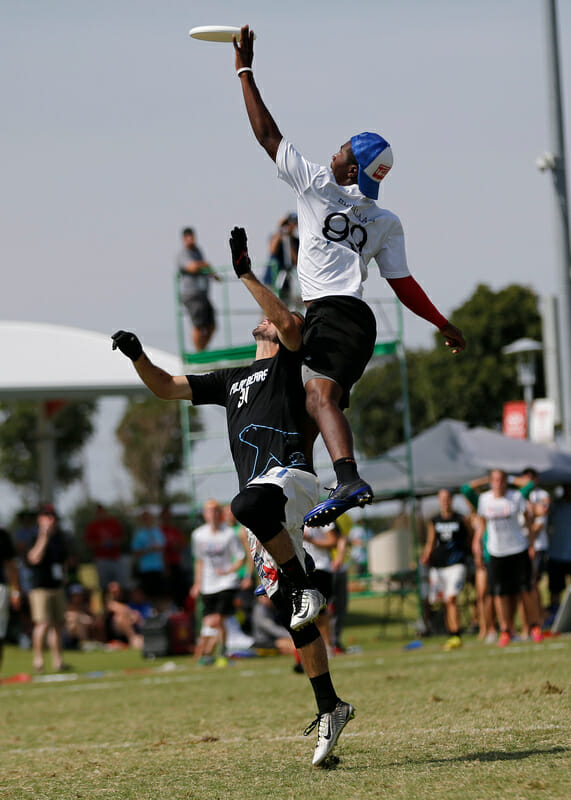 Rice won their second straight DIII title after a dominant season.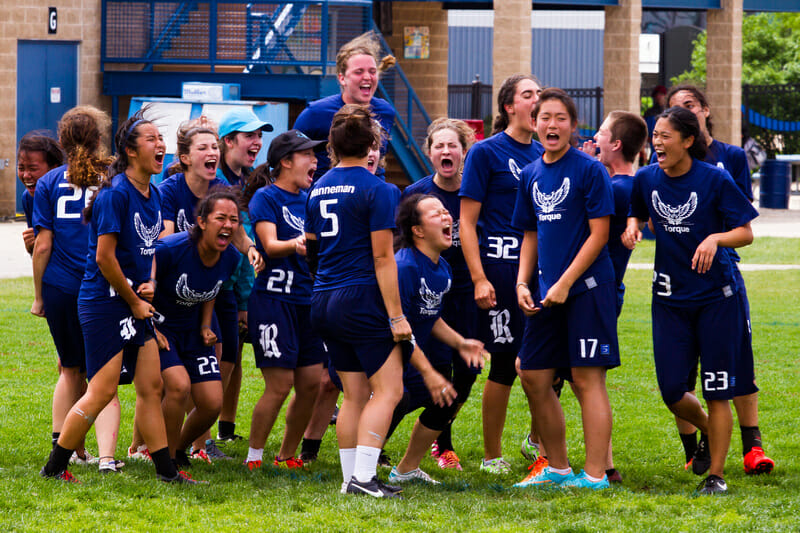 Bay Area Happy Cows and DC Swing Vote played a stellar final at the Youth Club Championships.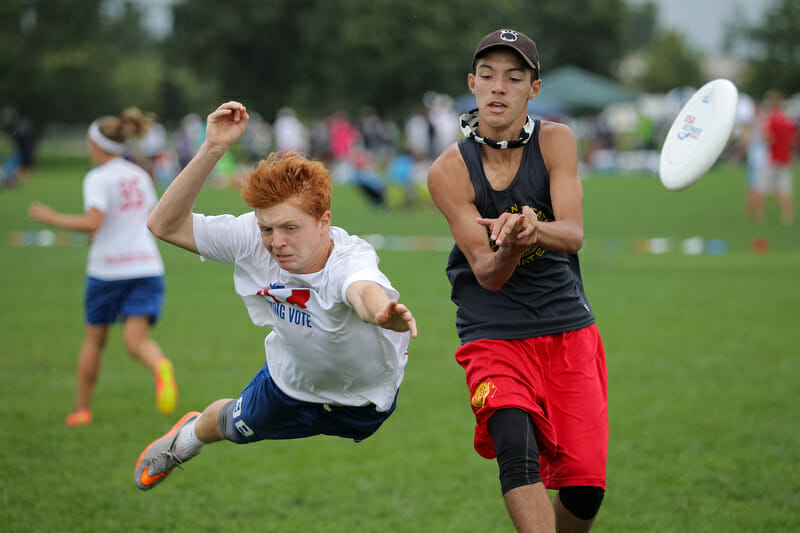 Revolver's Lucas Dallmann celebrates the team's fourth title in six years.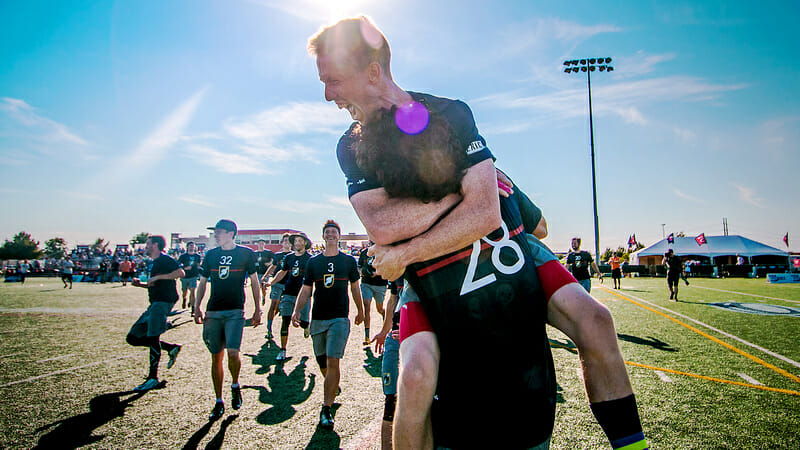 UNC's 'Towel Squad' brought some hype to the team's title run.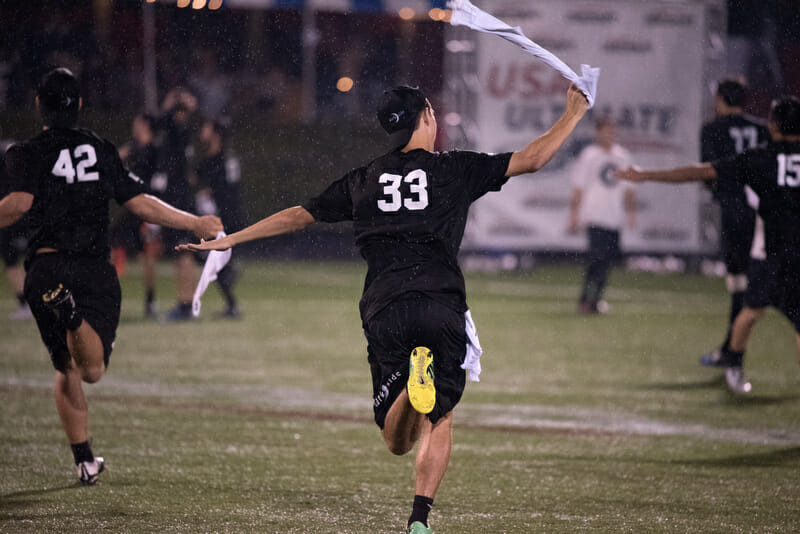 A U23 Team USA Mixed Division selfie.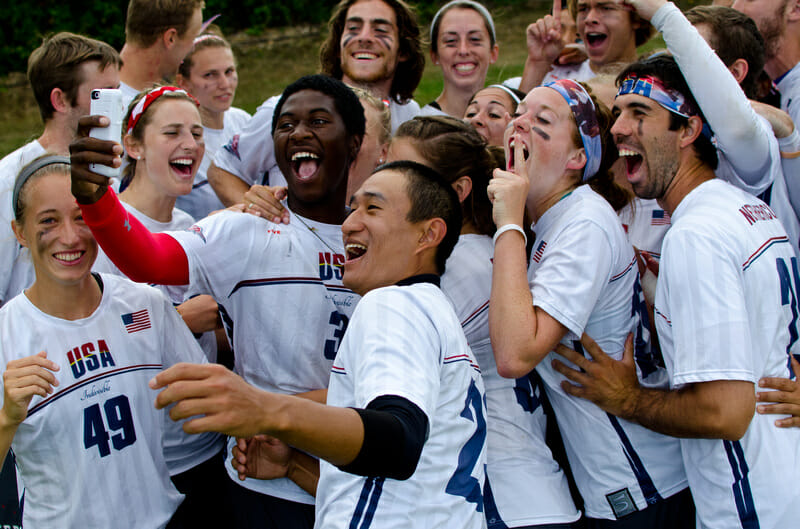 Team USA's Mike Ogren got extended in London.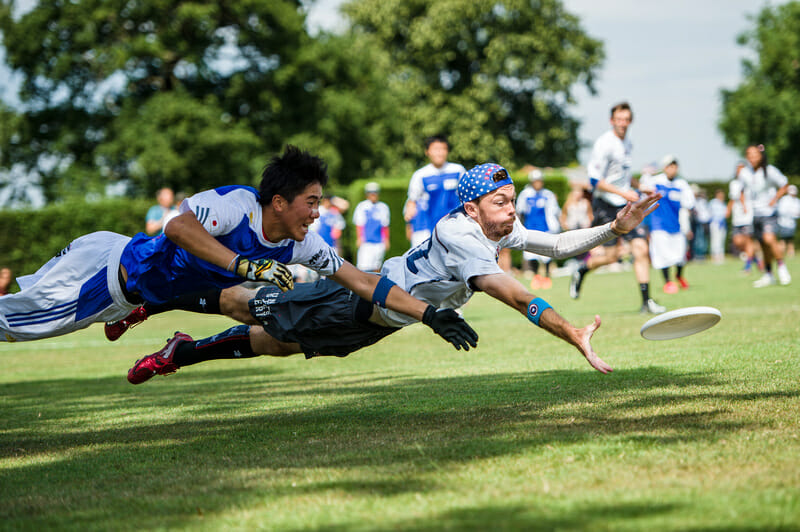 Oregon's Dylan Freechild carried his team to a finals appearance at Nationals.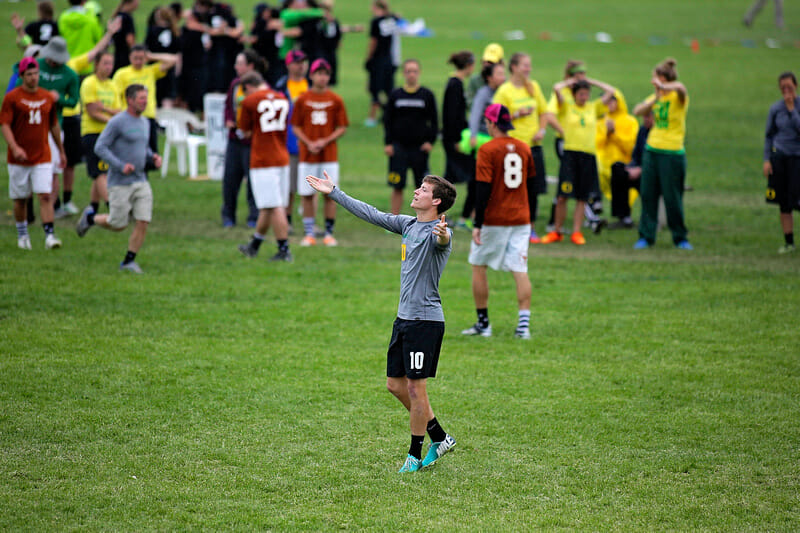 Oregon's Ashley Young and Stanford's Courtney Gegg battled for the disc in the National final.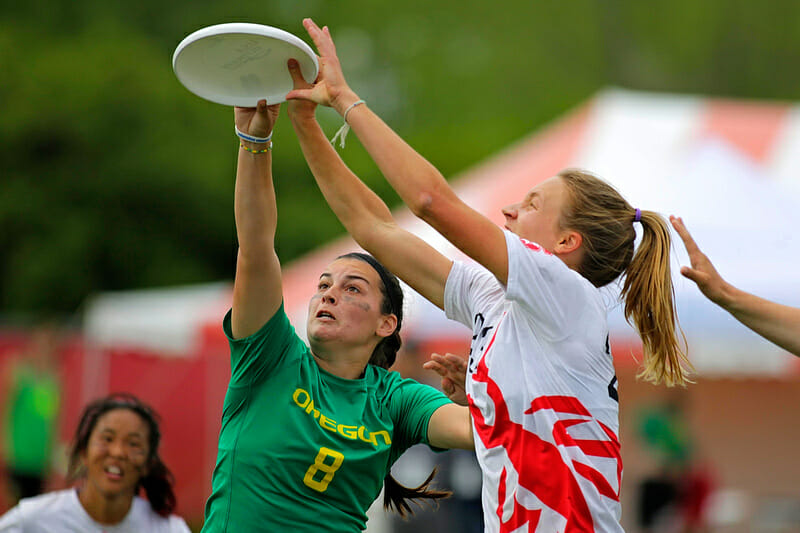 Oregon's Olivia Bartruff hauled in championship point at College Nationals.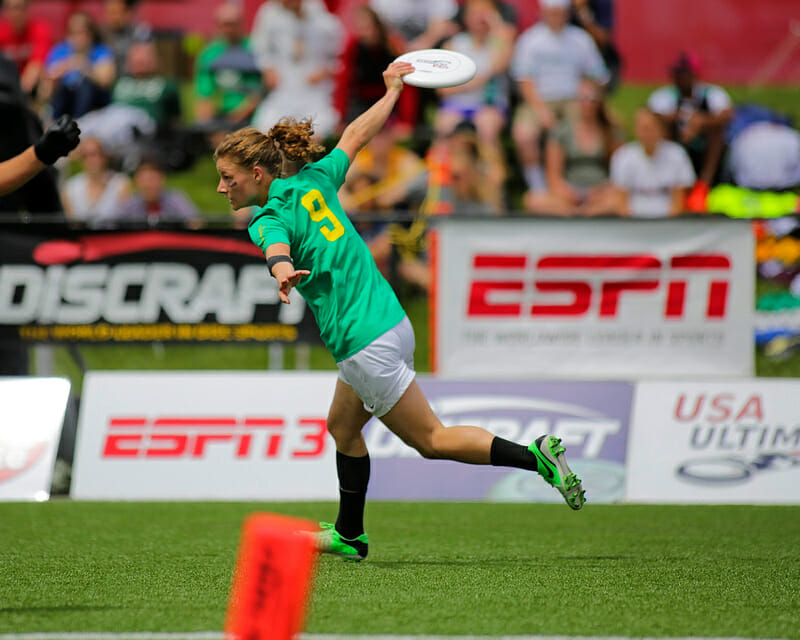 UNC's Nick MacLeod shaved with the disc to celebrate a score at Nationals.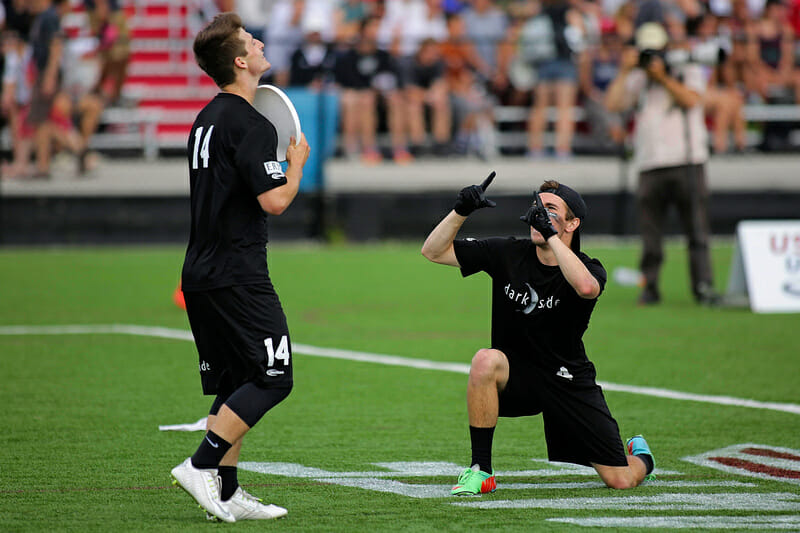 A German player enjoyed the opening ceremonies of the U23 World Championships.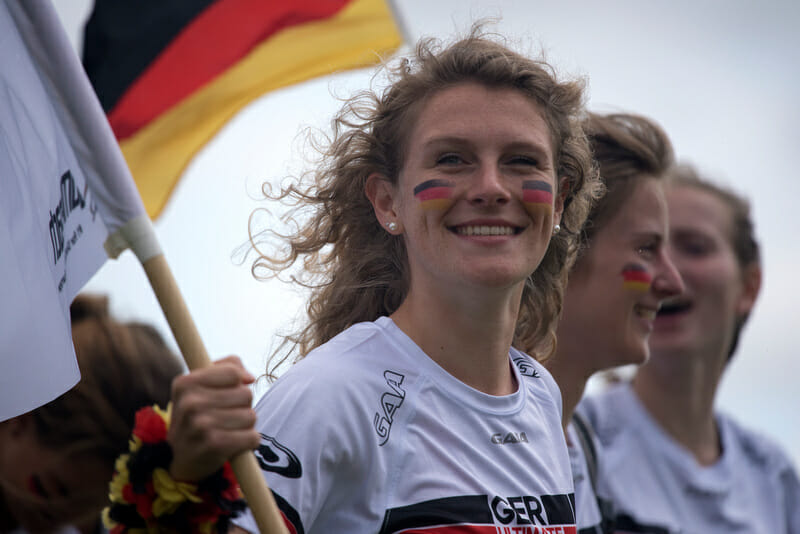 The backdrop for Beach Worlds in Dubai was quite something.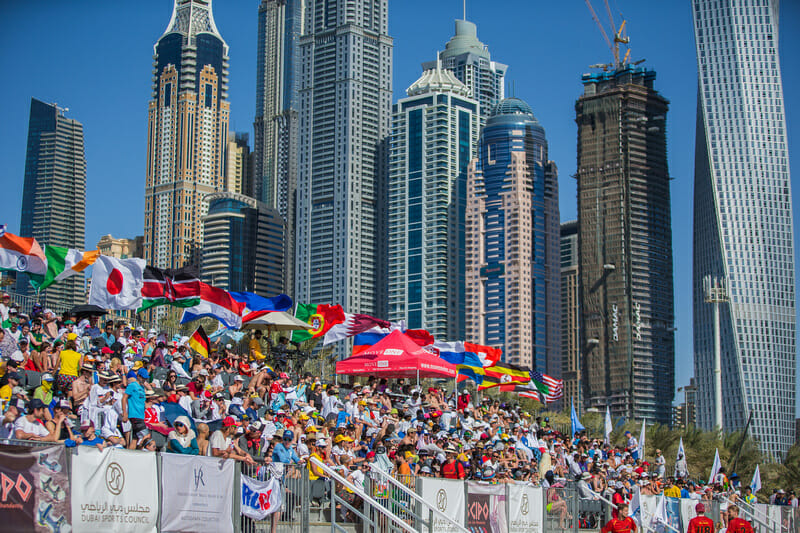 Brute Squad's Leila Tunnell earned Player of the Year honors from Ultiworld.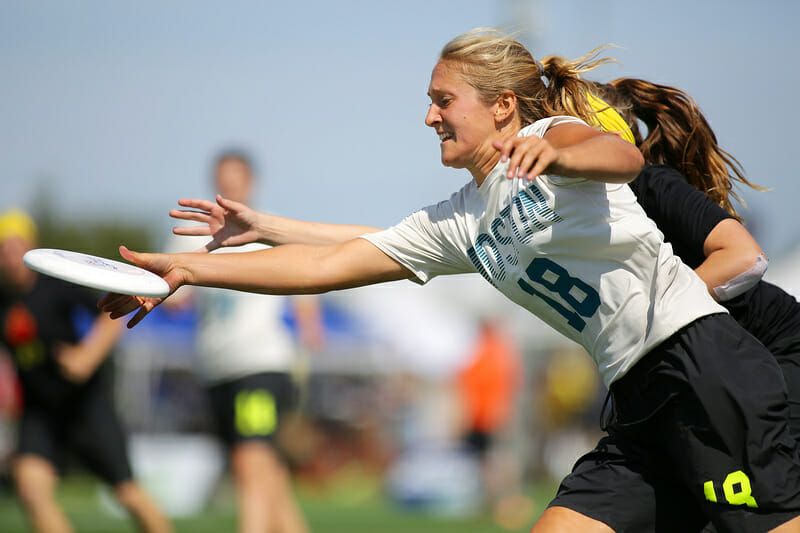 Ultiworld 2015 Player of the Year: Revolver's Cassidy Rasmussen.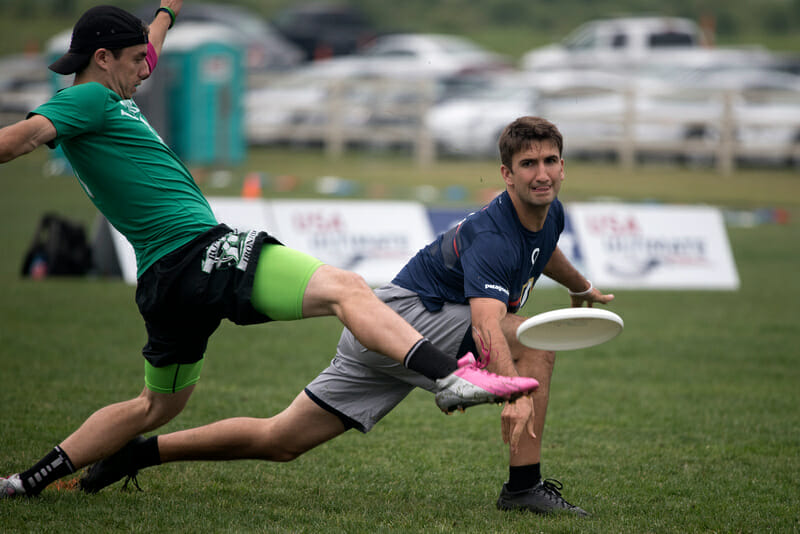 The All-Star Tour got some Brooklyn love from the fans.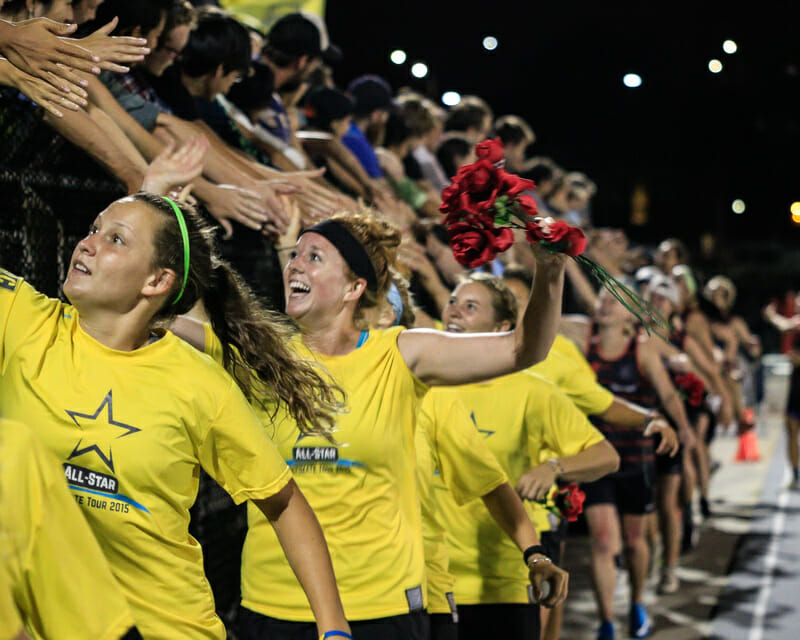 Scandal's Jenny Fey had a monstrous 2015, including against the All-Star Tour.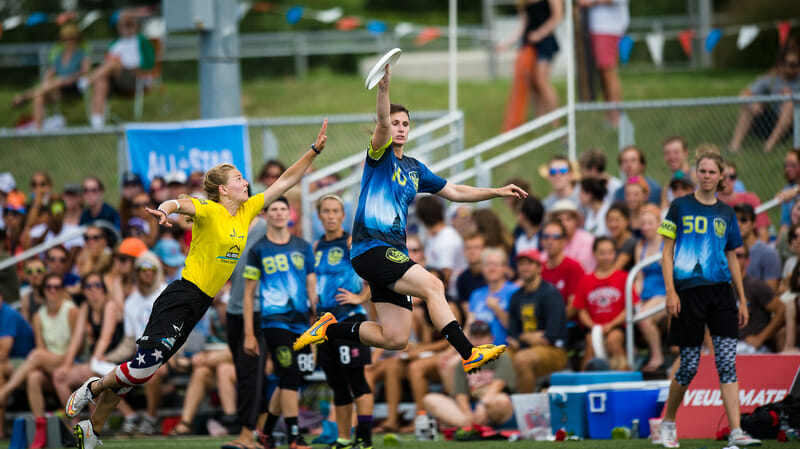 UNC's Jonathan Nethercutt won the 2015 Callahan Award.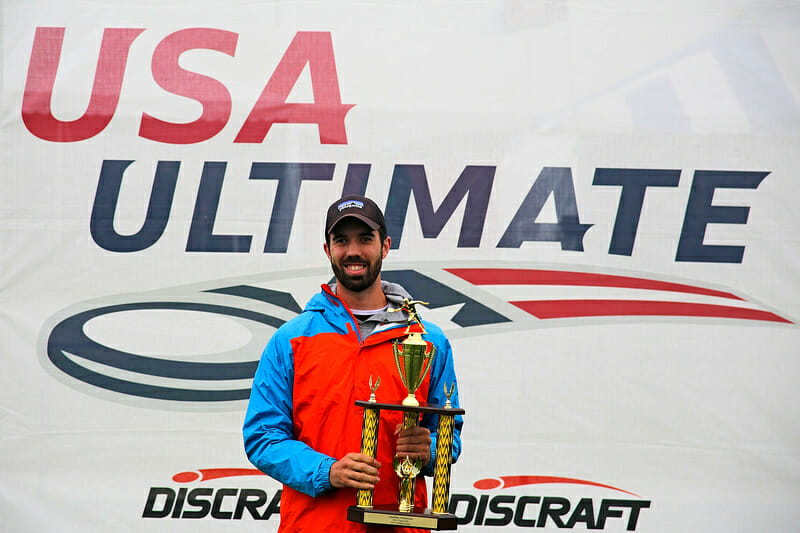 Team USA U23's Erynn Schroeder showed off brilliant body control.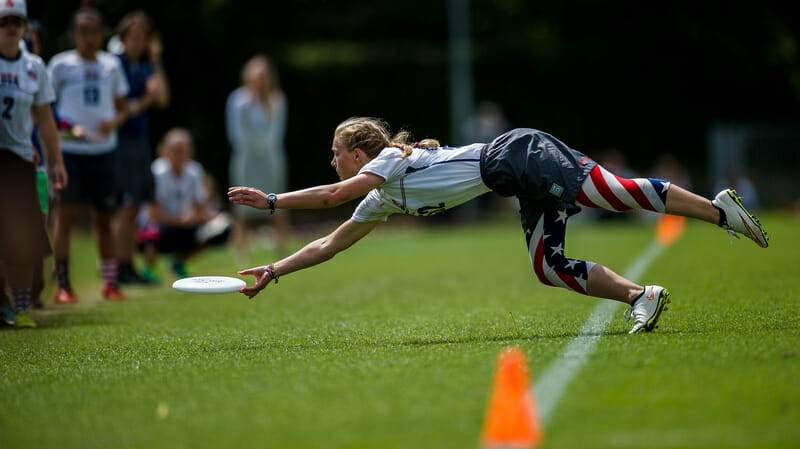 Florida State's (and Team USA's) Chris LaRocque won 2015 College Player of the Year honors.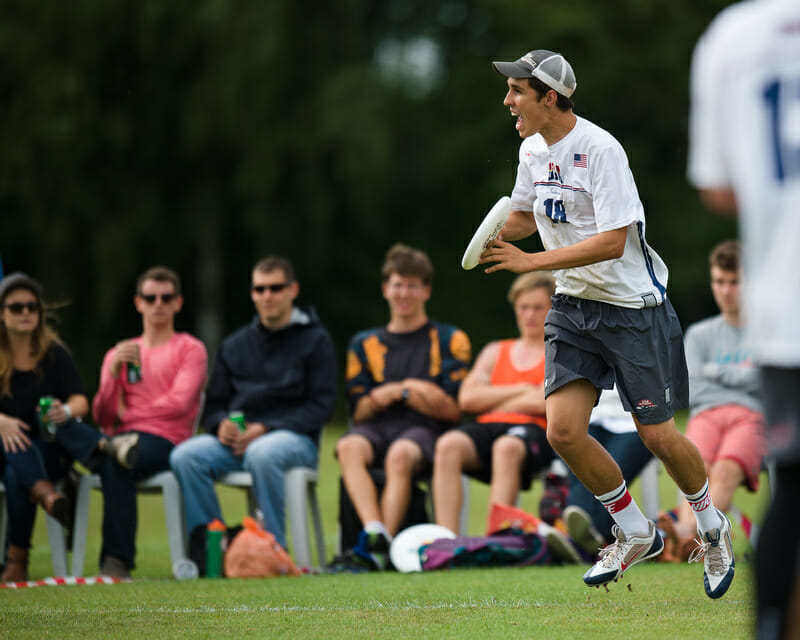 Alika Johnston was the 2015 College Player of the Year and Callahan Award winner.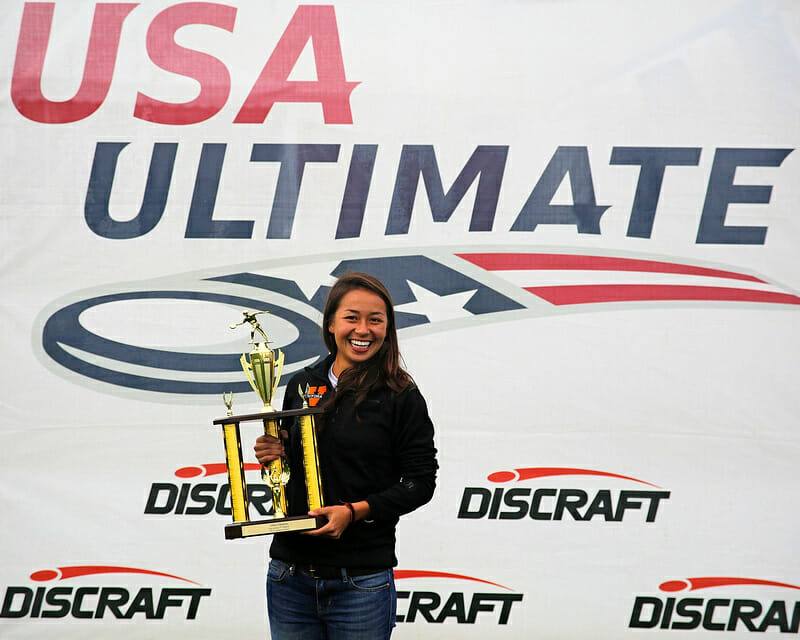 Jon Nethercutt ripped a backhand for the UNC pull.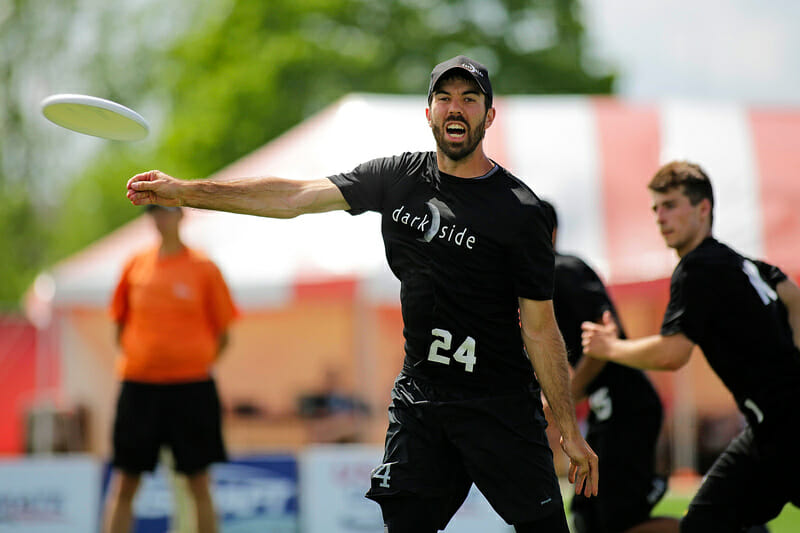 Brandon "Muffin" Malecek was one of many athletes at the first annual Beach Nationals.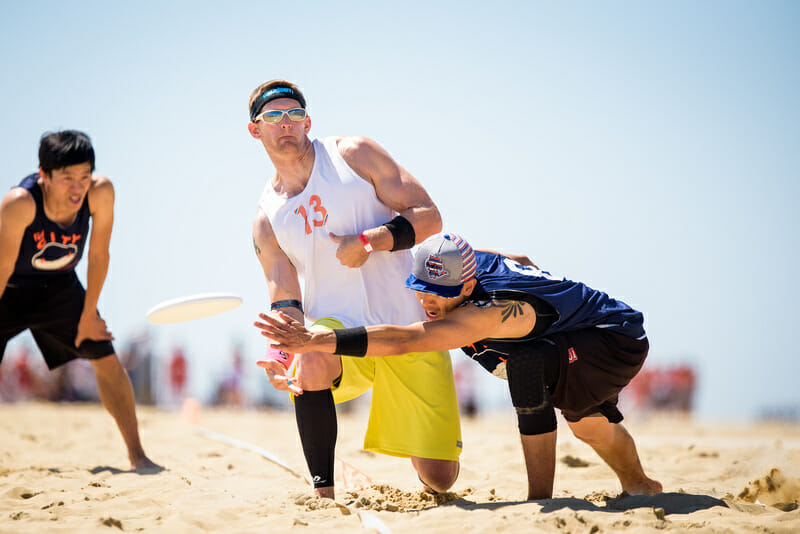 The Boston Whitecaps' Christian Foster pulled in the team's MLU Championship win.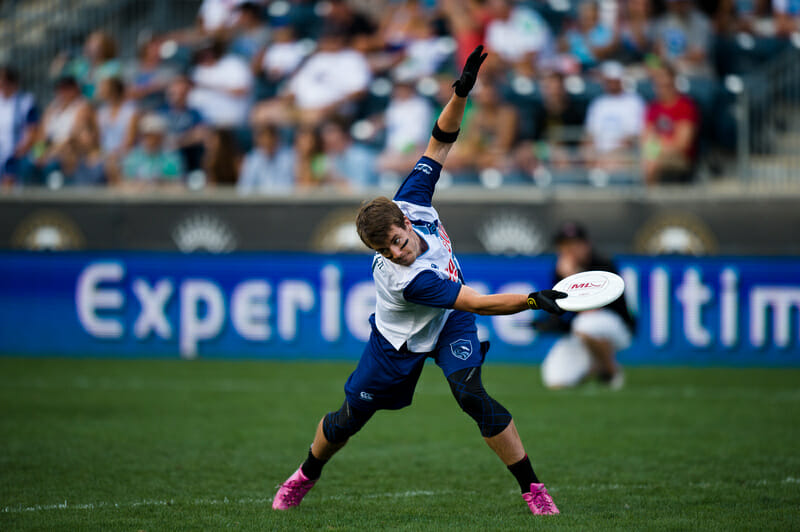 The Boracay Open blends great ultimate with even better beach life.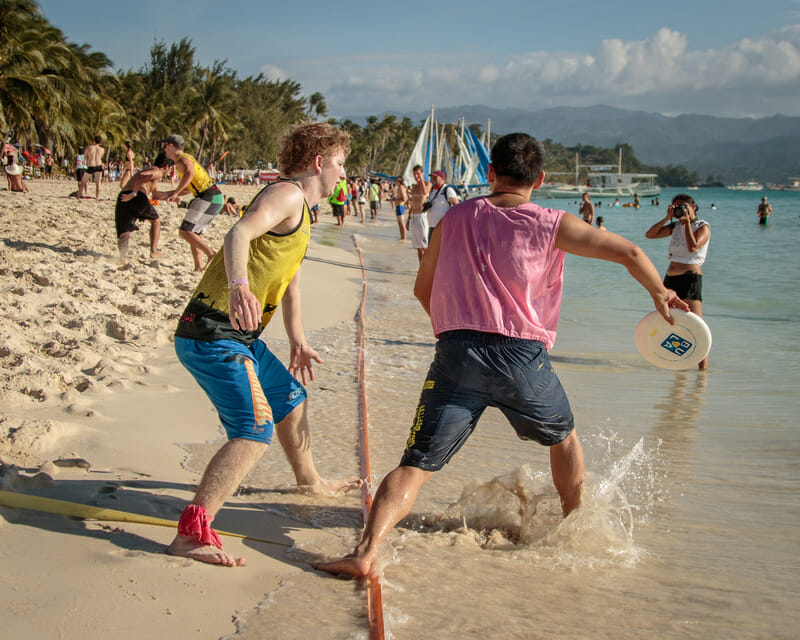 Jeff Snader (right) and Nic Darling presented the 2015 MLU trophy together.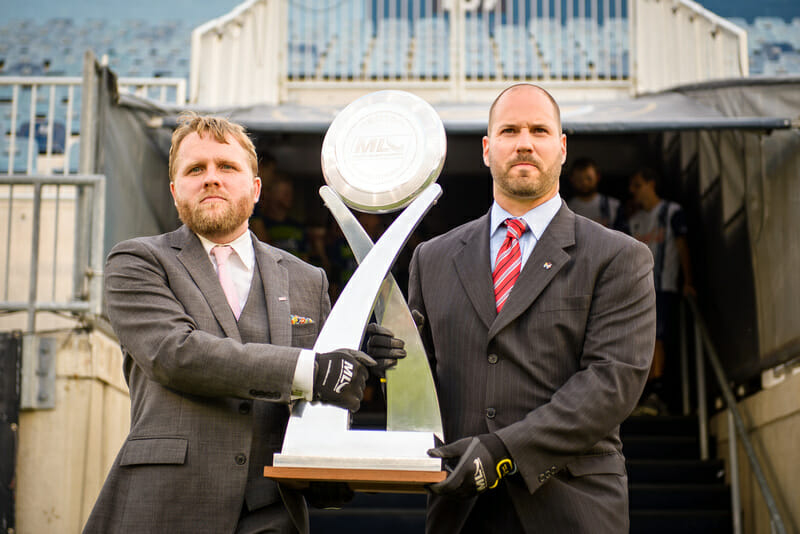 Team Japan stunned Team USA in the Women's final at the U23 World Championships.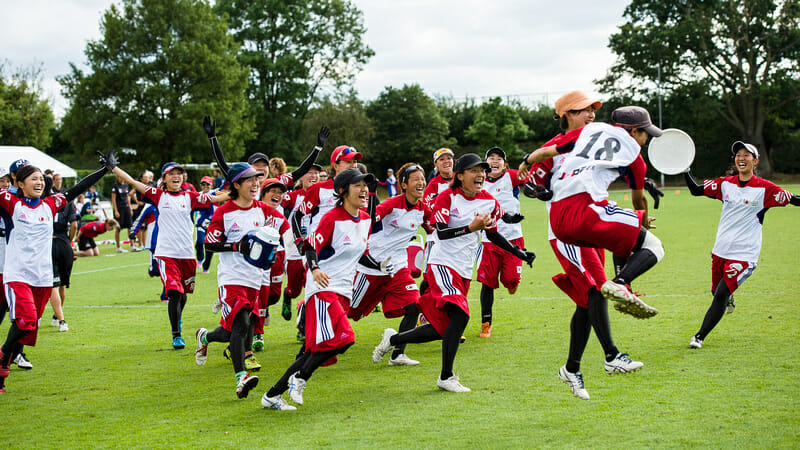 Team USA's Qxhna Titcomb did her best to toe the line at the Beach World Championships.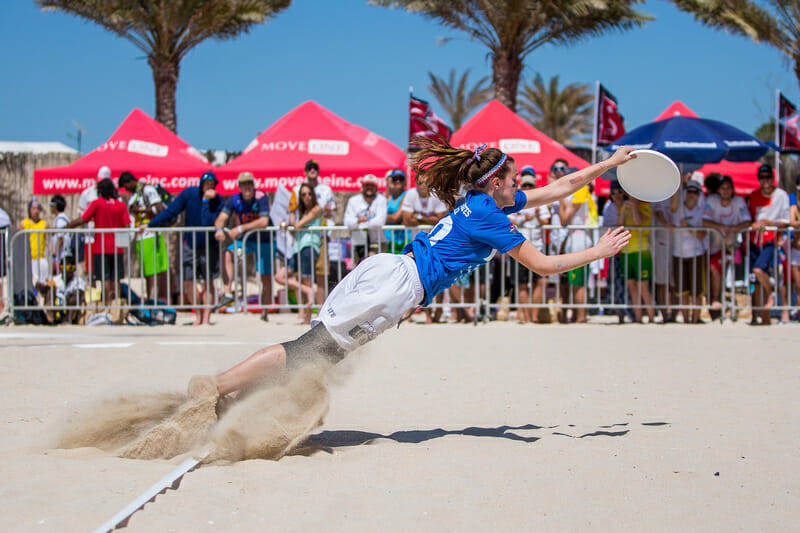 Ben Van Heuvelen (left) and Jordan Queckboerner battled for the disc at Beach Nationals.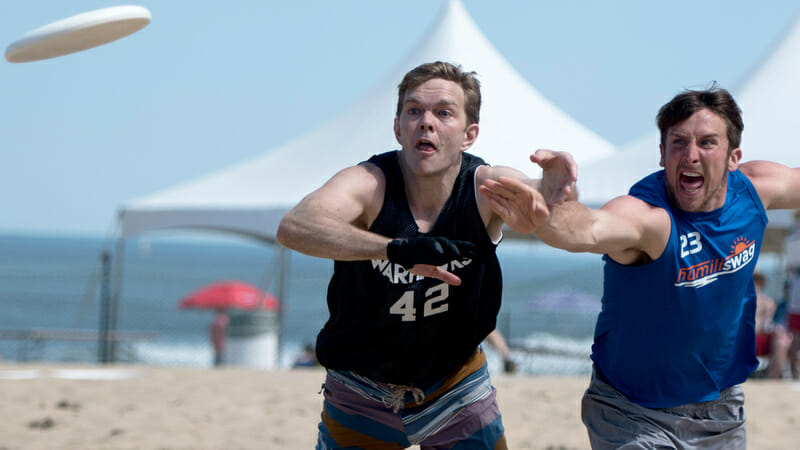 A full smoked pig fed players and volunteers alike at the 2015 Elite-Select Challenge.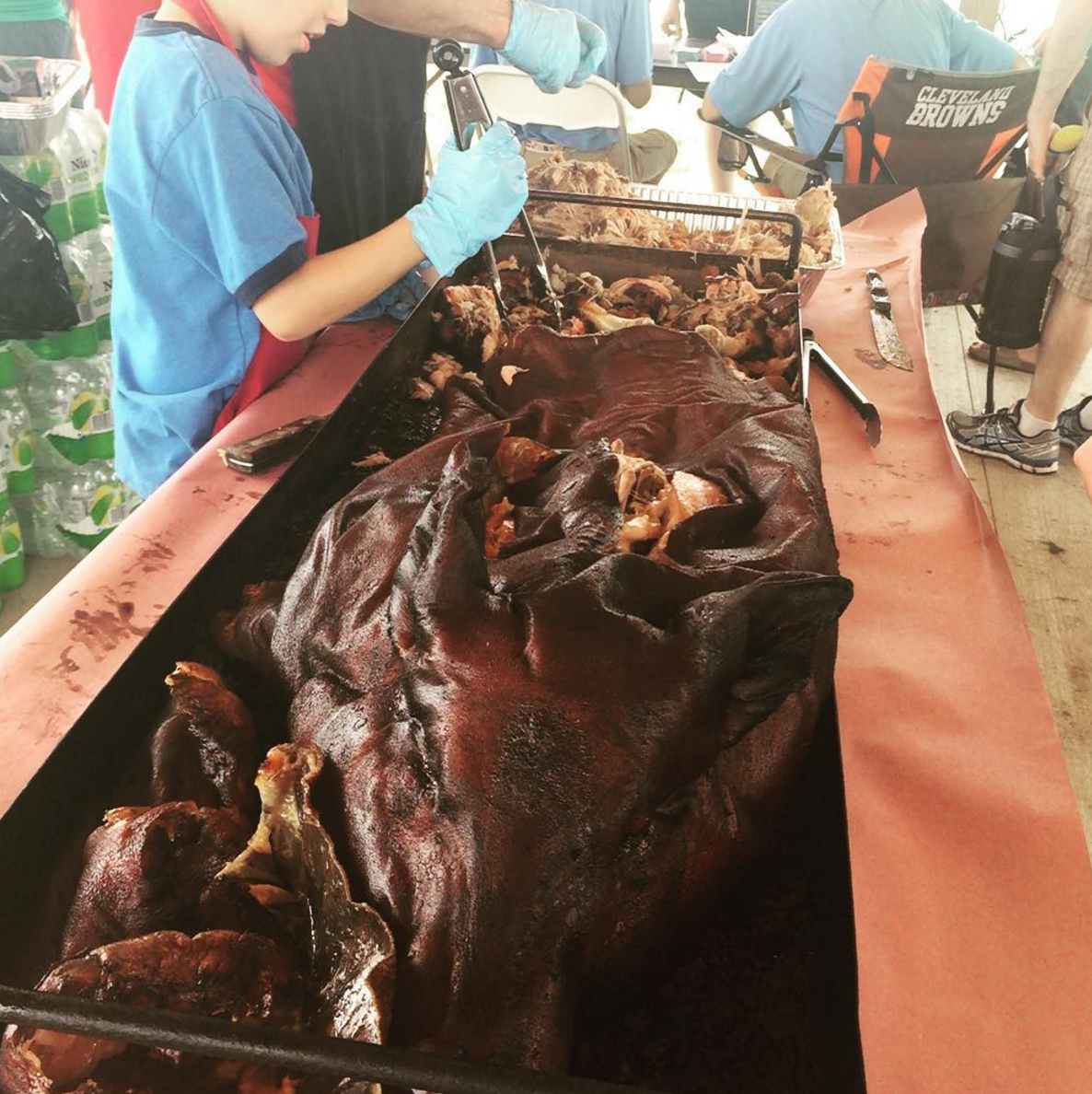 Lou Burruss won another gold in his farewell season as the coach of Oregon.