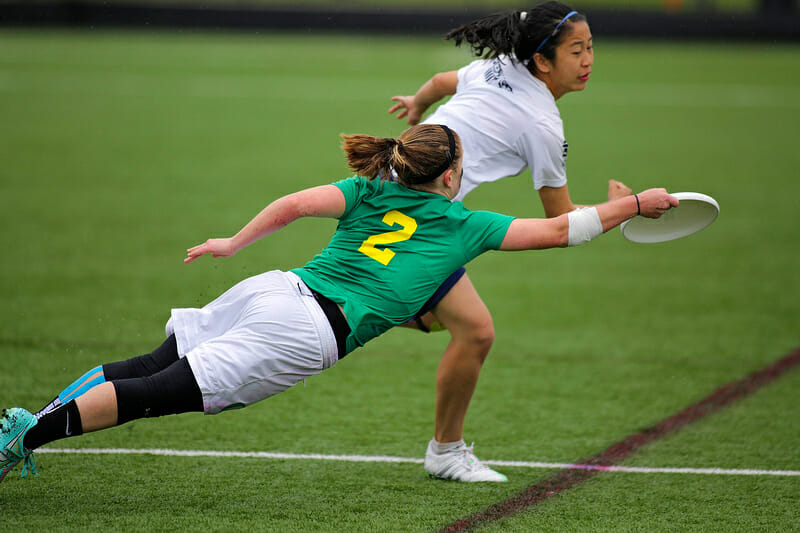 The holidays may be behind us, but the most wonderful time of the year is ahead: the real start to the college season. It's been a little while since we saw some of the country's top teams face off, but the first pull went up last weekend and the first major tournament is days away. So Ultiworld put together a primer for the women's division: the stories to follow, the players to watch, and what tournaments will matter.
Welcome back! Please keep all extremities inside while aboard. Let's dig in.
Stories to Watch
Rookies Take on a New Meaning
The term "rookie" has long had a very specific meaning in ultimate: they were usually freshmen who had never thrown a disc. They spend most of the year learning the rules, yet they will still clog cutting lanes at Regionals. A rookie's first year of ultimate isn't always about contributing… it's just about learning. Season to season, a team's future would be defined by who they were graduating, not who they were picking up. This was always the narrative of a college season – "the way it was."
But teams aren't just getting "rookies" anymore; thanks to tournaments like YCC and the proliferation of youth summer camps, teams are bolstered early by talented freshman who already have throws and tournament experience. When we do College Preseason Power Rankings, we can discuss the women joining top teams in addition to the women leaving. Teams who pick up these experienced rookies get a leg up, and we get to watch these young players develop from new assets into core playmakers.
This effect has been visible in the past, with first year players like Hayley Wahlroos and Ellen Au-Yeung making big impacts for top teams in huge situations. But it is becoming more pronounced and more widespread. The class of 2016 is lined up to make even more noise in their first taste of college dominance.
The North Returns
A million years ago – in 2013 – the North Central commanded five bids to Nationals, a record the Northwest would break the following year, leaving the great northern expanse with only their free handout bid for the last two years. But the North is back, baby. While Carleton is likely to have a weaker season (then again, we said that last year), teams like Minnesota and Wisconsin are stronger and hungrier than ever. Both teams picked up noteworthy new talent: Wisconsin gains the skilled Brittney Kokinos (Heist), Carly Siewert (Minnesota Superior), and Jackie Welsch (Heist), while Minnesota adds at least seven rookies with YCC experience, including Dina Carpenter-Graffy.
That makes for three teams that could wind up in the top 25, with the usual suspects of Iowa and Iowa State not too far behind. The new faces that could signal the revival join stalwart stars and Regionals up and comers. Sarah Anciaux (Drag N' Thrust) is one of the country's most explosive players and leads the way for Minnesota. She's supported by an experienced group with extensive presence on Minneapolis Pop. Meanwhile, Wisconsin returns Anna "Robot" Hrovadt-Staedter, a potential All-American, along with numerous solid contributors. Last season's star freshman, Maggie Kennedy, was a surprise transfer to Oregon, hurting Wisconsin's talent stores, but far from emptying them.
If these two teams can make enough noise during the regular season, the North Central could grab a strength bid…or maybe two.
An Oregon Without Lou
Let's be real. The iconic Lou Burruss may no longer coach Fugue, but that doesn't mean they're going to sink down into the mists of obscurity. Oregon is still Oregon. They're still a stockpile of stars, held together by Lou's system, with fresh rounds of talent dropped off every fall.
Their story isn't compelling because of what will happen in the next few months. Spoiler: they'll win a lot. Their story will become compelling in the next few years. When this year's crop of seniors and fifth years graduate, how strong will Lou's installed culture and system remain? What kind of team will Oregon evolve into? How will this program develop and change without the famed fedora or the bright yellow waders? Oregon Fugue will change. But into what?
While Oregon is still a title favorite without their iconic (bald) head man, there's intrigue about what difference his absence will make. The talent on the team is outrageous, with the likes of Bethany Kaylor, Jesse Shofner, Alex Ode, and Hayley Wahlroos. They even added U23 youngster Maggie Kennedy, transferring from Wisconsin. When it comes to the tough tests in the big games against other talented and well coached teams, the new coaching staff will have to step up to meet the challenge and live up to the legacy.
Dartmouth: Hype City, USA
Dartmouth was already going to be good this season. They were already going to be more than 2015 All-American Angela Zhu, a dominant handler who won a Club Championship with Brute Squad this year: they also have Julianna Werffeli and Piper Curtis. They tied for 5th at Nationals last year, in most of the team's first appearance. No other team seemed readier for more.
This team didn't need a nationally recognized youth superstar who has played all over the world and competed with the best… but they have one. Watching how Dartmouth incorporates Jaclyn Verzuh into their structure this season will be one of the most interesting puzzles of 2016, but watching her work will dazzle. There are probably only two or three women playing college ultimate today who are equipped to match up against her. How good will she be? All-Region? All-American? Player of the Year? It's easy to see why projections are way up for a team without a powerful resume prior to a quarterfinal run last year. Verzuh and other recruits join a budding crop that has all the hallmarks of an elite squad.
Colorado College on the Come-Up
Colorado College was just two points away from taking one of the South Central bids to Nationals last year. Captain Chloë Rowse is returning in full force for their backfield, joined by juniors Cory Baron and Robin Fassett-Carman. Together these three have built a deep cache of throws and a reliable chemistry. Strata also welcomes some of the most heralded rookies of the season, Frances Gellert (2014 U19) and Marlee Akerson (Colorado Cutthroat).
While Strata went winless for the most part at Missouri Loves Company, they're in a strong position to cause trouble in an already crowded South Central region. Colorado College missed out on Nationals by two points last season, an attempted follow up trip to 2014. Strata could be one of the big noisemakers in 2016 and is one of the team's to watch when it comes to how bids will be distributed. This year presents an opportunity to get back to the promised land.
The Post-Alika Era for Virginia
With last year's Player of the Year and Callahan winner graduated, what's next for Virginia Hydra? Her career was spent making it to quarterfinals at Nationals but never beyond. Partner in crime Sarah Hansen is gone, among a number of other contributors, is also gone. UVA's rise coincided with Alika's arrival and development. Her departure could correlate with a return to the middle ground.
The time to prove there's a program in Charlottesville is now. Veterans Janie Mockrish, Rebecca Meeker, Amy Wedmore, and Emily Leivy are back, to name a few. Laura Landis and Keila Strick are ready to elevate their games. This is a team filled with experience that doesn't know what it is like to miss Nationals. Expect Coach David Allison to do keep the ship afloat and the talent to have them sailing forward, even without their most famous former captain.
South Central: Ballin' and Brawlin' 
The past five years have seen a lot of change for the women's South Central region. The region has grown quickly from a one-bid region in 2012 and 2013 (Texas Melee went both years) to a competitive three-bid region in 2014 and 2015. Colorado, Kansas, and Texas are capitalizing on deep benches and good coaching. Their 2016 prospects alone make the South Central prime for a three-bid threepeat, and Colorado College is setting up shop close behind.
UBC Could Be the Only Worthy Challenger
British Columbia headlined last year as they ascended to the elite tier of the women's division. While the buzz may have died down now that they were a top 3 teams all of 2015 and made the semifinals at Nationals, the potential is even higher for this team. Aside from title-favorite Oregon, no elite team returns so much production.
If you've followed the division these past few years, you're probably familiar with the names. Donaldson, McCann, Madden-Krasnick, Leong, Johnson – all now with 3+ years of top level ultimate under their belts. Last year added Rookie of the Year Ellen Au-Yeung, Naomi Morcilla, Jess Chung, and Janelle Siwa to the list. Oh, and they added one of the country's top grad students, All Star Tour alum Kate Scarth, formerly of Victoria. With superior disc skills, depth, and devastating isolation sets, the Thunderbird offense is an efficient and versatile force that will be difficult to stop.
The team's strategies could be changing though, with new head coach Jeff Cruikshank stepping in for the departed Tasia Balding. This new direction with the Vancouver legend – who helmed Vancouver Traffic this past season as well – should bring some fresh air to UBC from both a tactical and cultural standpoint. That change could make or break whether or not the only team to beat Oregon last season can do it again when it matters most.
Regional Storylines
Atlantic Coast: Virginia And…
The AC has belonged to Virginia, but the legacy programs in the region are probably ready for that to change. North Carolina, UNC-Wilmington, and Maryland have all had historical success, but have become the background singers to UVA. Clemson – worthy of watching again this year – nearly backdoored their way into a second bid for the region and JMU has shown flashes of promise.
Chapel Hill and Wilmington have the highest hopes for dethroning UVA – who lost its most prominent heads to graduation – but probably would like a second bid even more.
Great Lakes: Who will rise above the crowd?
Perennial power and regional favorite Michigan Flywheel relented in 2015, giving up the region to impertinent Notre Dame. It still looks like the Road to Raleigh goes through Ann Arbor for the Great Lakes squads this year; Michigan seems primed for a rebound. But Notre Dame holds the title and has some certified playmakers, like 2015 Breakout Julia Butterfield. And Northwestern turned in one of the fall's buzziest performances with their upsets at Missouri Loves Company. In a region that doesn't count on a strength bid, the season becomes a race to the Regional finals.
Metro East: Princeton expected to win back-to-back
Led by 2015 Metro East Player of the Year Jane Urheim, it is hard to imagine another Metro East team taking down Princeton. The junior star is joined by two All-Region returners and the squad will reap the benefits of Nationals experience. Cornell and UConn are losing their top players, so Columbia might be the next challenger in line. Don't expect the region to roll over – Princeton had a fight on their hands at Regionals last year – but Clockwork Orange is the region's most talented team.
New England: The quest for two bids
The region hasn't been saddled with a lone bid since Tufts' dominance in 2012, but the coming year could look a bit more like that lonely past. Dartmouth is expected to be a semifinals contender at the top of the heap, but the rest of the NE is rife with uncertainty. Last year's runner-up, Middlebury, lost many top contributors. Tufts couldn't make it out of the region with Qxhna Titcomb and has been in decline the past few seasons. Northeastern's ability to deliver consistently is in question after a bumpy 2015. And without a second bid, New Englanders may be out in the cold in May.
North Central: Carleton fending off contenders
Syzygy is in the hunt for a fourth North Central title in five years, but that looks more precarious than it has these past couple of one bid seasons. Carleton's dynamic duo of Emily Buckner and Lucia Childs-Walker have both graduated, and Megan Chavez left the team, putting their fortunes on the shoulders of Claire Thallon and oft-injuried Katie Ciaglo. Wisconsin and Minnesota, injected with talent and energy by strong rookie classes, are eagerly eyeing the upset.
Northwest: Counting bids and quarterfinalists
Five bids to Nationals and two semifinalists feels like a down year in the Northwest. With Oregon and British Columbia as early favorites to win the National Championship, expect another power packed year for the region. Less certain is the fate of the region's other four top programs: Whitman, Washington, Victoria, and Western Washington. All four have what it takes for a return to six bid safety, but what would happen if a poor regular season lands the region just four bids? How will the teams move around in their Northwest hierarchy?
Ohio Valley: Region defined by a championship rivalry
While Ohio State and Pittsburgh have well established rivals in other sports, the budding relationship between these two college women's teams is getting fierce. Pitt has been the top challenger to Fever's regional dominance and came within a single point last season. Each team has a solid crop of returners and a strong candidate for Ohio Valley Player of the Year: Ohio State's Stevie Miller vs. Pittsburgh's Carolyn Normile.
South Central: Expect serious drama in a parity-filled region
With the 9th, 11th, 14th, and 20th ranked teams coming in the spring, the South Central again looks like it will be hotly contested. Texas is a preseason darling with a hefty crop of returners. Colorado has become very consistent and has some of the region's top talent. Colorado College has garnered a lot of buzz with their scary top end talent. And Kansas has fashioned a program and brings back an All-American in Caitlin Fitzgerald and gains Clare Frantz from injury. The bidwatch will be in full effect for the SC and if they can't land four, the drama figures to spillover in the series.
Southeast: UCF is back on top of the heap
Quietly, the Southeast has developed additional depth, sending two teams to Nationals for the second time in three seasons in 2015. However, Central Florida – returning nearly their whole roster – looks poised to reclaim the regional title from Florida State. For FSU, coming off the best program in season history, their regular season will be critical, but they have the talent to claim a second bid. Meanwhile, rebuilding Georgia, deep Florida, and upstart Georgia Tech will need to make their own opportunities.
Southwest: They could be great or it could be just another season
The historic Southwest Region has fallen a bit behind the great Northwest and South Central in the pecking order. Stanford delivered on their promise with a run to the national final, but UCLA sputtered in the series after a great regular season. Meanwhile, the rest of the region mired itself in inconsistency. Teams like Cal and UC-Davis look talented again, but they'll need a vast improvement to challenge the top two and/or get a bid for the SW. UCLA has the look of a potential semifinalist, but will need to learn from last season's hard knocks.
The Players to Watch
Jesse Shofner (Oregon): The electrifying 5th year is back after a 1st Team All-American 2015. She spent the summer as a traveling ambassador of ultimate, all the while establishing her starpower and elite play. Shofner's speed and take-no-prisoners style changes the game like nobody else.
Bethany Kaylor (Oregon): Another year where Kaylor could be the most complete player in the women's college game. She can do everything on the field and will be a dutiful leader on the front lines for Fugue. She's a Player of the Year frontrunner after nearly capturing the award in 2015.
Mira Donaldson (British Columbia): Her offensive skillset makes her a ton of fun to watch and a nightmare to stop, so expect Donaldson to rack up assists and touches all season long. There have been those that have questioned her mental state, but she's grown up over the years as a star and is ready to claim a title.
Caitlin Fitzgerald (Kansas): Fitz was the most surprising 1st Team All-American last year, but no less deserving. Exceptional on both sides of the disc, she was asked to bare a heavy load as the central figure in Kansas's strategy. Expect her to be more ready to manage it all this time around.
Jaclyn Verzuh (Dartmouth): The hype machine will not stop running when it comes to Verzuh. After a monstrous run in her first year of club and with the All Star Ultimate Tour, college competition should be a piece of cake for the athletic and skilled freshman phenom unlike anything we've seen before.
Marisa Rafter (Cal): It has been some time since Rafter was able to play with the Pie Queens fully healthy, but anyone watching her at the U23 Championships or with Nightlock can attest that she's a ferocious defender and skilled with the disc in her hands. If Cal can finally make the jump, expect Rafter to be earning recognition.
Claire Revere (Whitman): The talent possessed by Revere has never been in question, but the productivity has not always matched that. A tremendous cutter who can make plays with her speed, quickness, throws, and smarts, Revere is likely to ascend to being a takeover player in 2016.
Clare Frantz (Kansas): A brutal ACL tear took Frantz out of play for Kansas last season, but she reminded the world who she was this summer playing with the U23 Mixed team in London. Her big throws and confidence as in the backfield will be a big part of Kansas' playbook this year.
Monisha White (Stanford): The Superfly slinger inherits the mantle with Meister and Slim hanging up their red jerseys. With incredible field sense, a cannon arm, and the guts to take her shots, White figures to be huge in Stanford's 2016 campaign. It's her team now.
Others to Keep Your Eye On
Kirstin Johnson (Colorado)
Sarah Anciaux (Minnesota)
Chloë Rowse (Colorado College)
Anna Hrovadt-Staedter (Wisconsin)
Angela Zhu (Dartmouth)
Stevie Miller (Ohio State)
Carolyn Normile (Pittsburgh)
Han Chen (UCLA)
Anne Rempel (Stanford)
Rebecca Meeker (Virginia)
Kate Scarth (British Columbia)
Tournaments of Note:
Section will be updated as new information becomes available
Florida Winter Classic
January 16-17, 2016
Apopka, FL
Teams to Watch: Central Florida, Michigan, Ohio State, North Carolina, Florida State
Santa Barbara Invite
January 29-31, 2016
Santa Barbara, CA
Teams to Watch: Stanford, UCLA, Victoria, UC Berkeley, UC Davis, UC San Diego
Queen City Tune Up
February 7-8, 2016
Charlotte, NC
Teams to Watch: Virginia, Ohio State, Pittsburgh, Central Florida, Michigan, Wisconsin, Kansas, Carleton, Colorado College, Minnesota, North Carolina, Tufts, Florida State
President's Day Invite
February 13-15, 2016
San Diego, CA
Teams to Watch: Oregon, Washington, Stanford, Colorado College, Texas, UCLA, Colorado, Western Washington, Cal, UC Davis, UC San Diego, Northeastern
Commonwealth Cup
February 27-28, 2016
Martinsville, VA
Teams to Watch: Virginia, Pittsburgh, North Carolina, Princeton
Stanford Invite
March 5-6, 2016
Fremont, CA
Teams to Watch: Stanford, UCLA, Oregon, British Columbia, Colorado, Whitman, Washington, Central Florida, Ohio State, Carleton, Texas
Midwest Throwdown
March 5-6, 2016
St. Lous, MO
Teams to Watch: Iowa State, Northwestern, Wisconsin, Kansas, Iowa
Centex
March 19-20, 2016
Pflugerville, TX
Teams to Watch: All of them.
Just kidding: Kansas, Wisconsin, Colorado, Colorado College, Minnesota, Virginia, Tufts, Michigan, Central Florida, UCLA, Texas, Iowa State
NW Challenge
March 25-27, 2016
Puyallup, WA
Teams to Watch: Oregon, British Columbia, Whitman, Dartmouth, Stanford, Victoria, Western Washington, Carleton, Pittsburgh, Washington
Bidwatch Predictions
Katie's Bid Predictions: 1 for AC, GL, ME, NE; 2 for NC, OV, SE, SW; 4 for NW, SC
Keith's Bid Predictions: 1 for AC, SE, NE, ME, GL; 2 for OV, NC, SW; 4 for SC; 5 for NW
Charlie's Bid Predictions: 1 for AC, GL, ME, NC; 2 for NE, OV, SC, SE, SW; 6 for NW
Dunham Computer Predictions: 1 for AC, GL, ME, OV, SE; 2 for NC, SC, SW; 3 for NE; 6 for NW