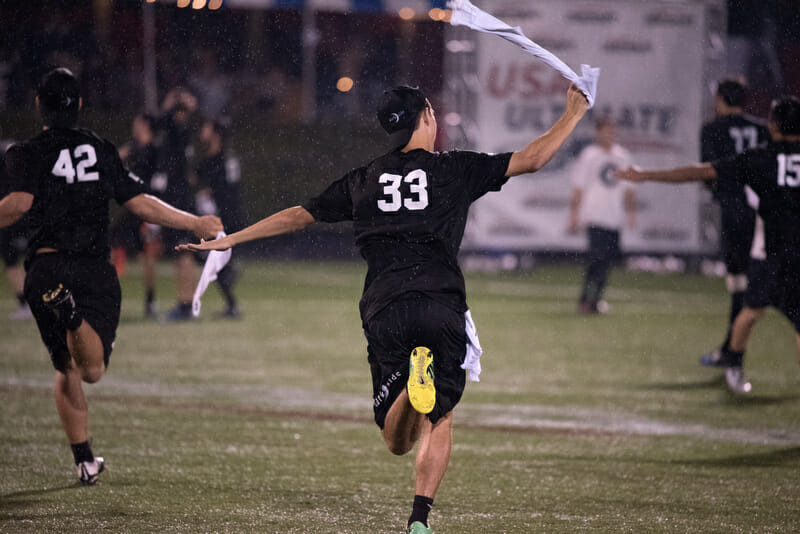 After winter storms shut down ultimate on the east coast last weekend, we finally begin meaningful regular season men's college ultimate this weekend around the country! Our eyes will be mostly out west this week on the Santa Barbara Invite, but we'll be following the action at T-Town Throwdown as well.
But don't blink: early season tournaments are back to back to back this year, with Queen City Tune Up next weekend and Florida Warm Up and the Presidents' Day Invite the following. Here we go!
Stories To Watch
Can UMass Make The Leap?
In 2013, UMass didn't make the game-to-go at Regionals. In 2014, Jeff Babbitt joined the team.
Although Babbitt won New England rookie of the year honors the season prior while at Wentworth, he was still largely an unknown outside of the region. How times have changed.
A freakish athlete and tireless worker, Babbitt helped carry UMass to a Nationals berth in the same year that now head coach Tiina Booth joined the coaching staff. They finished tied for 13th. Last year, we knew UMass was going to be good. They obliterated the New England region en route to a T-5th place finish at Nationals.
With nearly the full starting lineup returning and Babbitt sitting as the early front runner for Player of the Year, UMass looks like this year's team to beat. They crushed all comers at CCC in the fall, including a 15-7 win in the final over a very good Texas A&M team. How high is their ceiling?
Babbitt is the scariest free safety in college ultimate, roaming around as a wing in the team's 1-3-3 zone and finding ways to get blocks you never thought possible. But there's a lot more to the team than him. Conor Kline may be the fastest player in college and is coming off of a club season where he led the National Championships in goals for Minneapolis Sub Zero. Ben Sadok and 2015 Rookie of the Year Brett Gramann bring skilled handles to a cutter-focused team. The country's top recruit, Tannor Johnson, highlights a strong rookie group.
The question is really about the team's mental makeup. Can they survive a season as the front runner? Can they sustain the pressure of a deep run at Nationals? Most of the players on the team — aside from Babbitt, who played a year with Ironside — have never played in high stakes, ESPN3-streamed games.
If anyone can make it work, it's Booth, who is one of the sport's biggest proponents of mental preparation. The team is unquestionably talented enough to win a title; it should be a heck of a ride.
Pitt Reaching End of an Era
The preseason favorite almost every year, Pittsburgh remains in the elite tier again this season as they bring back three of their big four from a year ago: Max Thorne, Trent Dillon, and Pat Earles are all back on the field for Pitt this season and could be the best trio in college.
Two straight quarterfinals exits at Nationals would be a tremendous achievement for most teams not named Pitt. The team was stunned two years ago on double game point against UNC Wilmington before getting embarrassed by Central Florida last year in the same round.
What's not in question is the team's offensive capabilities: for the majority of last season — really all the way until Nationals — Pitt had the country's best offense, featuring the flamethrowing lefty Earles in the backfield and Thorne operating as an iso cutter and all-around killer.
But the team's defense was, by elite college ultimate standards, not very good. Sure, they would stomp on bad teams, but they struggled to generate breaks against other top teams, even while they were doing a lot of winning during the regular season. At Nationals, when the team's offense was just a bit off and Thorne got hurt against Texas, they had no defense to lean on to bring them back.
We'll see what Pitt can do with a new focus on defense this year and some pickups — like standout rookie Mike Ing — that bring a layout-first mentality.
The biggest story of this season, though, is that this is the last we will see of Thorne, Earles, and Dillon. They will graduate at the end of the season and pass the torch to a team that will have a lot of question marks.
Is this the last season in the foreseeable future that Pitt can win a title?
Northwest Wide Open?
Dylan Freechild's departure from Oregon might just open the door for a new team to fill the #1 spot in the Northwest.1 The Washington Sundodgers could fill that spot.
Khalif El-Salaam and company will be chomping at the bit to take advantage of a relative down year for Oregon. UW had a great season last year, but watched it get cut short by a peak year Western Washington team that flew under the radar for most of the season.
But other teams are in the mix this year. British Columbia lost a few key playmakers but has good continuity and strong coaching. Oregon State had a nice start to the season last weekend with a finals appearance at the Flat Tail College Open. WWU has had a taste of Nationals; despite some big turnover, they'll be in the mix.
Still, let's not forget about Oregon, who brings back 2015 Breakout Player of the Year Adam Rees, Connor Matthews, and Chris Strub, among others. In the minds of most, they'll remain the frontrunner until Washington proves otherwise.
No matter how you slice it, the Northwest is a wild card this year that could get anywhere from one to three bids.
The North Central Will Rise Again
I hope you enjoyed some time off from a dominant North Central. It's probably over now.
Wisconsin and Carleton (and maybe even Minnesota) are going to be back on the war path in 2016. Wisconsin, particularly, looks like a team that could be a title contender after a few years of being a mid or low tier Nationals team.
The Hodags return almost everyone that helped make up perhaps the nation's #1 man defense last year. That alone would make them a scary team, but it's the offensive continuity that should scare the rest of the country. Last year, their offense was, well, bad. But Avery Johnson, Craig Cox, and others come back with another year of experience. If they can sharpen the edge of their O-line, Wisconsin is going to be right back in the mix deep at college Nationals.
The big question mark for the team is the lack of big time star players. Perhaps one will emerge? They might need to find somebody who can be a game breaker; sometimes you just need your stars to make a play. If they find that, look out America.
Carleton will be newly motivated after a disappointing 2015 in which they did not make Nationals for the first time since 2006. Their excellent freshman class from last year got a lot of minutes; expect to see more from Sol Yanuck, Henry Fisher, and others this season. They also add an excellent young talent from Massachusetts, Tim Schoch, in their rookie class.
Minnesota, of course, made a surprise run to the top of the region last year. They will be competitive again, although perhaps not quite as talented now that big thrower Josh Klane has graduated.
Can UConn Make The Metro East Relevant?
The jury is out on UConn. The Metro East team that has flirted with a Nationals berth in the last few seasons may finally have the pieces to put together a run to the show. Not only that, they could actually be good enough to be competitive.
Are they winning Nationals? Slow down. No. But they could be talented enough to get some real wins on the regular season stage and maybe earn a 'real' bid for the region.
John Wodatch and Mike Rice are the team's primary playmakers, and new coach Bryan Jones is installing a new system for a historically mentally weak team.
They had some good results in the fall; let's see what they can do in the spring.
Can The Southeast Stay Hot?
A monster 2015 for the Southeast that culminated four (and almost five!) bids to Nationals keeps expectations high for the upcoming season. But there are just as many intriguing storylines as there are question marks.
Central Florida will be a Nationals quality team again, no doubt. They'll be the frontrunner — with Michael Fairley and Andrew McKelvey2 leading the way — to win the region. But their handling corps from last season is gone, so they have some roles to figure out. Florida, with Bobby Ley at the helm, looks poised for a bounce back year after missing Nationals last season. But after that, it's hard to say just what will shake out.
Florida State? Chris LaRocque and Andrew Roney leave big shoes to fill, and Connor Holcombe can't do it alone (although he tried at CCC).
Georgia? They have major depth concerns this season after some sizable turnover and their young captain, Sebbi Di Francesco, tore his ACL in the fall.
Auburn? It looked like they might be entering a relative rebuilding, but then — BOOM — Ryan Landry came back. You have to think they'll be in the mix.
Tulane? Can they recover from a brutal disqualification at Regionals last season? They're talented enough to contend for Nationals.
There's a lot of open questions in the Southeast, not only about how the teams will stack up within the region, but also how they'll play against out-of-region competition.
Atlantic Coast Deeper Than Ever
Let's get this out of the way: UNC Wilmington is going to be an outstanding team this year. Jack Williams is coming off of a monster Club Nationals with Ring of Fire and Xavier Maxstadt is back as well. Charlie Lian brings his physical presence to the team again this year. This is a high water season for UNCW — this is their chance to win a title.
UNC may drop off a bit this season after the departure of offensive POTY Jon Nethercutt and Ben Snell. Those two shouldered a heavy load at Nationals a year ago, and the young team that surrounded them will need to find a way to step up and take on some of that responsibility. There's no doubt this team will be good, but they could struggle early in the season as new roles are getting figured out. (That's basically what happened to them last year as well, don't forget). Nethercutt joins the coaching staff this season and could help ease the transition.
But what really makes the Atlantic Coast interesting this year are all the teams that could be in the mix at Regionals! Virginia Tech (ranked #20). JMU (ranked #22). Maryland. VCU. Virginia. NC State. There is no shortage of teams that could not only play spoiler, but also potentially earn bids.
Keep a close eye on QCTU to see if those 2nd tier teams were playing with fall fool's gold or if they struck paydirt.
Title Race Wide Open?
It's reasonable to consider UMass the favorite this year, but there are many around the country that believe that the title race is more open than ever. Look at the top 10: UMass, UNCW, Pitt, Wisconsin, UNC, Washington, Carleton, Harvard, UCF, Oregon. Can you confidently pick four of those teams to semis right now?
Adding to this year's uncertainty is the lack of fall competition between these powerhouses. Although there have been a few matchups — UMass has wins over UCF and Harvard, Wisconsin has a win over Carleton — there has been little to suggest how these teams compare.
Also worth watching: there are four regions with multiple top 10 teams right now (New England, Atlantic Coast, North Central, Northwest). There could be robust competition just to win regions — we could get classic finals between UMass/Harvard, Wisconsin/Carleton, Oregon/Washington, and UNC/UNC Wilmington. Seeding could end up being a big deal!
Regional Storylines
Atlantic Coast: The Carolinas and…
If you take an objective look at the Atlantic Coast, there are only going to be two teams that could be title contenders: UNC and UNC Wilmington. They'll both be at Nationals. Seems like same old, same old.
But, as discussed above, there is a large pack of quality teams all fighting for that following spot in the pecking order. It seems likely that one of those teams is going to make a push this season and earn the AC a third bid.
Last year, Maryland came as something of a surprise when they had a stellar Easterns, playing well enough to land a bid at the deadline. But, this year, the rising quality in the Atlantic Coast is clear: can the teams avoid cannibalizing each other's ranking points?
Great Lakes: Three team race
With Michigan failing to materialize last season and now facing a rebuilding year, there's no clear frontrunner in the Great Lakes. Currently, Northwestern (ranked #15) sits in the lead spot after a strong fall, but have yet to show the ability to win deep at Regionals and claim a Nationals spot.
Illinois (ranked #21) was the preseason favorite, as the team comes off of a 2015 Nationals trip and returns GL POTY favorite Nick Prozorovsky. But they face some significant turnover that could challenge their depth and didn't wow in the fall.
Michigan (ranked #25) played their typical gritty style and got some solid wins in the fall, but has a lot of work to do to sharpen up their offense.
All three teams will eye the Regional title. And it's not totally out of the question that they could end up with multiple bids.
Metro East: Still the country's weakest
Metro Least remains a fitting moniker for the least competitive region in the country. Aside from a Rutgers blip in 2014, it's been the Cornell show since the redraw, yet Cornell is the punching bag at Nationals every year.
Ask around the Metro East and you'll still hear the same thing: it's Cornell's crown until someone proves otherwise. But that someone could be UConn, a team that can flash some real talent this year and will be steadied by veteran coaching from Bryan Jones. It's at least plausible — especially considering some impressive fall results, including close losses to UMass and Harvard — that UConn will be more than a 'lucky to be there' qualifier.
Unfortunately, after those two teams, there's not much to see. Rutgers is deep into rebuilding and NYU looks very rough around the edges.
While in-region parity remains a constant, there's not much to suggest that any team other than UConn has any kind of realistic shot at being competitive.
New England: Can anyone match UMass and Harvard?
The question above is a bit misleading, because the answer is a resounding 'no'. Those two teams should both comfortably earn bids and leave the rest of the region in the dust. Expect a heck of a final between the two with Harvard's John Stubbs and UMass' Jeff Babbitt going head-to-head.
The rest of the region has dipped a bit. Both Tufts and Dartmouth were Nationals teams just a couple of years ago, but the talent well has dried up lately. Both teams have some quality players, but lack both star power and sufficient depth. Tyler Chan was a phenom for Tufts last season but still couldn't do enough to get them to Nationals; he's graduated.
Brown remains a curious team — they have been getting some of the better recruits in the region the past few years, including Eli Motycka and, this year, Mac Hecht. But they were disappointing in the fall and seem to consistently lack discipline. They might be the most talented team behind the big two. Can they put the pieces together?
North Central: Back to basics
Some pairs are just right: peanut butter and jelly. Chips and salsa. Wisconsin v. Carleton.
We might just be headed into a classic rivalry season for the powerhouse programs as both look to climb back into the elite tier after a few years away. As mentioned above, Wisconsin has a great defense and all the pieces — roster continuity, experience, talent — to build a strong offense. Carleton will be hypermotivated after missing Nationals and has some outstanding young talent.
Sure, we could see Minnesota stay near the top, or another program — maybe one of the Iowa teams — rise into the mix. But this season's North Central will likely be defined about the power struggle between the Hodags and CUT.
Northwest: Bid hunt begins
There could be four or five quality teams — Oregon, Washington, UBC, Oregon State, and Western Washington — in the hunt for a spot at Nationals. Oregon certainly isn't going anywhere, and, even if you think Washington is more talented on paper, are you really confident in picking them to win the region?
That means that the Northwest is going to be looking to pile up the bids. Like the Southeast, there are big question marks about how the 2nd tier teams will match up out of region. Early season tournaments — like this weekend's Santa Barbara Invite — will be extra important for those teams, many of which do not leave the west coast during the season.
Ohio Valley: Back to one bid
With Cincinnati graduating many of its grizzled veterans, the Ohio Valley looks likely to revert to a single bidscape. Pittsburgh will once again throttle their competition and easily qualify for Nationals with its combination of elite top end talent and deep experience.
There is always the possibility that a team like Penn State, Cincinnati, or Ohio State could do enough to earn themselves a bid, but don't count on it.
Cincinnati had to pull some hijinks last year just to earn their bid — hijinks that have now been effectively banned.
By the way, don't sleep on Case Western, who picked up WashU alum Joseph Marmerstein. He almost singlehandedly did enough to stun Texas last year in the South Central game-to-go.
South Central: Can Missouri join the Big Three?
Matt Bennett may be gone, but Dalton Smith is back and Texas A&M looks like they have the tools to remain atop the South Central in 2016. Texas is facing a bit of a rebuild after the graduation of Chase Cunningham and Colorado — while talented — is a couple stars short of being a title contender this year.
You can't ever count out those legacy programs from Nationals, though, so it's hard not to expect the region to get three bids and largely lack drama at Regionals.
The real question is: can Missouri be the new A&M? Don't forget that it was Texas A&M that emerged from the shadows just a few years ago onto the Regional and, eventually, National stage. Mizzou had a great showing in the fall, with rising stars Jay Froude and Jesse White leading the way. With a veteran-heavy lineup, Missouri could play spoiler to one of the big three.
Southeast: Another four bid year?
The Southeast was by far the country's strongest region a year ago, but a large outflow of talent from teams across the region leaves some doubts about its 2016 prognosis.
UCF and Florida seem like certain bidearners, but, after that, it's not clear where you get more bids. Auburn and Tulane are both talented enough, but will be bubble teams; Florida State is rebuilding this year; and Georgia has been inconsistent.
But it's worth emphasizing that if they miss out on four (even five?) bids, they'll be missing out by a short margin. All of the above teams are going to be talented, just perhaps not enough to land in the top 20. There is huge variance.
Southwest: Stanford's year?
With Arizona State taking a step back and UCSB losing Hunter Corbett, this seems like it could finally be the year for Stanford — currently the only top 25 team from the Southwest — to get back to the show. Bloodthirsty is bringing back almost their entire roster and is confident in their chances, going so far as to fly to an east coast tournament (CCC) in the fall.
Still, nothing is ever certain in the Southwest (except maybe only getting one bid). Could the region finally break the one bid barrier? Watch closely this weekend in Santa Barbara, where Southwest teams will need to have a good showing against some quality out-of-region teams.
The Players To Watch
Jeff Babbitt (UMass): The most physically imposing player in college leads the early POTY conversation. His combination of raw athleticism, size, and speed make him a tremendous defender and nearly impossible cover. Expect to see him on the field for nearly every UMass defensive point, and plenty of offensive ones when they need him.
Jack Williams (UNC Wilmington): One of the best deep threats in college last season, Jack Williams has the potential to advance to superstar status this season for Wilmington. He was perhaps the best player out there for Raleigh Ring of Fire at Club Nationals and has grown into much more than a one-dimensional cutter since he first burst onto the scene at 2014 College Nationals.
Max Thorne (Pittsburgh): Max Thorne might be the most well-rounded player in college. Though he is not a big guy, his speed and ultimate IQ make him a nightmare to defend one on one. Pitt's fortunes could depend on how well he plays.
Khalif El-Salaam (Washington): Though he is better known for his play for Seattle Mixtape, Khalif El-Salaam has the chance to be one of this season's brightest college stars. Last year, he was already one of the country's biggest playmakers, but he lacked consistency and was, at times, turnover prone. He may always be a bit of a streaky player (the Polar Bears found out the hard way what can happen if he gets hot), but he needs to become the on-field general for Washington this season.
John Stubbs (Harvard): Although his family name preordained him for breathless hype since his freshman year, John Stubbs is ready to show why the buzz has been merited. A lockdown defender and do-it-all offensive weapon, Stubbs is ready to step into the give-me-the-rock role Harvard needs him in. He was very impressive in the fall.
Dalton Smith (Texas A&M): Dalton Smith has been a big name on Texas A&M for years now after his auspicious rookie season with Doublewide back in 2012. Smith is now stepping in as the #1 option on Dozen after the departure of Matt Bennett. His handling skills have been forged by years on the Doublewide D-line and he was running amok against every defender at the CCC fields in November.
Conor Kline (UMass): The lightning-fast Conor Kline ran right through ten-yard cushions and past his defender all fall as he piled up goals for UMass. It's rare to see a player with such a nose for the endzone. His goal scoring ability ranks right up there with past greats like Tyler Degirolamo and he will be a key cog in the UMass attack this season.
Xavier Maxstadt (UNC Wilmington): Xavier Maxstadt was a star last season throughout UNCW's excellent regular season run. If he can continue to refine his field vision — and avoid the too-frequent 'off game' — he will be one of the country's premier true handlers.
Ryan Landry (Auburn): We don't know yet to what extent Ryan Landry will be involved with Auburn this season, but assuming he's all in as he starts graduate school, he could be a darkhorse candidate for POTY. He won Southeast POTY honors last year from his peers and combines elite quickness with powerful throws.
Others To Keep Your Eye On
Pat Earles (Pittsburgh)
Connor Matthews (Oregon)
Joseph Marmerstein (Case Western)
Jay Froude (Missouri)
Justin Lim (Carleton)
Nick Prozorovsky (Illinois)
Connor Holcombe (Florida State)
Trent Dillon (Pittsburgh)
Bobby Ley (Florida)
Aaron Warshauer (UNC)
Ben Jagt (Minnesota)
Pawel Janas (Colorado)
Michael Fairley (UCF)
Will Turner (UCSB)
Craig Cox (Wisconsin)
Chris Strub (Oregon)
Bidwatch Predictions
Charlie's Predictions: 1 for ME, GL, OV; 2 for NC, NE, NW, SW; 3 for AC, SE, SC
Keith's Predictions: 1 for GL, ME, OV, SW; 2 for AC, NE, NW; 3 for NC, SC; 4 for SE
You can follow along with all the action this season with an Ultiworld Video Subscription. Sign up for a monthly plan or get a discount for a full season!
---
And, yes, I know Oregon didn't win the region last year; let's not act like that knocked them off of being the best team in the region. ↩

An earlier version of this article said that Jeremy Langdon would be returning for UCF. Though in the fall it looked to be likely he would come back for a fifth year, he will not return. We apologize for the error. ↩