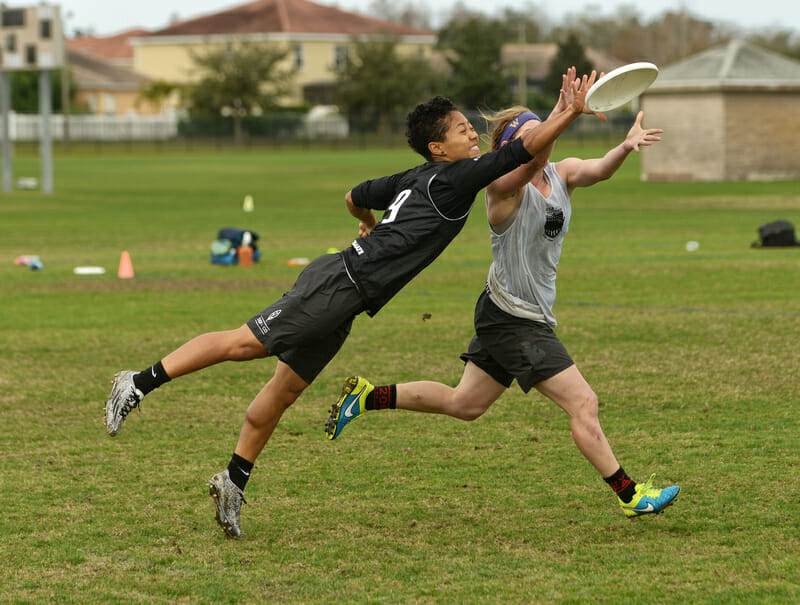 KISSIMMEE — With the conclusion of the weekend's affair just outside of Orlando, Florida, Team USA tryouts for the 2016 World Ultimate and Guts Championships are over. It was an intense weekend for the players, but one that many said they relished. So many players of such a high caliber playing together and against one another was a sight to behold and certainly a fun teaser for what an all-star Team USA could look like this summer.
With the tryouts completed and the team selections still come, here are the main storylines from this weekend.
Players Answer Call To Separate Themselves
Before play started Sunday morning, mixed head coach Jake Henderson called for players to do a better job of putting themselves in position to best display their strengths. He commended the players for their Saturday performances, but still wanted to see where each player really excelled. As the second day of East Coast tryouts wore on, a number of players answered this call and set themselves apart from the rest of the pack in a way that few did on Saturday.
Washington DC Truck Stop handler Alan Kolick was one of those players. Kolick was a stud defender and one of the most impressive handlers on the weekend, consistently getting open for resets and showing off an electric arsenal of throws to keep the offense moving quickly. He also made arguably the play of the weekend, recording a hand block on a force side throw, chasing the floating disc, and laying out for the catch block to ensure the turnover.
RELATED: West Coast Tryout Recap
"Generally the strength of my game is grinding, first step, and throwing breaks," said Kolick. "As the day wore on and as people got more tired, I think that I was more able to show my strengths." Apart from his playmaking ability and consistency, Kolick displayed longevity when other players' legs were at their heaviest. That did seem to be another asset that could prove valuable to Team USA. When asked to assess his weekend performance, Kolick said, "I was pretty happy with the way that I played, especially at the end. I think my last two games were probably my strongest games, which was good."
Minneapolis Sub Zero deep cutter Nick Stuart was another player who carved out a noticeable niche for himself. Stuart displayed elite acceleration and top end speed, especially impressive for a player of his size. On Sunday, he matched up with Jonathan "Goose" Helton for a number of points; the battle was one of the most entertaining of the weekend, as the two athletes pushed each other to play their best.
Stuart was often a favorite target in the 7-on-7 scrimmages, regardless of who was delivering assists. At one point on Saturday, Trent Dillon ripped a full field forehand huck and swore in apparent frustration for an overthrow, only to have Stuart run it down for the score. That play was a perfect microcosm of Stuart's weekend as a whole; he was one of the most dangerous downfield cutters on the field and was a matchup problem for virtually every team he scrimmaged against.
A player of similar physical stature to Stuart, Washington DC Truck Stop defensive cutter David Cranston used his size and athleticism exceptionally well on both sides of the disc and was one of the most effective defenders amongst the men's groups. Other players identified him as one of the most difficult players to get open on this weekend, crediting his expert use of his length and physicality.
As mentioned in the Saturday recap, there was little separation among the men at the East tryout. These few players, though, put forth good arguments for valuable roles they could play for the National team. Whether or not they did enough to make the team remains to be seen, but they answered the call to showcase their strengths a bit better than most.
***
For the women, Boston Brute Squad cutter Lien Hoffman shone perhaps more than any other on Sunday. Whether on offense or defense, she asserted herself in the downfield space after being a bit more reserved on Saturday. "It was an upward trajectory throughout the weekend, just getting comfortable playing with new people," she said. "I was a little nervous…I definitely eased into it at first."
If Hoffman eased into the tryout, then it appeared to pay off. She had easily one of the strongest showings of any of the women on Sunday, finding open space at the perfect times for her handlers. She was also all over the field on defense, piling up blocks while taking some of the tougher matchups on the field. Hoffman may not be as physically imposing as an Opi Payne or Sandy Jorgensen, but her own abilities as a cutter saw her making a similar impact for her team when she was on the field.
Austin Showdown cutter Sarah Levinn was another who impressed as a consistent downfield option, showing a range in her cuts and an ability to get open on all parts of the field. Levinn had a knack for picture perfect timing on cuts and an ability to win battles on 50-50 discs. She exhibited a nose for the disc and a penchant for scoring all weekend long that stood above the crowd.
Washington DC Scandal handler Jenny Fey was rarely flashy on Sunday, but she seemed to always move the disc quickly and assuredly, ensuring smooth and consistent offense when she was on the field. Her ability to break the mark and get off quick continues to the break side set her apart as an indomitably solid handler who did not need to run the point to make an impact. She had a bit more of an understated impact on her team's play at the tryout, but it was an essential and impressive one nonetheless.
RELATED: Give Her The Rock: Scandal's Jenny Fey Sets Standard For Offensive Dominance 
Another player who deserves mention is Atlanta Ozone cutter Meg Harris. She had two or three of the best plays of the weekend, regardless of gender. One moment in particular was special on Sunday, when she followed up on a Hoffman macked block and got completely horizontal in the end zone for the score. The explosiveness of that play was matched by very few, if any, on the women's fields. She put her monstrous bids on display all weekend and set herself apart in her ability to make huge, momentum-driving plays.
Again, it is tough to say whether these players' unique and impactful performances will earn them a spot on the team, mostly because it is impossible to know what skill sets the coaches will be looking to place onto a team. But these players excelled at putting themselves in positions of strength and displaying what they can bring to the national team.
Women's head coach Matty Tsang put it best after the conclusion of the tryouts. "There are players here who can play in London that we just can't take," he said. "That's how awesome this group is."
Lack of Team Chemistry Apparent Early, Paves Way for Dominant Brute Squad                               
A number of coaches mentioned on Saturday that one of the biggest differences between the West and East tryouts was the dispersion of talent and the effect it had on how the players played together at the respective tryouts. A West tryout that was heavy on players from just a handful of teams saw players gelling with each other from the outset, while the East tryout didn't feature similar cohesion until later into the day on Saturday.
Although coaches did say on Sunday that players' performances eventually did measure up to those at the West tryouts, there was still an advantage for the club teammates that were able to play with each other during the tryout process. For no group was this more evident that with the Brute Squad players present.
The defending women's club champions were represented in greater numbers than any other club team this weekend and when players like Hoffman, Leila Tunnell, Becky Malinowski, and Kami Groom were on the field with each other, their chemistry showed.
"It's really helpful to know what your handler's going to throw, and being able to play with [Leila Tunnell and Emily Baecher] was really great," said Hoffman. "Courtney [Kiesow]…and I have a good cutter connection and so it was good to be able to rely on that, to know that there's kind of a baseline there already."
That advantage was visible for really all of the Brute Squad players, even into Sunday when everyone had been playing together for over a day. One of the more intriguing aspects of the team selections will be how team chemistry oriented they will be. Will large chunks of the same clubs teams be taken to minimize some of the pitfalls of the limited practice time the team will have? Either way, Boston's host of players at the tryout this weekend benefited as individuals and as potential national team teammates on account of their preexisting chemistry.
Surprise Performances
When everyone at a tryout is as talented as they were this weekend, it is difficult to truly label any player's strong performance as a surprising one. That said, there were some players, perhaps a bit less well known to the more casual fan, who put in notable performances.
New York PoNY cutter Chris Kocher was one such player. He closed the weekend with a very strong Sunday, proving consistent in both drills and scrimmages. Kocher's attributes especially shined in Sunday's full field 3-on-3 drills, where his tireless effort on defense and reliable cutting on offense often made his team better. Kocher was rarely flashy – apart from one highlight reel, layout catch block in 3-on-3's – but was always dependable and brought one of the higher levels of energy to the tryout's second day.
RELATED: WUGC Tryout Photo Gallery
One of the things that coaches said they were looking for this weekend was players who made their teams better, and Kocher did that more successfully than many.
In the women's field, Miami KOD's Rebecca Poznansky was one of a few surprises to jump out of the pack. Poznasnky proved to be one of the most athletic females at the tryout and kept dropping jaws with her highlight reel bids. She was also, notably, one of the least experienced players to receive an invitation to either tryout, but matched up with many of the sport's top athletes in scrimmages and held her own. Her lack of high level experience definitely showed at times, but her matchups with Denver Molly Brown's Crystal Davis were some of the most entertaining duels of the weekend as the two speedsters traded metaphorical blows.
Her performance was likely not at a consistently high enough level to warrant consideration for making either team, but for such an inexperienced player to shine so often against such great competition was an enjoyable surprise. And if the coaches were picking the teams purely on potential highlight reels made from this weekend's plays than she would definitely be on the shortlist.
Injuries Not A Big Story
One of the big stories from last weekend was the attrition suffered due to the grueling nature of the tryout. The weekend in Kissimmee did not leave quite the same wake of destruction in its path; coaches did not indicate, though, that they altered the physical demand from one weekend to the other in any significant way.
Of course there were injuries, and players were exhausted by the end of the weekend, but lusher fields than the ones out in Phoenix meant a lesser toll on players' bodies over the duration of the tryout. Apart from a couple contact-induced injuries, most other incidences were either minor or flare-ups of preexisting issues.
Final Thoughts
With tryouts in the books, we know await the fascinating team selection process. Building three teams after two such high-level cross country tryouts is the first litmus test for this style of Team USA formation and, as such, the true impact of this weekend and last is still left to speculation. Regardless, the coaches all seemed very pleased with what they saw out of the country's east coast players and eager to move forward with the talent available to them.
As Henderson said early in the day on Sunday, "there really are no bad choices" when it comes to picking from the crop of tryout invitees. All there is to do now, then, is to wait and see exactly what choices the coaches make.