A February game to remember.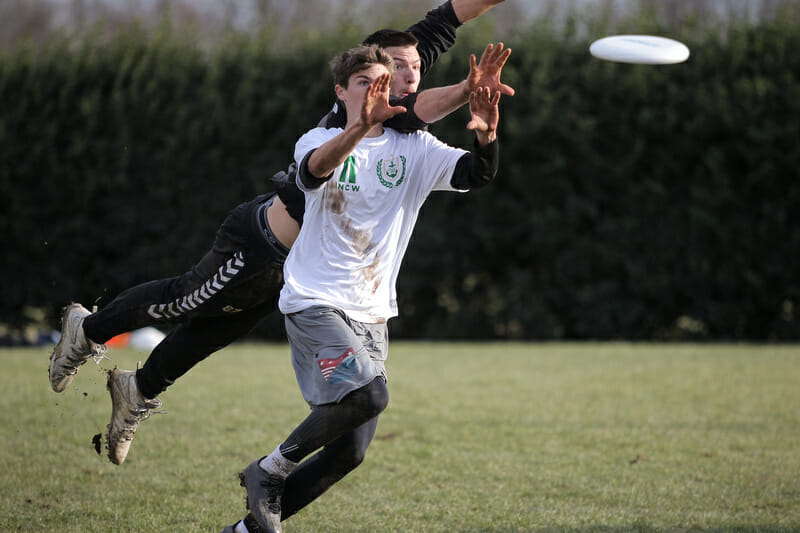 CHARLOTTE — College ultimate isn't supposed to mean much in early February. Teams are knocking off the rust and burning off the Christmas cookies. While that may have been true for most of the competition at the Queen City Tune Up, the tournament's finalists left the rust back in the garage.
#2 UNC Wilmington edged out #1 UMass 12-11 in a double game point thriller — a game that felt a lot closer to a playoff matchup than an early regular season one — on Sunday afternoon in North Carolina. With stars like UNCW's Jack Williams and Xavier Maxstadt battling against UMass' Jeff Babbitt and Conor Kline, there was a lot to see in the season's first premier contest.
"That was one of the most intense games I've ever played," said Williams, a UNCW captain. "That was probably the most athletic team we've ever gone up against."
A boisterous UNCW crowd only added to the excitement of a game that started off simmering and finished at a rolling boil. UMass struck first with a pair of early breaks and some strong play from the offensive line. UMass handler Ben Sadok gave the team a 3-1 lead with a jaw-dropping 30 yard scoober to phenom rookie Tannor Johnson:
After UNCW went down by three thanks to an excellent grab in traffic from Giancarlo Cincotta, they started to battle back. Wilmington's top handlers Charlie Lian and Maxstadt started playing points together after spending most of the weekend on separate lines: Lian on offense, Maxstadt on defense. Lian hit Maxstadt for a break to make it 3-4. Williams had an excellent first half as well, finishing with three assists including on the go-ahead break into halftime.
"We try to keep true lines out there as long as possible so we can preserve depth and then in the finals run the same line out there four times in a row," said UNCW coach Brian Casey.
Both teams put out their best seven coming out of the halftime intermission, with UMass needing a break to knot the game at eight. They would get their chance when Maxstadt missed on a shallow inside break; Ben Tseytlin found Johnson with a back shoulder outside-in forehand. Johnson threw down the game's most emphatic spike as UMass got their first break since going up 4-1.
"The environment was really intense," said Johnson. "Something that's different from games I've played before is that everyone is super athletic and ready to attack the disc. And that's really not something that I'm used to. I felt like handling the athleticism, rather than the play itself, was the biggest challenge for me."
The athleticism from both teams really started to shine in the second half. Jack Williams made the best offensive play of the game with a full extension scoring layout past a bidding defender on a Maxstadt backhand huck. "I was not open at all," said Williams. "But I knew it was coming."
Babbitt took over the defensive assignment after that point, giving spectators a look at the two most physically dominant college ultimate players going head to head. Both had some big moments. Williams caught a hotly contested in cut as Babbitt laid out illegally through his back1. "It was all good," said Williams. "We play physical, probably more physical than any other team in the country. So that's three times a practice. I didn't even think about it." Later, Babbitt, on offense, was a brick wall as Williams tried to go over him for the block.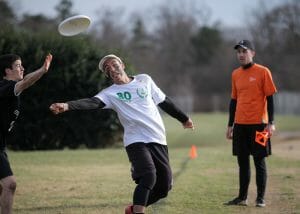 Both players were complimentary of one another after the game. "I think he's more explosive than I am, but I think I'm quicker," said Williams. "So I was trying to quick movement, run him around, tire him out. He's a big body, but I think he tires out a little easier. He got his, I got mine. It was a fun matchup."
"I just know that he's a good player so I respect that," said Babbitt. "I know what he likes to do: he likes to score deep."
So if the two superstars didn't land the knockout punch, the X factor in this game was 'X' himself: Xavier Maxstadt.
He had an amazing game down the stretch, carving up the vaunted UMass zone with vision and unstoppable throws like this backhand blade:
"Nobody can shred a zone like Xavier," said Williams. "That outside-in backhand was the most Xavier thing I've seen all year, maybe in my whole life. In that zone, you can't throw anything over the top or anything floaty because Babbitt's going to close the ground so fast, so you've got to zip it in there and throw blades."
After four straight holds from the offenses and a 10-10 deadlock, the game ramped up again. UMass had a great opportunity for a go-ahead break as Brett Gramann got loose deep, but UNCW's Matt Mason made arguably the defensive play of the game with an outrageous layout block:
UNCW marched back the other way until a Maxstadt backhand got ripped away by a play just as amazing from Babbitt:
Coming off of that play, Williams got a heads-up poach block and eventually Mason hit Austin McGrayne for an 11-10 Wilmington lead.
UMass forced double game point on an upline blade from Kline to Babbitt that was nearly blocked by a diving Williams on the mark.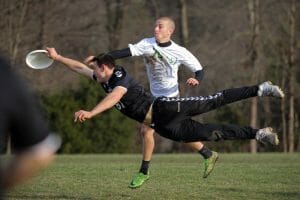 The game looked all but over when Kline got rung up by the observer for grabbing McGrayne as they jostled for position running down a huck, but a travel call ended up sending the disc back instead of giving UNCW the disc on the goal line. Lian fired a high-stall backhand huck looking for Williams, who couldn't reel it in. The disc traded hands a few more times, with UMass coming up with some huge defensive plays in the endzone. But a Kline point blank drop on an easy in cut gave Wilmington the final opportunity they would need.
Lian fired a forty yard hammer to the back of the endzone to win it.
Both teams spoke highly of the opportunity to play such a competitive game at this point in the season. "We haven't played anything like this since last Nationals," said UMass coach Tiina Booth. "This really is the first challenge we've had since Memorial Day."
"We can't hang our heads," she continued. "It was a universe point game. We had two chances to put it in. You can't really ask for more than that. I guess we would have liked to have put it in, but, big picture time, I've been in this kind of position before. It's really 100 percent OK to lose. And I'm a competitor that doesn't like to lose."
UNCW coach Brian Casey also looked to the bigger picture. "We want to put ourselves in a position where we're getting the best out of ourselves," he said. "Long term: we had a lot of regular season success last year that didn't necessarily translate into Nationals success. So keep things tempered in terms of our expectations, but we know this is where we need to be."
With the win, UNC Wilmington will move to #1 in the Power Rankings, but both teams were very strong. They played with pace and quality that other teams at QCTU simply could not match. That, paired with the caliber of athletes on the field for both teams, made for an exceptional final. Could they meet again, still as the top two teams in the country? And, if this is how fun this game was in February, what could it look like in late March at Easterns?
"I think when we've got even a few weeks of practice outside under our belt, both teams will be at another level," said Booth. "So I look forward to that."
So do the rest of us.
Watch the full game footage of the UNCW/UMass final, along with nine other games from QCTU, with an Ultiworld Video Subscription.
---
See the top photo. ↩