If they can translate Club level experience into improved offensive efficiency, Wisconsin may again find themselves at the top of the college game.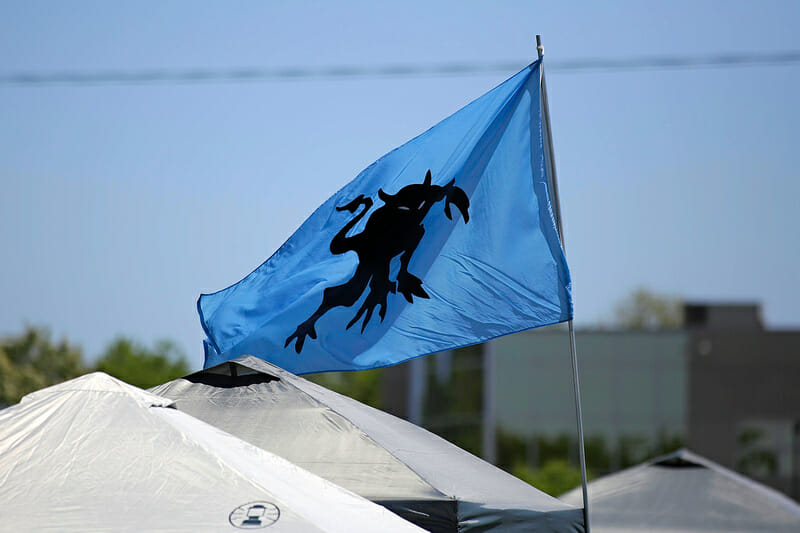 In the pantheon of collegiate ultimate, few teams even come close to the pedigree of the Wisconsin Hodags. Three national titles and four runner-ups don't happen by accident. Every year the Hodags bring it with supreme athleticism and a proven system. While 2015 may have been a down year (by their lofty standards), the Hodags have reloaded for 2016 and look ready to claim a North Central Regional title — and probably more.
The Basics
Coach: Hector Valdivia
Captains: Craig Cox, Avery Johnson
2015 Results: T-13th Nationals, 2nd NC Regionals
Coming into the 2015 College Championships seeded 12th, the Hodags finished pool play a disappointing 1-3, failed to qualify for the championship bracket, and eventually finished in a tie for 13th. What went wrong? To be frank, their offense let them down. While their defense looked as tenacious as ever, the Hodag O just never seemed to get on the same page throughout the season. They could look lethal at times, but consistency was a constant thorn in their side.
So how did the Hodags go about addressing this problem for 2016? For starters, a huge portion of this year's team gained high-level club experience this past summer. "This year we had over 75% of players playing club with either Madison Club, Sub Zero, MadMen, or Climax, which is a record high for us," Captain Avery Johnson told me. "Any playing time over the summer is pivotal, but even more so when the teams we were playing on were competitive mid and high level club teams where winning was prioritized."
Sophomores Eric Von Kampen and Nick Vogt and senior Erik Jorgenson all played for Minneapolis Subzero, while seniors Nick Ladas and Ross Barker were essential cogs in Madison Club's run to the National Quarterfinals. Having this many college teammates with club nationals experience is rare, and the maturity gained from playing on the biggest stage in club ultimate sets the Hodags up for postseason success.
The majority of the Hodags (12) played together on Madison's second open team, Mad Men. Captain Avery Johnson thinks that this familiarity will pay dividends.
"This year more than most years the guys on Mad Men getting the most playing time were Hodags, partially because we took over leadership of the team in order to further prepare players for the upcoming college season."
That playing time will certainly prove crucial, as the Hodags, like all college teams, need younger players to step up into roles vacated by graduating players. Luckily for Wisconsin, their departures aren't nearly as significant as many other teams. While players like Danny Stulligross and Nick Zeman will be difficult to replace, it isn't impossible, and the Hodags have more than enough talent to do so.
Captain Craig Cox is in his fifth year at Wisconsin, and is one of the Hodags most experienced all-around players. Due to his height (6'6"), teams typically back him, but Cox has some of the more lethal throws on the team — especially hucks. This versatility means that Cox can be dangerous from anywhere on the field, something that makes the Hodags O-line all the more potent. He expresses his versatility a variety in of ways, but chiefly to catch the under, turn around, and unleash a forehand bomb to a streaking receiver.
Joining Cox on offense is Johnson, who fills the pivotal role of center handler. While he can throw-and-go with the best of them, Johnson excels at putting up pinpoint hucks to the Hodags lighting-fast receivers, like Vogt, Barker, and veteran Aaron Speiss. Barker in particular looked nigh-unguardable in the fall, and will be perhaps the Dags' most important cutter this spring. With all of their most important offensive players returning, the Hodag O hope to return to the efficiency typically expected from them.
While their offensive issues were the story last year, the Hodags' identity continues to lie in their athletic, intense man defense. Senior Nick Ladas believes that that's unlikely to change.
"Last year we struggled with offensive efficiency, which will definitely be a focus this year. But the core of the program is still built on the intensity of our defense and the work we put into the track and weight room. Hodags have always prided themselves on our physical grinding man defense; this year will be no different."
The Hodag D is led by Ladas and Sterling Knoche, both prototypical Hodag defenders (tall, athletic, intense, and willing to lay out for anything). Behind the disc, Colin Sunde and Eric Von Kampen will look to push the pace on a turn. While primarily a man-defense team, Ladas concedes that they mix in a zone from time to time.
"Having a zone in your playbook is an integral part of being an elite ultimate club.  Whether it's to give our offense a chance to practice breaking zones or simply having another look to throw at our opponents, we definitely mix in a zone or other defensive looks besides just man."
He affirms, however, that the Hodag identity remains firmly entrenched in its man defense. No surprises there.
***
Likely Floor: Prequarters of Nationals
If the Hodags' offensive woes continue, they could see an early exit at Nationals. The O needs to be able to be broken and not let it affect their play on the subsequent point. In their game against Colorado at Missouri Loves Company this fall, Wisconsin squandered an 8-5 lead, their offense giving up a string of breaks until Colorado took the lead 10-9. The Hodags eventually won that game (on universe point), but Wisconsin hopes that that mini-collapse was an anomaly and not indicative of the same issues that doomed them last year.
Likely Ceiling: National Semifinals
The Hodags are the prohibitive favorites in the North Central, and looked confident and talented en route to an MLC title this past fall. Their offense is without a doubt improved over last year, and could become a real strength, rather than a hindrance. If so, Wisconsin can be a top-5 team in the country and, due to their high-volume of Club Nationals-experienced players, are more than capable of playing like it at nationals.
The Wisconsin Hodags will be attending Florida Warm Up, Stanford Invite, and Trouble in Vegas in 2016.