An important DIII tournament takes place this weekend in Marion, Indiana.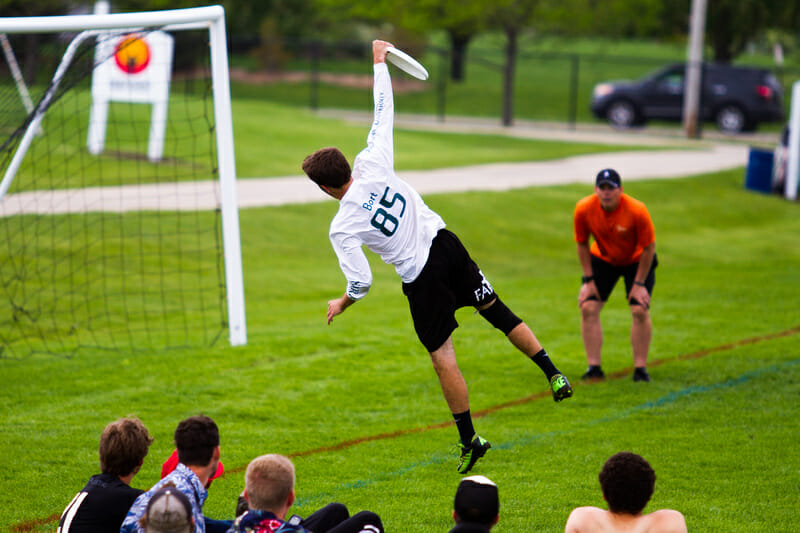 Disclosure: The author is the Team President of Indiana Wesleyan.
This weekend, Indiana Wesleyan University plays host to the third annual D-III Midwestern Invite. In previous years, this tournament has seen D-III teams from across the country rise through the rankings and give themselves a major boost in an eventual run to Nationals. Last year, the tournament hosted both the eventual D-III national champions, Franciscan Fatal, and the runners-up, Brandeis Tron. Other top teams were in attendance including St. Olaf, North Park, John Brown, Amherst, and St. John's.
Though this tournament is often plagued by poor weather, that doesn't seem to be a concern this year. As teams enter this weekend, the weather has warmed up to give teams an early-season glimpse of fifty degree weather.
Pool A: #1 Franciscan, Valparaiso, Missouri S&T, Wooster, Johnson
Franciscan enters the tournament as the number one seed and the reigning national champions. Last February, Franciscan attended this tournament and went undefeated on Saturday before leaving early due to poor weather. They boast a strong collection of top-tier players including Ultiworld's 2015 Rookie of the Year Dom Schuster, JP Bort, and Tommy Koch. All three were on USAU's All-Region team for the Ohio Valley last year, and were pivotal pieces in the team's championship run.
The team has experienced some heavy losses for various reasons: Stephen Wilson and Patrick Flanagan have graduated, and Tony Bort, Jay Ratacjzak, and Stephen Babcock are unavailable for this weekend. It will be interesting to see if Franciscan's influx of youth can live up to the standard that Fatal set last year.
Valparaiso Deus Vult, a Great Lakes team from northern Indiana, comes into DIII Midwestern Invite as a bit of an unknown on the national scene. Last year, they came out and unexpectedly stole the sectional championship away from Indiana Wesleyan University, and ended up finishing fourth at Regionals. Throughout the fall Valparaiso traveled to tournaments like No Wisconsequences and Chicago Invite, picking up valuable experience against good teams, wins over multiple Great Lakes teams, and great development opportunities for younger players. In their first tournament of the spring, expect Valparaiso to shake off some early rust and improve throughout the weekend. With lots of length and athleticism, they should be the toughest matchup of pool play for Franciscan.
For Missouri S&T, last season was up and down. This team saw victories over eventual nationals teams such as St. Olaf and Truman State, but also a good number of losses to average teams. They come into this weekend with little known about them, but have 34 registered players on the team. With a full roster, expect them to look to use legs and athleticism as the day wears on. This team has a high ceiling, and could steal second in the pool away from Valparaiso if they play well. Look for S&T to be a team most likely to steal an upset victory and advance their seed.
Wooster is a building program. Despite not making Regionals in a tough Ohio section, they still bring intensity and resilience to every opponent they match up against. Look for them to use their athleticism and top-end talent to keep games close, and for a bevy of youth to develop throughout the weekend.
In their first year as a sanctioned team, Johnson University showed a tremendous amount of spirit and improvement throughout this past season. They also flashed a certain toughness at regionals, taking care of games against lowly ranked teams and playing strong against the top ranked teams. With more playing time and experience, this team will only improve. Expect them to show up, play spirited games, and fight hard. This team may be able to break seed with a win over Wooster, but do not expect much more.
Pool B: #23 North Park, Cedarville, Wheaton, Drake, Bradley
Perhaps the most wide-open pool of the three at the tournament, Pool B features teams with recent Nationals experience in North Park and Cedarville, a team that lost in the game to go to Nationals in Drake, and improving teams in Wheaton and Bradley.
Although North Park made Nationals and performed well last year, the team saw a bit of a downturn this fall as they struggled to get numbers and win many meaningful games. For the Lost Boys, the hope is that the team just suffered a lull in the fall, and will pick it up with the coming of the spring. How will North Park fare in their first test of the spring? Can they prove to once again be a top-tier team in the Great Lakes?
Cedarville has a great opportunity this weekend, with a chance to steal the top spot in the pool away from North Park. They had a down year this past spring after making nationals in the year prior, but will still bring a strong roster that has matured through club experience and a fall semester of hard work. Look for them to play with great spirit and challenge North Park for the pool.
Drake is a team that saw massive amounts of improvement throughout the 2015 season. They pushed hard and saw much improvement throughout the season, and it look to continue improving in 2016. After they finished third at North Central regionals, losing in the game-to-go, they hope to make a successful run at nationals this time around. This team should be known for its fight and toughness, as they made the game-to-go by fighting all the way through the backdoor bracket at regionals. Drake only has an outside chance of stealing the number one spot in Pool B, but are definitely a team to be taken seriously.
Outside of the top teams, Wheaton and Bradley sit at the bottom of this pool, ready for an opportunity to leave their mark. Wheaton finished fifth in the Great Lakes last season, and only looks to improve. Throughout the fall, they played with many alumni and gained impressive results. Will the addition of alumni take away from the experience younger players could have gotten, or will it benefit the team, as the younger guys got the opportunity to learn? Bradley also finished lowly at Great Lakes regionals, but were a young, spirited team with nowhere to go but up. The game between these two will serve as a great measuring stick for how far the teams came in the fall, and a preview of where they still need to improve throughout the season before reaching the series.
Pool C: Alabama-Huntsville, Indiana Wesleyan, Xavier, Olivet Nazarene, Trine
For the top three teams in the pool — Alabama-Huntsville, Indiana Wesleyan, and Xavier — this is not their first sanctioned competition of the spring season. All three teams made the travel to Tuscaloosa, Alabama, to participate in T-Town Throwdown. There, Xavier and Alabama-Huntsville met in a consolation game that came to double game point before Xavier punched in the winning score. For Alabama-Huntsville, T-Town was a rough start to the season, as they were unable to pick up any victories other than two by forfeit. Xavier also had a rough start, only picking up wins against Alabama-Huntsville and Tennessee-Chattanooga.
For Indiana Wesleyan, this is another step in a big season. The team lost in the Great Lakes game-to-go last year, and spent the fall making significant strides toward improvement. They've had a notable fall, picking up big wins against Minnesota-Duluth and Carleton-GOP at MLC and playing a number of other close games. Additionally, the team was able to build pieces around reigning Ultiworld D-III Player of the Year in Travis Carpenter, as he was traveling for the club season for much of the early fall with Chicago Machine. At T-Town Throwdown, IWU showed impressive potential, breaking out for a big 15-8 victory over University of Alabama, and playing within four points of LSU, despite missing seven starters between the O and D lines. With a full squad for the first time this season, expect Indiana Wesleyan to perform well, and push to win Pool C.
At the bottom of the pool sit Olivet Nazarene and Trine. Olivet has shown potential in recent years, having made Nationals in 2014, and competing well throughout the 2015 season. For them, this looks to be a bit of a rebuilding year after losing a number of their core players. The team should still be solid and competitive, however, and will bring their same high level of team spirit. For Trine, this season looks to be one of continued building and growth, after failing to make regionals in their initial season. After having a couple of key players gaining club experience over the summer, Trine should be on an upswing, with leaders able to teach younger players.
Throughout the fall, Trine attended a handful of tournaments, gaining valuable experience and taking advantage of opportunities to gain playing time throughout the Midwest.
Looking Ahead
The matchups in Sunday's bracket play should be compelling, as no team should expect an easy round of pool play on Saturday. With most of the teams hailing from the Great Lakes region and the rest from the Ohio Valley, we should expect to see a few matchups between regional opponents on Sunday that will provide great insight as to how regions will stack up as the series approaches.
Franciscan and Indiana Wesleyan are the favorites to match up in the championship game, though the championship bracket will be competitive and we will likely see last year's champions challenged early on Sunday.