Southwest strong.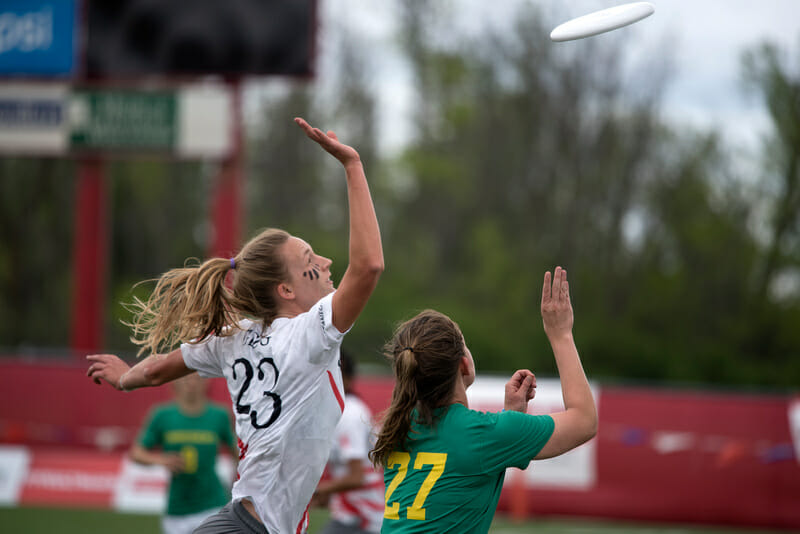 LA JOLLA, CA — Another Prez Day tourney in the books. This year, the reigning college national runner-ups Stanford Superfly came out on top with a 14-11 victory over UCLA's Blu.
Stanford's Small Roster Is No Problem
Let's start with Stanford: a perfect record on the weekend at 9-0, a 114-57 aggregate score, and a small roster? Is Superfly going to be this dominant all season? Well, yes. Their talent level is that high. They may not have the numbers on the sidelines, but they make up for it with the numbers they are putting up against other teams. Led by veterans Monica White, Caitlin Go, Anne Rempel, Courtney Gegg and backed up by rookie sensation Hallie Dunham, Superfly does not lack in skill. Senior Veronica Cruz and grad student Anne Marie Gordon also had great weekends as common, reliable downfield targets for these Stanford handlers.
In a post-game interview with Superfly head coach Robin Knowler, she said, "staying mentally strong" will be a challenge for the team this year. Superfly will have a chance to do that and reach the top again in just weeks on their home turf at the Stanford Invite.
UCLA Led By Dominant Duo
UCLA was the only team last weekend to really challenge the dominance of Stanford. Blu rounded out the weekend with an 8-1 record (of course, that one loss coming in the finals vs. Stanford), outscored their opponents 98-72, and are led by one of the most dynamic duos in college, Kristen Pojunis and Han Chen.
It seemed like these two always knew where the other was on the field. If Pojunis hucked to Chen on one point, they would switch roles the next. The two were interchangeable all weekend long. However, it's not just them: they have this freedom and ability due to the depth on the UCLA roster. Grad student flex Melissa Kan, senior handler Maria Kazantsev, junior cutter and defensive stud Camille Wilson, and senior cutter Tiana Rangchi all contributed to last weekend's successes. The speedy Wilson had several run-through interceptions, Kazantsev and Kan were calm and smooth with the disc, and Rangchi was a constant downfield threat that came up with some ridiculous catches.
On defense, Blu had several looks they threw at opposing teams. In the game vs. Texas that ended in a 7-9 UCLA victory, Texas handlers swung the disc what seemed to be 20 times throughout the point, patiently working their way down the field. Blu was playing a tight zone with a four-person cup, two wings, and Han Chen as the deep. I can see why handlers would want to swing the disc with Chen waiting to bid on any huck. Their scheme led to long points and low scores, and the game was decided by the zone containing the Texas handlers. In the finals, we saw the same result. UCLA threw several different defenses at Stanford before the first half wrapped. All these looks make it difficult for an offense to find a rhythm and are used as a weapon for UCLA's style of play.
After the finals game, Pojunis had nothing but positive feedback for her teammates. Reflecting on the tournament overall, playing Stanford in the finals again, and the hard work was recognized by the senior star. This phenomenal start to the season is of course excellent for UCLA but also for the Southwest region as a whole, as the bid number continues to creep upwards.
What's next for UCLA? "I think cleaning it up and getting in better shape…," said Pojunis. "We are trying to peak at the right time and not peak too early."
California Teams Up Their Game
There were some very impressive weekends logged by the California schools. UC-Berkeley, UC-Davis, UC-San Diego, and USC were all difficult pool play teams to face.
The Pie Queens of Cal-Berkeley showed grit all weekend long, finishing 3-1 in Pool Play on day one. Their lone loss? Oregon 10-13. Not a bad way to start the day by only losing to the reigning national champions by three points.
Pie Queens senior handler Marisa Rafter had an impressive showing at the handler position through quick, aggressive movements and making smart decisions with the disc. Although they did not make quarters, expect the Pie Queens to continue to get better and hope they aren't in your pool in the coming tournaments.
One definition of Rogue is: "An elephant or other large wild animal driven away or living apart from the herd and having savage or destructive tendencies." That's an apt description of what UC-Davis was last weekend. They were savage and destructive in pool play and finished second in the power pools, landing a spot in quarters.
With a record of 3-1 coming out of pool play, Rogue broke their seed and finished second behind Stanford. In power pools, they showed that same dominance with a notable win over tournament 3-seed Colorado Kali, 13-12. Their win this weekend at the Stanford Open over Cal only strengthens their resume; they'll compete at the Stanford Invite in two weeks.
Even though they had a losing record, home team UC-San Diego caused some chaos in pool C. There two losses came at a margin of two points or fewer. Their win came against eventual pool-winner Colorado. Pretty impressive. It will be interesting to see them down the road and fighting for more bids for the Southwest region.
The Hellions of USC wrap up this California dominance. This team finished second in their pool behind grad student and huck-guru Linda "Skipper" Venema. The lefty has dynamic throws, smooth footwork, and a strong eye for the end zone. The Hellions lost to Western Washington 11-13 and 7-12 to UCLA during power pools to fall short of the quarters…lucky for other teams. All four of these California teams will make an interesting case when the number of bids per region is decided later this spring.
Oregon, Colorado Down But Not Out
Two surprise teams coming out of Prez Day weekend were Oregon Fugue and Colorado Kali. Each started off the weekend strong but did not finish as well as they surely would have hoped. Oregon Fugue came up short of the final for the first time in years. Coming off a tough loss to UCLA 14-15 in the semis, Fugue beat Texas for a third place Prez Day finish. It is a shame that one of those semifinalists had to lose. It felt a lot like a finals game between Fugue and Blu as they battled back and forth in the best game of the tournament. Fugue had a few self-inflicted wounds towards the end of the game that would ultimately end their road in the bracket.
Colorado, also, would have liked to finish their tournament like the way they started it. Despite a jumbled pool C seeing teams shifting around and around, the tournament 3-seed Colorado ultimately came out on top. But the next day, power pools got ahold of Kali. They suffered two tough losses: one to in-state rival Colorado College 9-11 and the other to UC-Davis 12-13.
Colorado has the pieces but hasn't quite put them into place. Kirsten Johnson displays incredible handler skills finding the open target and throwing few turnovers. Nhi Nguyen was impressive both downfield and in the air, often making impressive one-handed catches in traffic. And junior Kelsey Bennett also made a name for herself from the handler position. Kali's losses spanned from only a two-point margin. They are so close to finishing these games out. And once they figure it out, Kali will be towards the top.
Players To Watch
There were several players that stood out this past weekend at Prez Day. You have to start with Stanford Superfly's Courtney Gegg (#23). Not only is the 6'0" tall target a menace in the air, but she has also improved immensely with her disc skills and defense. Well-rounded is an understatement. On multiple occasions, Gegg would sprint deep, sell to her defender that she was the target out, and then studded back under for a 20 yard gain. Outside of the end zone, she showed great composure and confidence with the disc to either step around the mark for the goal or hit Hallie Dunham as a handler reset. Gegg is a dangerous combination of tall and fast.
Another player who catches the eye is USC's Linda "Skipper" Venema (#12). Venema has one of the prettiest hucks in the college game. Smooth, consistent, right-there. Her defender better get down on her fast when the pull goes up because she is looking to huck with no hesitation.
Oregon's Hope Zima had her coming out party this past weekend. Zima (#20) is a stud on the defensive line and especially as a mark in Oregon's cup-zone. However, her offensive skills really came into focus over the weekend. Zima had several assists, most coming off flick hucks into the end zone.
Colorado College's Chloe Rowse had a dominant showing of her own. Rowse (#6) is one of those players who seems to be everywhere on the field at once. She makes huge plays on both sides of the disc. In game two of power pools vs. Colorado, she flashed those skills; she came away with game-changing plays down the stretch with end zone interceptions, confident handling, and clutch assists to seal an 11-9 win.
***
In merely two weeks, we will get to see a majority of these teams back in action and some of our questions answered. Will the Southwest continue this dominance and grab more bids for Nationals? Or will the traditional Northwest powerhouses take over the final? How good are the California schools and will Colorado bounce back?
The tournament can't come soon enough.