Franciscan faltered as Indiana Wesleyan showed off newly improved depth.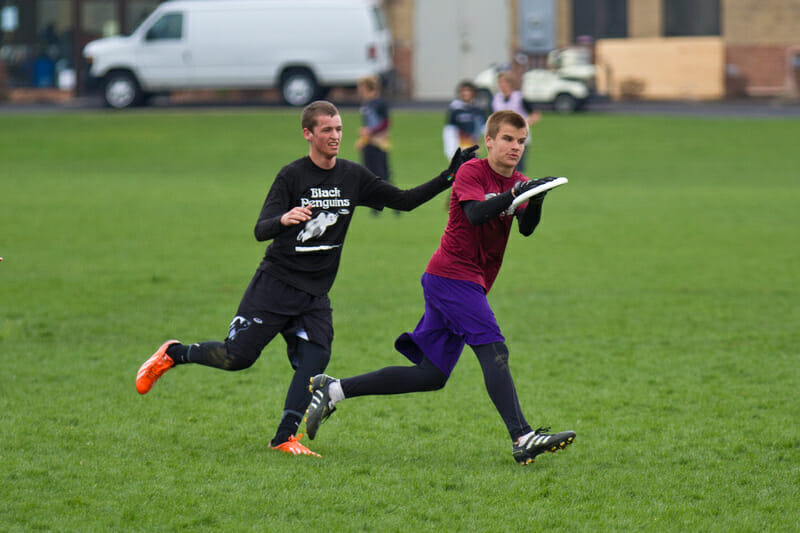 Disclosure: The lead author, Zakk Mabrey, plays for Indiana Wesleyan.
In one of the bigger D-III tournaments of the spring, the D-III Midwestern Invite provided a midseason test for teams in the midwest. There were many surprises: reigning D-III national champions Franciscan Fatal were knocked off by Wheaton Mastodon in the semifinals, while Indiana Wesleyan Huck Dynasty made a relatively unchallenged Sunday run, only playing close with Valparaiso Deus Vult in the other semi before defeating Wheaton for the title.
Saturday
On day one, we saw some major upsets. The weather was much better than last year's and allowed for some exciting play, with temperatures in the 50s and winds only picking up for a few games over the course of the entire weekend.
In Pool A, #16 Franciscan was the only top seed to win their pool, albeit struggling to a 4-0 record with close games against #19 Valparaiso and Johnson in pool play. They were missing most of their top-end talent — Tony Bort, Jay Rataczjak and Stephen Babcock were all unavailable for the weekend and JP Bort missed most of the weekend after a nasty collision sidelined him on Saturday (he should be ready to play by the time Fatal travels to Layout Pigout, however). Dom Schuster and Tommy Koch carried the team on both sides of the disc after Bort's injury, and Schuster single-handedly brought the team a win against Johnson after Koch missed the last game for a family obligation.
Pool B started the legend of #17 Wheaton Mastodon — entering the tournament as the 11-seed, they steamrolled through pool play, ending the day with a 4-0 record and a +28 point differential. Using athleticism to beat teams deep and short throws to beat zone looks, they had no trouble pulling away from teams, including North Park, who gave them their closest game of the day at 13-7. The Lost Boys disappointed this weekend after a reportedly slow fall season, and will have to make some great strides throughout the spring if they want to have a shot at another nationals appearance.
Pool C saw the eventual champion, #15 Indiana Wesleyan, put on an almost identical performance to Wheaton's. Also going 4-0 with a +28 point differential, they were resilient in upsetting Alabama-Huntsville. After a rough start which saw Huck Dynasty trailing 0-4, the team rattled off seven consecutive breaks and came away victorious in a windy 13-7 victory. With Ultiworld's 2015 D-III Player of the Year Travis Carpenter leading an improved squad of role players, Huck Dynasty was a force to be reckoned with.
Sunday
On Sunday, we saw pool play momentum carry over into bracket play as Wheaton met Franciscan in the semifinals, with Valparaiso meeting Indiana Wesleyan on the other side of the bracket. Both games went down to the wire.
Franciscan and Wheaton went back and forth before Franciscan pulled out to a 14-12 lead, one point away from victory. In monumental fashion, however, Wheaton was able to hold and notch three straight breaks to end Franciscan's 36-game winning streak with a 16-14 win. Shutting down Tommy Koch and Dom Schuster was critical near the end of the game; they were able to do so in order to stagnate Fatal's offense and provide break opportunities that they converted without hesitation.
Indiana Wesleyan was also able to pull out a double game point victory over Valparaiso, 12-11, in a game that never saw either team pull ahead. In the third-place game, Franciscan's short-handed troubles continued as Valparaiso was able to create some separation early and maintain the lead, resulting in a 13-11 win.
In the finals, Indiana Wesleyan continued their team-wide success, using not only Carpenter but a bevy of role players to force short-field turnovers and convert on most break opportunities. Wheaton's O-line looked tired and couldn't contain IWU players in man-to-man defense after turns, resulting in several breaks. Indiana Wesleyan went up 10-4 at one point in the game before Wheaton stormed back with a hold and three breaks, bringing the score to 10-8. However, with a focused attitude and intense play style, Huck Dynasty was able to halt Wheaton's momentum and go on a run of their own to comfortably win their home tournament, 15-9.
What We Learned
– #16 Franciscan does not look like the unbeatable force they were last year. With only three of their six 2015 all-region players available, they never found a consistent rhythm. Tommy Koch and Dom Schuster played well and often worked the disc up the field between themselves, but couldn't make it work late on Sunday. With Jay Rataczjak potentially not playing this spring and Stephen Babcock studying abroad until Nationals, Fatal will be eagerly anticipating the older Bort's return and will need to develop their youth throughout the spring to have a chance at helping the Ohio Valley earn multiple bids to D-III Nationals.
– #15 Indiana Wesleyan looks like a Nationals-level team. Travis Carpenter still leads, but the role players around him have been able to pick up the slack around him and create a complete team. With great throwing depth and highlight plays, the team seems to be taking a step to the next level. Adapting to their opponents, Huck Dynasty used their versatility on both sides of the disc to finish the weekend undefeated. Another plus: they were able to utilize their depth appropriately throughout the weekend to take care of their less challenging games. They seem poised to make a run toward D-III Nationals this year.
– The Great Lakes region is deeper than we thought. Finishing with the top three spots in the tournament, Indiana Wesleyan, #17 Wheaton, and #19 Valparaiso are showing great improvement and seem to be carrying the region with the decline of North Park. After this weekend, the trio have put the Great Lakes in a great spot to earn multiple bids to D-III Nationals by the end of the spring season.
– North Park seems to have fallen off. The reigning champions of the Great Lakes region came into the tournament as the two seed but finished eighth. After struggling to roster enough players to attend fall tournaments, they ended up bringing twelve players this past weekend. Able to secure second place in their pool on Saturday, a short roster couldn't find any momentum in bracket play. After winning the morning prequarters matchup in a nail-biter to Olivet Nazarene, North Park lost their next three games by a combined score of 44-21.
– Johnson looks vastly improved since last year. With 34 players registered on their roster, they are able to bring a full team and energetic sideline presence to each tournament. The Royals showed great athleticism and used it in their deep game, with a handful of good throwers that put up big hucks throughout the weekend. This athleticism allowed Johnson to stay in close games with teams like Franciscan, and to knock off a Nationals team from last year in North Park. After coming into the tournament seeded twelfth out of fifteen teams in attendance, Johnson went 4-4, breaking seed, and finished sixth overall at the tournament. Look out for them to improve upon last year's early exit from Southeast D-III regionals.
– Missouri S&T doesn't look like a regionals contender in the South Central anymore. Coming into the tournament as the seventh seed, they went 0-4 on Saturday with a combined point differential of -26, and didn't improve on Sunday as they finished 16th overall with a 15-11 win over last-place Trine.