We pick stocks based on Saturday's play.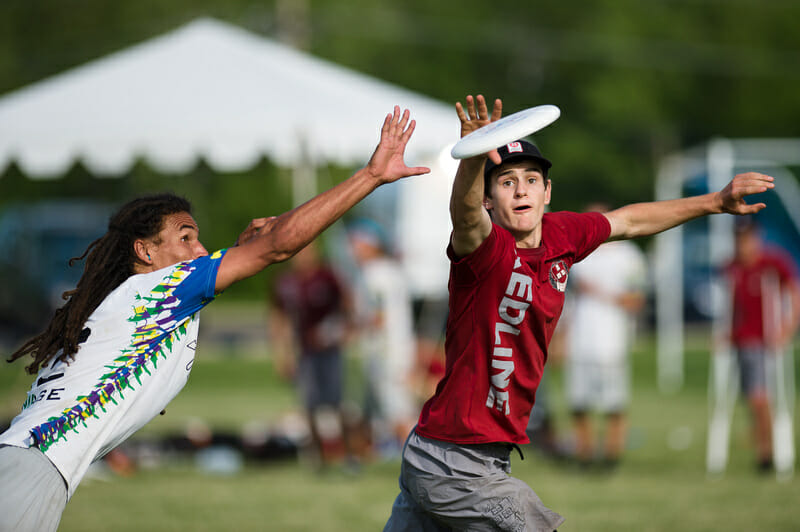 Six hours of rain and wind took its toll on many of the teams here in Fremont, CA. There's no doubting that conditions were rough, but that didn't entirely halt the action. Here are the teams, players, and aspects from Saturday that are worth the investment (Buy), in need of improvement (Sell), and that require more information (Hold).
Buy
Wisconsin Hodags
We wouldn't advise gobbling up every available share, but the Hodags cleanly took care of business in pool play today. This team had some offensive issues to shore up after Warm Up, and in spite of worsening conditions as the day wore on, Wisconsin was able to punch in the breaks they needed for three comfortable wins.
John Stubbs (Harvard)
The pre quarter draw included one especially interesting matchup: Harvard v. Carleton. And you might think that Harvard, with more of a top heavy roster, would struggle in the last game of the day.
But Redline had John Stubbs. He was simultaneously the calmest and most explosive player on the field during a four point run for Redline to start the second half. While other players seemed hesitant at times in the rough conditions, Stubbs was making plays on both sides of the disc. On one hospital pass huck, Stubbs bodied out a bigger Carleton defender and grabbed the disc, before immediately throwing a continuation sitting backhand for the goal.  A couple points later, he bombed a beautiful flick huck for an assist.
Harvard coach Mike Mackenzie said the second half of the Carleton game was Stubbs' best half of the day.  "He was playing great," he said. "He really picked up his man defense that game, which was a huge contribution for us."
Nick Hirning (Stanford) and Tanner Johnson (UMass)
The rookie hype is real. Both of these rookies stood head and shoulders above their opponents today, in some cases quite literally.
Hirning was his rock solid self for the Stanford defense, acting as a field general after the turn. He was uncoverable on resets and made masterful throws to ensure breaks for Bloodthirsty, especially in their second half run to send Central Florida packing in prequarters.
Johnson continued to gobble up yards on long unders and making dominant skies in the air. Though he certainly has his own set of impressive cutting skills, he's beginning to draw lots of attention in matchups and help defense, which leaves lots of extra room for UMass throwers to find other targets.
Lucky for us, UMass and Stanford will meet in the quarterfinals this morning at 8 AM (PST).
Sell
The Tournament Management
For a tournament that draws such an intensely competitive field in both divisions, there was a noticeable absence at tourney central to help direct traffic, aggregate and input scores, and provide information to teams and supporters.
That absence came to a head after men's pool play, when a drawn-out discussion around the three-way tie in Pool A went unresolved for much longer than was necessary as the hosts struggled to find a resolution. The first problem was the last round game between Texas and Cal-Poly SLO –that game reported a 10-9 finish. However, tournament staff initially held that the game should have ended at 10-8. SLO pushed the lead to 10-8 just after the scheduled 2:30 pm cap, but neither team heard the horn, and they agreed to play one more.
The single score for Texas locked them into a 1-2 point-differential tie with Carleton and SLO, with UMass. Since coaches hadn't heard the horn and played the point, 10-9 was accepted as the final score, and the tie was pushed to common score against UMass. Tuff, with a first-round barnburner, caught the break and bumped SLO from the bracket.
Horns were blown on schedule before that round, and it's easy to understand why both coaches might have unknowingly agreed to that final point, without running through the various tiebreaker scenarios. Still, SLO coach Peter Raines was visibly upset after resolution. "We just put ourselves in a tough spot. It sucks," he said after a tense walk away from the tournament tent.
There's no excuse for a tournament of this caliber to not have dedicated staff for direction. The days of players doing double or triple duty to keep these massive and critical events on schedule, while also contributing to their teams, should be long gone.
Hold
Pittsburgh En Sabah Nur
Pittsburgh's methodical approach stood out in difficult conditions; they're disciplined and workmanlike. The leadership and coaching on this team is not lacking.
Yet this iteration of Pitt will need to carve a different path to Nationals success than the blue print we've seen from previous Pitt teams. Pittsburgh's defensive line struggles continued a bit today, as their D line conversion looks to still be a work in progress. This years squad also seems a bit less deep, and maybe a bit less athletic compared to what we expect from the nations marquee program.
Still you'd be hard pressed to find a better big three than Trent Dillon, Max Thorne, and Pat Earles. Dillon's ability to break the mark in the end zone kept Pittsburghs offense rolling in their tough early morning matchup against Harvard.
Washington Sundodgers
It was a truly rough morning for this normally well-rounded team. Washington has been building steadily this season, but between some nagging injuries and illness, their start to the day was the kind of bad that will have players kicking themselves later. They took a bad beat from a hyped-up UC Santa Barbara to start the day. Then, when Harvard nearly had round two in hand, Washington kept things interesting and had a near miss on a redemptive win. At 0-2, the team finally showed up with a win that was much more indicative of their season and skill: 13-9 over Pittsburgh.
This team can be impressive at times, especially when their star Khlaif El-Salaam gets to pick and choose his spots without much pressure. Today's weather and the team's busy regular season may have taken its toll. Tied with UCSB at 1-2 when pool play closed, Black Tide took the head-to-head and pushed into prequarters while the Sundogers headed to the consolation bracket.