Strong winds buffeted the fields in Austin on Saturday.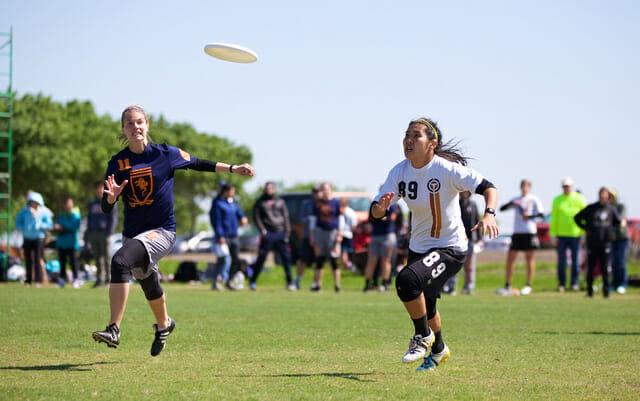 The article is presented by Nike Ultimate Camps; all opinions are those of the author. Please support the brands that make Ultiworld possible and participate in Nike Ultimate Camps!
Teams spend their seasons shaping their narratives: what this season will mean for them, what they will accomplish, where they rank. Their national standing is proof of their hard work and the work yet to be done.
And then a day like today comes along and shuffles the bag of tiles. In the 25 mph winds of Centex on Saturday, the words no longer make sense. The unifying frustration today was that these games matter, but the hours of practice and drilling often didn't seem to.
Six out of the 12 Tier I games were technically upsets, if that word still has any meaning. Eight out of the 12 Tier II games were upsets, and 12 of the 30 Tier III games followed suit.
Each of these wins and losses deserves an asterisk, but USAU isn't so generous. The full bid implications are still unclear, but one thing is already certain after day one: the leaderboard is going to change.
Pool A
A different side of UCF
I posed the question: who can stop UCF? I thought I knew the answer. Well today, someone didn't stop them; something did. Wind. Central Florida loves to play their system: they believe in it, and it works for them. They don't change. But that means when you face an immoveable object – galeforce winds, say – you don't bend; you break.
Ironically, Central Florida didn't break for a long time today. They lost their first two games to California Berkeley and to Ohio State on the flip, 8-9 in both games. UCF found their first break on a deeper look from Freystaetter during their final game against Colorado. They would seal the break, and they held that lead through the rest of the game to earn a win.
Their offense relies on quick, short give and go passes between Eli Williams, Shayna Brock, and Janina Freystaetter. When those resets were disrupted today, the whole team struggled. Brock, Williams, and Freystaetter would crowd along the sideline exchanging one yard passes but moving nowhere.
These losses spell trouble for the rankings and for UCF's post-season: they can't afford to have days like today if they hope to be a semifinals contender. They still have a chance at the bracket tomorrow, where they can earn back the crown.
California capitalizes on energy and opportunity
In the end, it all came down to a break. California earned their first upset on the flip against Central Florida. The game was full of energetic defense from the Pie Queens, but neither team approached the upwind endzone. But their surge late in the game against Ohio State is a true indicator of their mental strength.
Ohio State broke early in the game to take a 4-1 lead, which in today's weather translated to "game over." Instead the Pie Queens broke back twice to tie the game at six, and then broke twice again at 8-8 to steal the capped game. Alison Griffith was notable today for her crucial Ds and her speed, and Allegra Mayer was a mainstay in their endzone.
Ohio State rises from the bottom
Ohio State Fever ended the day 2-1 after beginning at the bottom of their pool and the Tier. They had one of the day's first upwind breaks against Colorado to win 10-8, and they upset UCF on the flip, winning 9-8. They had a taste of their own medicine when California broke late to beat them, but overall Ohio State looked better than their previous seasons results would indicate.
Alaine "Shakes" Wetli was the best defender of the day, batting discs out of the air every time she was on the field; her match-up with UCF's Shayna Brock could have continued all weekend. Sadie Jezierski stepped up to the plate to make several point-saving grabs for Fever as well.
Colorado comes close, but no cigar
Despite beating California, Colorado Kali was filtered to the bottom because of the upwind breaks they gave to Ohio State and Central Florida. Colorado relies on their deep option as a big part of their offense, and it was obvious that they missed it today. Sometimes a Kali handler would put up a long shot, hoping it would land. Going upwind, the disc would curdle, turning away from its target. Downwind, it just flew.
Handler Kirstin Johnson was a firecracker for Kali: she played with a focused intensity that translated into 30 yard hucks upwind and skying Janina Freystaetter. Her matchups with Central Florida handlers existed at a different, higher speed than the rest of the game; they felt personal.
Pool B
Michigan looks strong in the wind
Michigan Flywheel was the only team in Tier I to claim an upwind break in all their games. They look comfortable and capable in the wind, and it paid off: they bested UCLA 11-9, Texas 11-10, and Virginia 10-7.
In different weather, these games may have gone differently, but Michigan's patience and skill paid off. Tracey Lo was the rock of Flywheel's offense, distributing the disc smoothly and into the right spaces.
Texas takes care of business
Shiru Liu released some of the day's most incredible hucks in the same wind that was carrying discs two fields over. Joined by Laurne Gerenscer and Julia Schmaltz downfield, Liu and Melee executed with efficiency today to nearly claim their pool.
More than many other teams, Melee's downfield showed a willingness to grind through 4 cuts before the handlers found them on the fifth. Only a well-matched game with Michigan ruined what could have been a damn fine day of Ultimate.
UCLA polished but just short 
For many teams, good in the wind was not good enough. Kristen Pojunis, Melissa Kan, and Camille Wilson played beautiful ultimate all day, but a few breaks would cause UCLA to drop seed. When they were on, BLU could navigate zone with ease by giving each other space and timing their movements accordingly. But if they held the disc too long, the rhythm was jarred, and UCLA would have to punt the disc and hope to play good defense.
UCLA was also missing a handful of players for their first round, including Han Chen. Chen's presence on the field gave Pojunis more options in her own movements, and Chen was a field goalie in the downwind end zone all day, preventing teams from punting the disc.
Virginia unlucky in flips 
Virginia lost every flip today. Despite great zone movement from Amy Wedmore, Rebecca Meeker, and Keila Strick, Hydra was never far behind in their games, but they could never claim enough control in the games to break and take the lead.
Tier II
Tier II was injustice incarnate. In only a day, teams experienced crushing blows, infuriatingly long points, and surprising upsets. Here's a quick breakdown of Tier II's biggest winners and losers:
Winner: New England

The Northeastern Valkyries won their first game against USC on the flip, but they beat Kansas 12-9 with the first upwind break of the day for Tiers I and II. Northeastern broke seed to win the pool. The Valkyries return Mei Bruist and Hannah Walter as big pieces of their forceful, physical game.
Despite their pool play loss to Northwestern, Tufts bested Colorado College 13-10 during the crossover game. Tomorrow they will face Colorado for the play-in game.

Winner: Iowa State

Today Woman Scorned continued their hot streak, winning their pool and their crossover game.
Loser: The rest of North Central
Wisconsin Bella Donna lost on the flip in all their games, dropping to the bottom of the pool under Northwestern and Iowa State. They won their crossover game, but losing hard-fought games to an uncontrollable is brutal for a region with bids to lose.
The Minnesota Ninjas lost on the flip with Florida State, and their throws faltered under physical pressure from the Valkyries during their crossover. The wind was a rough equalizer for a team ranked in the top ten.