Dominant performances from Jeff Babbitt, Ben Sadok, and freshman Tannor Johnson led the way for UMass.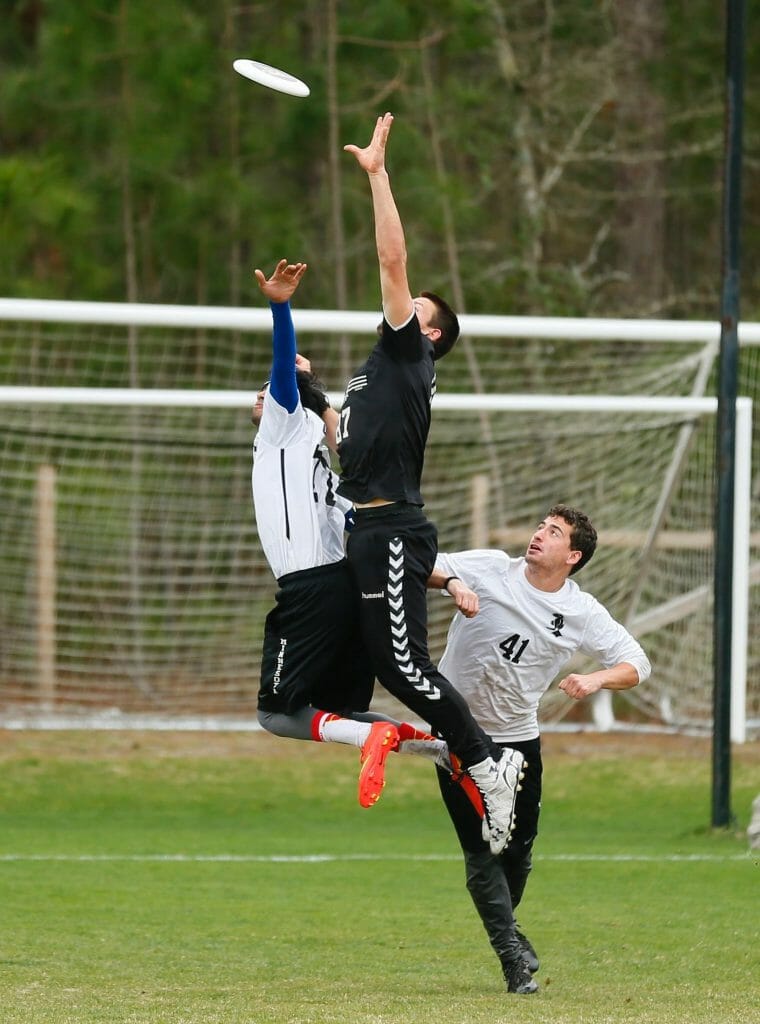 NORTH MYRTLE BEACH — While rain and wind marred Sunday's early rounds at Easterns, the conditions cleared up nicely for the final between UMass Zoodisc and Minnesota Grey Duck. UMass used a stout defensive performance to build a lead and never look back en route to a 15-9 win.
Minnesota opened the game by giving up breaks on the first two points, as their vaunted offense slammed into the wall of Massachusetts's zone. Beforehand, the matchup between one of the best offensive and one of the best defensive teams in the country appeared to be an unstoppable force versus an immovable object, but it became clear after the first few points that the immovable object would be the only one living up to its reputation.
In fact, the closest thing to an unstoppable force in this game was UMass's Jeff Babbitt. He assisted on Massachusetts's first goal, which marked the beginning of what would be a dominant showing from Zoodisc's big man.
Minnesota eventually got their feet under them and were able to work the disc through the zone, but never really looked comfortable when forced out of their preferred side stack offense. They hung tough for the first few points, and with UMass leading 3-2 they notched a break on a crisp huck from their 2015 Callahan nominee Soham Shah to tie the game up. It would prove to be the only break they managed all game.
After both team traded to 5-4, Minnesota was broken again after UMass's Carlo Cincotta swatted down an errant pass, setting up a goal for rookie sensation Tannor Johnson that gave UMass a 6-4 lead they would never relinquish. From that point, Babbitt took over, outdueling Grey Duck's Ben Jagt in the air for a breathtaking goal and then busting deep after another Cincotta block to take UMass into half up 8-5.
There was simply no stopping Babbitt in this one, as no matchup, or combination of matchups, that Minnesota threw at him could contain his dominant presence downfield or his savvy positional work in the reset scheme.
The game was still within reach for Grey Duck at the start of the second half, and the crowd on hand waited to see if Minnesota had cooked up a wrinkle that could turn the tide. UMass put that notion to rest almost immediately, as Ben "Londish" Sadok worked the disc confidently up the field and into Johnson's hands for an easy hold and an indication that UMass' offense not going to be stopped on this day.
It was a great performance on the whole from Sadok, the fiery UMass captain who shouldered much of the increased burden put on the offense by the absence of Conor Kline (travel) and the injury (knee) to Ben Tseytlin. Sadok's wide range of throws are by now well known, but it was his ability to shrug off the contact of bigger defenders seeking to body him out of dump cuts that made his performance in the final particularly impressive.
Massachusetts broke again on the next point to take the score to 10-5 and put the game out of reach for Minnesota. To their credit, Grey Duck kept up their energy and intensity throughout the entire game, with team captains urging their teammates to take an "it's a game to 1, lets win it" mentality on every point in the second half. The problem was that they were laboring to score against the tenacious UMass zone which prevented them from establishing any rhythm, while UMass was often scoring quickly and easily on energizing hucks, hammers, and big plays that kept their team's momentum rolling.
Minnesota's inability to stop Zoodisc from connecting on hucks was crippling, and denied them any chance of crawling back into the game. "It was something we knew they liked to do coming into the game," said Grey Duck head coach Tallis Boyd. "We tried to take it away, but they were successful in running past us. Part of that was our conditioning, part of that was our positioning, but we'll work on that and be better prepared next time."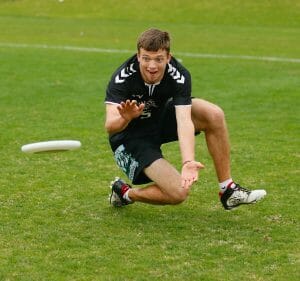 A key part of that imperious UMass deep game was the contribution of Tannor Johnson. A front runner for Rookie of the Year coming into the tournament, Johnson had an up and down Saturday, committing a rash of turnovers against Colorado, in particular. Whatever raw elements of his game the freshman exhibited on Saturday had been banished by Sunday afternoon, as he was every bit the dynamic threat his reputation made him out to be.
"After Saturday we just told him to be calm, to play his game and not try to force things, because we know that he can dominate anyone in the nation," said Babbitt after the game. "He really turned it around and had an awesome game in the finals."
Hope dwindled away for Minnesota, as they were incapable of slowing down the three headed monster of Sadok, Babbitt, and Johnson to get the breaks that could have put them back in the game.
On game point, Babbitt intercepted a bladey disc over the cup, then streaked downfield to receive the game winner on a big backhand from Johnson. As the observer signaled goal, the UMass sidelines erupted and stormed the field to celebrate their first tournament victory of the season.
"For this particular team, this win means a lot, because our roster was so depleted," said UMass coach Tiina Booth after the celebrations had died down. "[Assistant coach] Russell Wallack and I aimed to frame this weekend as a mini-peak. While we've clearly still got a lot to work on, it was good to hit this mini-peak because it means we can set a goal and see it through."
UMass accomplished their goal this weekend, going undefeated and taking a trophy home to Amherst. Their next goal is bigger than an Easterns title, and will be harder to achieve, but after their performance in the championship game this afternoon, it's not hard to envision them seeing it through.