Can Pittsburgh overtake Madison this season?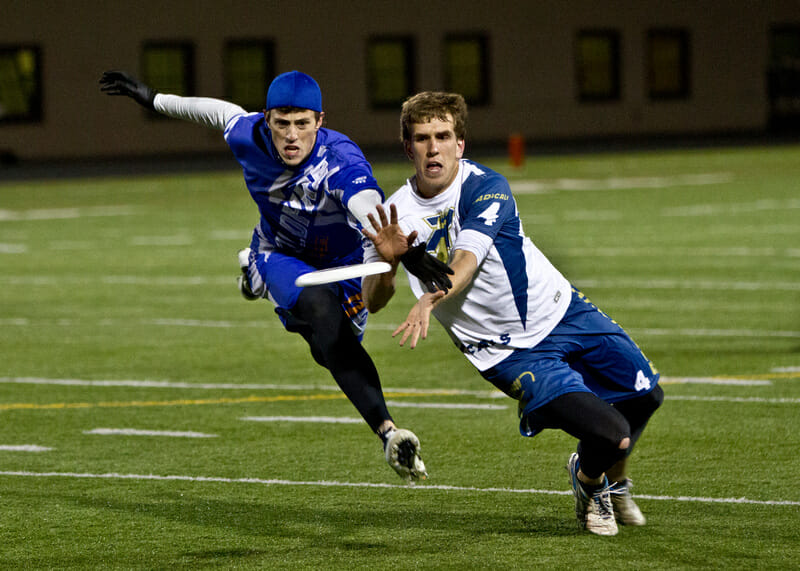 The Madison Radicals have won the Midwest each of the last three years, appearing in the championship game twice. They've ruled the Midwest, going 40-6 against divisional opponents during that stretch. But with the emergence of Pittsburgh last year, the Radicals faced the biggest challenge for the division they've seen to date. And given how much talent Pittsburgh added this offseason, the road to the final four gets even tougher for the Midwest champs this year.
The Championship Contenders: Madison and Pittsburgh
Madison and Pittsburgh have clearly separated themselves from the rest of the Midwest. The only game either of them dropped to another divisional opponent in 2015 came when Pittsburgh dropped a close game on the road in Chicago. With both teams returning large portions of the roster, looking at last year's matchups yields relevant information.
Madison beat Raleigh 22-19 in the semifinals before falling to San Jose 15-17 in the championship. It was the second year in a row Madison fell to the eventual champion in a close game. But Madison came surprisingly close to not even making it to the final four. Despite playing a Pittsburgh team coming off a win against Chicago earlier in the same day and playing without Tyler DeGirolamo, Madison won a contested 24-21 game. Much of the reason that Pittsburgh was able to stay unexpectedly close was their success against the vaunted Madison zone.
The Radicals play zone defense for about half of their defensive points, and they have consistently flummoxed their opponents with that Z for the last three seasons. But outside of San Jose, which is only returning only a shell of its championship roster, no team in the AUDL has had the kind of success against the Madison zone that Pittsburgh has.
In the conference final last year Pittsburgh managed to get six breaks against Madison, while Madison's zone defense only converted two against the Thunderbirds. Unfortunately for Pittsburgh the Radicals also plays man defense, and their man defense line converted seven breaks. It serves as a good reminder that Madison's success can't be pigeonholed to any one particular reason or player.
Madison actually runs man defense quite a bit, and not without success. Players like Jay Froude, Kevin Brown, Kevin Pettit-Scantling, Mike Swain, and Adam Drews are able to provide a nice change of pace from the Matt Weber-Andrew Meshnick double team that frustrates the Midwest. No doubt, the Madison zone is very effective against most opponents. What's especially impressive about the zone is how the Radicals utilize it for the full field. Generally speaking, the Radicals zone never transitions to man, and is often at its toughest when near the Madison end line.
The Madison offense has a reputation for being conservative, but that is likely a product of Andrew Brown's efficiency and playing in the Midwest. The Radicals don't huck the disc very often against their Midwestern opponents, but that's because most of the teams in the division aren't comfortable forcing big players like Scott Richgels, Pat Shriwise, and Dave Wiseman deep.
It's often been said that the Radicals are able to get more out of their talent than any AUDL team, and while that might be true it also shortchanges the talent on this team. After all, Madison Club made quarterfinals after beating High Five at Club Nationals, and took Sockeye to double game point in that round. And there's even more talent on the Radicals that doesn't play for Madison Club. These guys are good no matter where they play. With 26 players returning, Madison has the kind of continuity that is the envy of the league. "From year one we had a plan for how we wanted to play and we've stuck to that plan," said Madison coach Tim DeByl. "We have a lot of different sets for different situations and we continue to practice those. Each year we can add more because a majority of the team already knows what we are doing in each situation. It would be really hard to do that if we were changing personnel each season."
Despite all that, if Vegas were to name a favorite to win the Midwest it would probably be smart to choose Pittsburgh. Given how much Pittsburgh improved over the course of last season against Madison, they might have been the favorite even before the offseason. But adding players like Johnny Bansfield, James Highsmith, Mitch Cihon, and Mike Ogren brought this teams ceiling to another level for 2016.
Those players will be joining a team that already has a lot of talent. Pittsburgh has a star in Tyler DeGirolamo who led the league in assists last year, often hitting targets like Ethan Beardsley (69 goals) or David Vatz (62 goals). But Pittsburgh reached another level once the college season ended and Pat Earles joined the team. Even though Earles only played in seven games, he finished second on the team with 53 assists. Earles threw the assist on 31% of the points he played, good for best in the league.
If there was one area that Pittsburgh needed to improve most in their losses to Madison last year, it would be their D-line, and that unit's offense in particular. In the two times they lost, Pittsburgh converted only 10 of 26 break opportunities against the Radicals. To contrast, in those two games, Madison converted 19 of 38 break opportunities against the Thunderbirds.
With so many players capable of playing on the O-line, Pittsburgh coach David Hogan hasn't yet decided what those lines will be divided. But it's not hard to imagine how helpful someone like Johnny Bansfield, in particular, could be to a D-Line that needs help on offense.
Given how much talent Pittsburgh is adding and the success the Thunderbirds had against the Madison zone last year, it's easy to see how they could end up crashing the final four party in Madison in August. But Hogan knows that, despite the personnel that Pittsburgh has, there's a long way to go before then. "No amount of practice will get most other teams in our division able to do what Pat, Alex, and others can do," he said. "Madison is probably going to adjust, and we'll have to see what they change."
Contenders for the Playoffs: Chicago, Minnesota, and Indianapolis
Of course three teams make the playoffs from each division in the AUDL, so one team is going to have a shot to upset one of the favorites to make it to the conference final. And last year Chicago came agonizingly close to doing just that against Pittsburgh.
Then again, this year's Wildfire team is not the same team that narrowly lost 23-24 to Pittsburgh in the playoffs. Jonathan Helton, Bob Liu, and Brett Matzuka have all joined the DC Breeze, and Cullen Geppert isn't coming back, either. Last year Matzuka led the team in assists, completions, and blocks; Helton was second in assists, goals, and blocks, and Liu was second in assists and completions. There's more to a team than just who puts up stats, but at the very least it shows that some prominently featured roles are newly available on this team. Chicago got progressively better last year, and, despite the roster turnover, Chicago thinks that can carry over into this season. "Last year, it took us a while to figure what type of team we wanted to be," said Chicago coach Chris Ashbrook. "It took a lot of long discussions and some maneuvering, but we established tenants that define our beliefs on offense and defense. This season, we have those tenants to guide us from the start."
Chicago still features a core of players from club national level teams like Machine, Prairie Fire, and The UPA. One returning player that can be expected to take on an even greater leadership role this year is AJ Nelson. Nelson was injured for much of last season, playing in only half of the teams games, but still led the Wildfire in goals scored. He's one of the better deep threats in the league and seldom makes mistakes with the disc, reflected by his 95% completion rate.
Though the Wildfire are losing a lot of talent, Chicago has a fairly deep bench and those players aren't being replaced by chumps. 16 players on the Wildfire played for club teams that appeared at Club Nationals in 2015. Three of those players are from Prairie Fire and will make their AUDL debut with the Wildfire this year. Joe Young, Brett Hidaka, and Christian Simpson are important additions that shouldn't be overlooked. Hidaka's defense will be a welcome addition to a Widlfire D-line that lacked depth last season, and Simpson brings more height to the team. Joe Young will keep the disc moving quickly and could be a handler that gets a lot of touches in the offense without the turnovers to match. Still, for the first time in their history, the Wildfire might not even be considered by most the favorites to get that final playoff spot. But they should be.
While Chicago could potentially miss the playoffs for the first time this year, one team that did miss for the first time last year was the Indianapolis AlleyCats. After an early season victory over Chicago, and weather causing a Chicago-Minnesota game to end in a tie, it looked like the 'Cats might waltz into the playoffs. They were 6-3 in mid May, with a game left against Detroit and two against Minnesota. With those teams struggling, 9 wins, or maybe 10, seemed achievable.
But other than a win against Detroit, Indianapolis would lose the rest of their games, finishing out of the playoffs. They did have to endure a bizarre five week stretch in which they played only one game, but the most likely reason for the collapse is also the most obvious one; they weren't as good as the teams they were playing. And that collapse was after a gift in their schedule, getting to play Detroit and Cincinnati three times each.
This year things look different for Indianapolis. There is no bizarre hole in their schedule. But they also don't have the advantage of playing Cincinnati and Detroit a combined six times. That third Detroit game has been replaced with a Pittsburgh game, turning from a very likely win to a very likely loss.
One advantage that Indianapolis does have over most of its rivals is continuity. "Retaining a solid amount of our core players year-after-year has been very valuable," said Indianapolis coach Jared Payne. "Especially in Indiana where we haven't had that longer-term high level of continuity within Open Club (or top-level college feeder) that is more so the case that a Chicago, Madison or Pittsburgh benefit from. The many veterans we have returning this year have definitely been improving within each season which amplifies that value for us."
With that core of long time players like Keenan Plew, Cameron Brock, and Travis Carpenter the AlleyCats still have plenty of talent to compete for that third playoff spot. Don't forget that Indianapolis split their season series with Chicago last year. But getting swept by Minnesota certainly does not bode well for this year.
In some ways it has to be frustrating to be a Wind Chill player. Last year Indianapolis played Detroit and Cincinnati three times each. Minnesota had to play Madison and Chicago three times each. So even though Minnesota swept Indianapolis, the Wind Chill still finished behind them in the standings. And because of geography, the Wind Chill have to play Madison and Chicago three times each again this year.
Minnesota turned things around last year in no small part thanks to the college season ending, and having players like Ben Jagt join the team. Of course an easier schedule was also a factor, but Minnesota relies on its youth more any other team in the division. And given that players like Jagt and Conor Kline aren't likely to join the team until after College Nationals, the schedule looks even tougher. All five of their games against Chicago and Indianapolis come before Memorial Day. So while the playoff chase should be competitive, there's a chance we'll know by the end of May if Minnesota has pretty much locked it up or fallen out entirely.
Of course the Wind Chill also added talent that's not in college. Jason Tschida, Matt Burkhardt, and Greg Cousins are all former all-region college players new to the team that played for Sub Zero last year. And as always the team will be relying on Austin Lien to be their rock handler on offense, and Brian Schoenrock to take those tough defensive matchups. Both are entering their fourth year with the Wind Chill. Last year tough man defense was Minnesota's strength. That remains the case this year, but Minnesota has added some players that could help the O-line and the D-line offense to take the next step up.
The talent is there to make a run at the playoffs, and Minnesota coach Lou Abramowski knows that road travels through Chicago. "Going winless against them last year, despite having what felt like commanding control of two of our three games was a challenge that built confidence for games later in the season, but it cost us our playoff spot," he said. "It's something we don't want to repeat again this year."
Maybe Next Year: Cincinnati & Detroit
Cincinnati and Detroit both remain a step behind the rest of the division. Detroit went winless for the second season in a row in 2015, and the only games Cincinnati won a year ago were against Detroit.
Occasionally, Cincinnati demonstrated surprising resilience, with two of their three losses to Pittsburgh coming only by six points, and losing by four to both Indianapolis and Minnesota once each.
Detroit, meanwhile, seldom closed the gap to those levels. Only twice all season did they play a team other than Cincinnati closer than ten points, in an eight point loss to Indianapolis and a seven point loss to Minnesota.
The biggest contributors on Cincinnati come from the mixed club team Steamboat, which lost in the game-to-go to Nationals last season. The Revolution have a solid core of players, many of whom are in their third or fourth year with the team, but beyond those 7-10 players, they don't have the kind of depth that the rest of the division has. Cincinnati has the ability to go back and forth trading points with some of the better offenses in the division, but the Revolution struggle to get breaks against those teams. On top of that, Cincinnati is experiencing high roster turnover again this year, which seems like an annual occurrence.
Similar to Cincinnati, Detroit is not bringing back very much of its 2015 team, with only eight players currently signed on to return. But that could be a good thing. Detroit does not have as developed an ultimate community as many other AUDL franchises, and is bringing in a number of players from Cleveland. The Mechanix should be better this year, and are bringing a positive outlook into the season. "Overall I'm proud of how the team is responding so far and people are really hungry this year," captain Eric Hubbard said. "The new talent is picking things up quickly and everybody is pushing the player next to them knowing that they have to work hard to keep up. I can see us being very mentally and physically tough throughout the entire season."
These two teams will get plenty of shots against each other this year, playing one another three times. Detroit looks more poised to end its losing streak than in past seasons. And if Cincinnati's offense can capture some of the magic it put up 27 on Pittsburgh, the Revolution could surprise some teams that visit Cincinnati. Neither of these teams will be in the playoff race, but both could take positive steps forward.
Outlook
The race for the final playoff spot should be competitive with three teams in the chase. But this division is almost certainly going to come down to a conference final between Madison and Pittsburgh. As we saw last year home field can be very important in a game like that, so both teams will be very hungry in their games against one another during the regular season. Those two games will have some of the highest stakes of any played in the AUDL regular season.
Projected Standings
Madison 13-1
Pittsburgh 13-1
Chicago 8-6
Indianapolis 6-8
Minnesota 6-8
Cincinnati 2-12
Detroit 1-13