Tiina's back!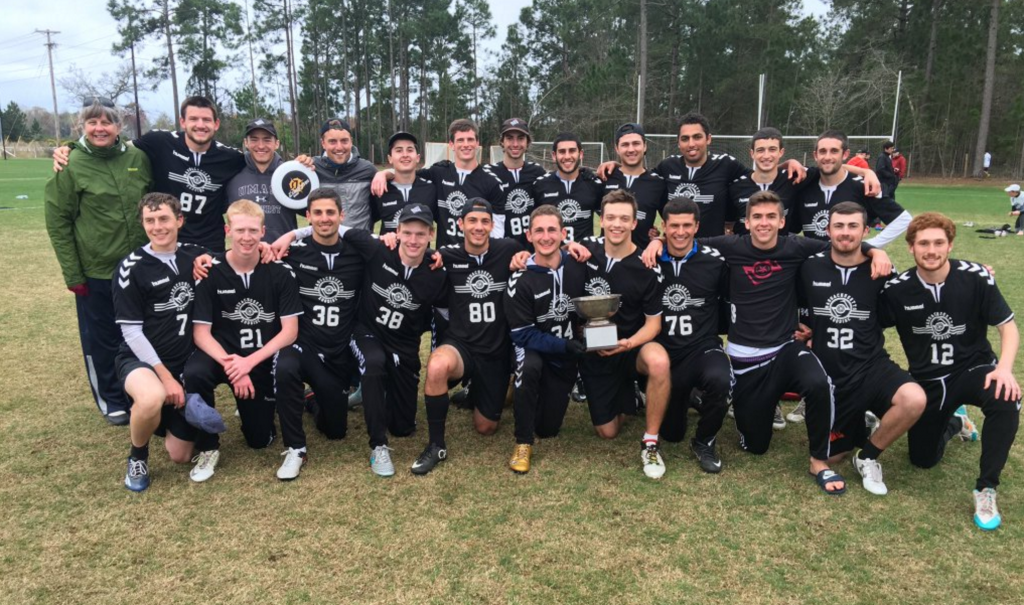 I have been fairly quiet on the pages of Ultiworld this winter, except for dissenting with USAU on moving the club season earlier. I have been consumed with coaching UMass, prepping for our 16th year of NUTC, and tending to my antique business, as well as to my lovely mom. However, do not think that I am unaware of the vagaries of our ultimate world. Here are some quick looks at the tournaments we attended, as well as a bit of a travelogue and my take on some recent trending topics.
– I will always pack cold-weather gear for every spring tournament. I used my gloves at Stanford and Easterns. I should have brought extra pairs, as well as scarves. Boots are a must. You can never bring too many pairs of socks to a tournament or, really, anywhere.
– I am a New Englander through and through. Miserable weather doesn't freak me out, but the sight of a small alligator swishing around a pond in Sunset Beach, NC, is unbearable.
– We attended Easterns, Queen City and the Stanford Invite this season and that is how I would rank them from best to worst. Easterns TD and UNC Wilmington coach Greg Vassar and his crew run a first-rate tournament and he told me that "the players and sport deserve a well run event to cap their season." Even the field guy cleaning up at the end of Sunday was helpful and friendly. A professional event in every way.
I took over 23,000 steps, coaching 7 games at Easterns. It would have been more, but the real bathrooms are real close to most fields. A topnotch complex in North Myrtle Beach.
And speaking of Easterns, after I read Patrick Stegemoller's thorough Saturday recap, I saw this comment from a Pitt parent. This is a joke, right? There is no real antagonism between parent supporters, correct? Because if there is, we need to start prepping the Babbitt/Sadok/Tseytlin extended families for battle.
And the Wisconsin moms were the best at Stanford.
And members of #NUTCnation were everywhere. Look for me during the USAU Series for a NUTC gift for every player or staffer, past or present.
– I don't even remember Queen City but I can't think of any complaints, other than last-minute switching of fields, but I think that was Ultiworld's fault. We always appreciate playing in an early season tournament against strong competition.
– Stanford. Sheesh. We were half a step away from having the schedule written on a torn pizza box on the hood of someone's car. I do not blame the young men or their coaches for the missteps, however. It is simply too important and complex (and expensive) of an event to not have a dedicated tournament director. I don't really know who is responsible for all of this, but I hope that things will be different in 2017, or we may join those programs from North Carolina and Florida that choose not to travel west again.
– My cousin took me on a tour of Google in Palo Alto. I had read about all the perks in the past, but seeing the Google-colored fleet of bikes for anyone to use around "campus" brought it all home. As did having breakfast at one of the 20 free restaurants. As did learning that barbers and dentists visit regularly. They had only volleyball and soccer fields outside though.
– My favorite restaurant of the season so far: The Grit in Athens, GA. And even though North Myrtle Beach is the land of chains, I think the Mellow Mushroom and Bonefish Grill are pretty good. BurgerFi too, although a bit pricey.
– We are lucky to have a grad student by the name of Giovanni Flamini from Bologna, Italy, playing with us this season. He is a strong player and very coachable, yet somewhat baffled when it comes to the rapid fire language of our team. The jargon, the silly games, and the inside jokes are sometimes too fast for him to follow. I feel your pain, Gio.
– The more I coach, the more I think that managing transitions is one of my most important jobs.
– Clearly college men are not interested in pulling inbounds at this point in the season. Sure wish I had gotten the memo.
– You may find this difficult to believe, but I have no hard and fast opinion about the BYU issue. I have read almost everything on it and I cannot really figure out a good option. When I taught and coached in public school, we were explicitly told to support and accommodate every student and athlete who had a religious conflict. But that is as far as my experience takes me.
I do, however, have lots of experience with penalizing players who make mistakes on or off the field. I think that UNCW coach Greg Vassar was put in a difficult position after the debacle in their game vs. Pitt at Easterns. I think the suspension of both players at Conferences is a reasonable partial solution. I have had to do the exact same thing a number of times and the offending players usually had to miss the first game at High School States, a comparable non-punishment.
The best observation I can make about the vitriol that followed this incident is that the outrage was not fueled solely by the fake injury. One lesson I learned early as a high school teacher is that when something major happens, everyone's experience over past minor injustices fuels the fire. People's history with UNCW, or interpretations of SOTG, or other teams, or other sports, or other players, or even our national governing body, all fed into this one overt act. This does not meant to discount what happened but rather to suggest that the level of response was passionate because we are a community that rarely speaks with one voice and has many unresolved issues.
– Zara Cadoux recently wrote a terrific piece called "On Recruiting Women," which examines the tension between mixed and women's teams as they try to fill out their rosters. My favorite line was, "It was like watching a classic divide and conquer strategy — keep us fighting amongst ourselves while the privilege of male athletes remains unchallenged and gender-equity remains a second-tier priority behind a monolithic notion of visibility." I just love that. You can read the entire article here.
– So the US Open is going to be held at the University of Rhode Island over the July 4th weekend? I took some courses at URI and I grew up about 25 mins away in Newport. It is kind of like holding a tournament in New Orleans over Mardi Gras or in Austin during SXSW. Oh wait, we already do that. Anyway, hotels are exorbitantly expensive, the traffic is choking, and every restaurant will be packed. My main suggestion is to stay away from the shoreline and look for cheaper options inland. (And DO NOT order seafood anywhere on Monday, July 4, as all seafood was delivered on the Thursday or Friday preceding the big weekend.) Or maybe I am just jealous that I won't be able to attend this grandiose event because camp opens on July 2.
– For anyone who still believes in the concept of momentum in sports, the last seven seconds of the men's NCAA final should dispel that myth. As long as there is still time left on the clock, any player or team can still compete at 100%. There is no Magical Momentum Dust that changes the course of a game without complete involvement of the athletes, for good or bad.
– I am ready to publicly state that I LOVE The Amazing Race and always have. I had two ex-students who were on it years ago. I have watched every season. I think Kurt and Brodie are going to win the million dollars, although as the challenges become less physical and more mental, I am a little worried. I have also read every review by our Ultiworld crew and I have to say the recurring theme of, "This reality show is so bad and I never really watched it any way and what do we expect from network TV?" is played out. Everyone has their guilty pleasure; I know a number of ultimate players that adore the Bachelor. And I have it on good authority that one of the most vocal Ultiworld critics is also a devoted fan of Jersey Shore.
– Finally, I am excited about the new Ultiworld Forums. I am going to mosey on over to the Strategy Forum after this article is published. This seems like a perfect place to have reasonable exchanges about the challenges we face as coaches and players. Please join me there and ask any questions you may have. As expected, I plan to start with some posts about mental preparation and, maybe, some guesses about who I think will win Project Runway All-Stars.