Big name programs and new powerhouses clash this weekend in Atlanta.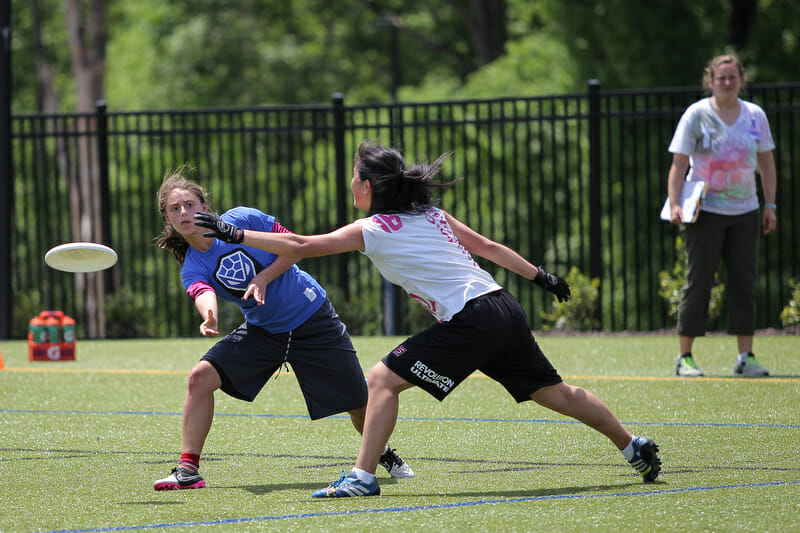 The article is presented by CUT Camps; all opinions are those of the author. Please support the brands that make Ultiworld possible and participate in CUT Camp!
A decade-old southern ultimate tradition continues in Georgia this weekend, as sixteen high school teams descend on Atlanta for the eleventh annual Paideia Cup. Cultures will clash and new friends will be made with the assortment of different ultimate upbringings coming together from across six states.
Just as the ten previous editions of this tournament have hosted high-level competition and camaraderie, this weekend should be no different. With many long-standing programs and new teams set to face off and no shortage of talent in the field, here are the focal points heading into the weekend.
Pre-Tournament Favorites Love It In Georgia
The girls from Holy Family Catholic Omega and boys from the Carolina Friends School Quakers head into the tournament as favorites, who thrive on the high level of competition that Paideia Cup provides. Both squads convincingly won their respective division at Deep Freeze in Chattanooga last month and come to Atlanta looking to continue their strong springs.
Omega enters the weekend as the number one overall seed in the girls division and is pitted against all southern region teams in their pool. Holy Family Catholic coach David Fry commented that Omega always looks forward to this tournament, as the opposition faced and experience the program has gained over their previous five Paideia Cup appearances has been priceless. "We are always challenged, but challenged in a very good way — to be the best both in competition and in spirit. We always come away having had a great weekend and memorable ultimate experiences."
According to Fry, their program has attempted to emulate the unique style of Paideia Cup through their own home tournament. "The tournament is extremely well run and, in fact, as we started running Rivertown Throwdown last year, our first thoughts were what can we learn and reapply from the Paideia Cup?"
Pool A two seed East Chapel Hill coach Josh Hartzog tells us they will try to knock off Omega with a young pack of players in their second season competing. "We are still very young, as is evidenced by the fact we are bringing four juniors, four sophomores, and five freshmen," Hartzog said. Still, he remains confident in his team's success: "We have a lot of very talented players who can hold their own against anyone else." Omega and East Chapel Hill will face off the final round on Saturday in a clash between the best North Carolina and Ohio have to offer in girls high school ultimate.
The Quakers come into the weekend as the top dog in the boys division, but have shown some vulnerability this spring. At the YULA Invite a few weeks ago, Carolina Friends lost to Virginia's HB-Woodlawn on universe point, 8-7. There could have been any number of reasons for the loss — fatigue, injuries, or HB-Woodlawn just catching the Quakers by surprise. Still, Carolina Friends should be the favorite, boasting a deep roster, the best duo in the tournament with two players from the US Junior National Team, and the experience of having won the tournament last season. There is an expectation for them to repeat as Paideia Cup Champions.
Old School Rivalries Rekindled
Amherst Regional Hurricanes have always been in the conversation of traditional top high school programs in the country, but will have their hands full this weekend as Pool D in the boys division looks to stir up that conversation. Amherst, Hopkins, Holy Family Catholic, and Paideia collectively own a total of ten regional high school titles — among many other historic tournament wins and accolades — and boast some of the biggest names in the sport as alumni. These four powerhouse programs will duke it out on Saturday for two spots in the championship bracket. 
Despite their history, coach Joe Costello knows this year's Hurricanes roster lacks exposure as compared to the program's past teams. "The Amherst and Paideia rivalry is well-known to us, but there are no players on our roster who have played at the Paideia Cup, or played regular season games against out-of-region opponents." Last time Amherst competed at Paideia Cup (2010), none of their current players were yet in high school.
But Costello says their team has found a new tie-in to the rivalry. "Leila Tunnell lives in Amherst and has been coaching with (us) since 2014," he says. Tunnell, a noteworthy Paideia alumna, has had a big impact on the Hurricanes, the only team from the Northeast in Atlanta this weekend. "(She) has been a major influence on the Amherst ultimate program since she has been here. I think having her with us will certainly contribute to a different vibe for our team that Amherst boys in the past have not experienced at the Paideia Cup."
Amherst and Paideia Gruel are scheduled to meet in the second round on Saturday; despite being the host team, Paideia seeded themselves fourth in the pool.
Gruel will also renew a rivalry with another of the most renowned high school programs in the country, Hopkins Hurt. "It certainly is a unique experience to travel far to a tournament like Paideia Cup but it's nothing new for us," says Hopkins coach Lou Abramowski, who are regulars in Atlanta.
Not so for the Hopkins girls program. Hert, like the Amherst boys, are similarly traveling to Paideia Cup for the first time since 2010. First year coach for the Hert, Dan Martin, likes the forecast and sites their goals in attending: "Paideia (Cup) will be the first opportunity these girls have to play in decent weather this year. Our eyes are set further down the road for this season and are therefore planning on sticking to deep rotations."
As fate would have it, the first round on Saturday will feature both Paideia vs. Hopkins match-ups, with the boys and girls games happening concurrently, separated by just two fields. "We are thrilled to have the girls coming with us for the first time in several years," says Abramowski. "It is going to be an amazing experience to have both our clubs down there."
Outsiders Look to Steal the Show
Despite the pedigree of the hosts and several other big name high school programs, there is plenty of talent elsewhere in the tournament ready to spring an upset.
The Neuqua Valley program is famous for putting together dedicated rosters of players from top to bottom, and this year's girls team is no different. Coach Andrew Baginski says that his squad, Envy, is looking to improve upon their second place finish at Rivertown Throwdown, where they finished behind Holy Family Catholic Omega. Baginski hopes that experience will allow them to continue learning from their mistakes. "The most impressive thing about our team was the learning and quick adjustments that we were able to make between the first and second days of the [Rivertown Throwdown] tournament. We have only gotten stronger as a team since then."
Baginski also talked about the timing and atmosphere that Paideia Cup provides, "Paideia Cup is a great tournament that falls right around our mid-season mark. There are many strong women's teams that make an appearance at Paideia. The tournament is one of openness and spirited competition, which makes it very enjoyable for players, spectators, and coaches alike." The Envy ladies find themselves in a tough Pool B on Saturday, along with Paideia Groove, Hopkins Hert, and University School of Nashville.
The boys division also boasts a relative outsider looking to make waves this weekend. Traditionally the only programs from the mid-west that attend Paideia Cup are teams already well-known to the ultimate community, but this year a first time attendee — Edina — is looking for upsets. Hurt coach Lou Abramowski is already well aware of the threat posed by his fellow Minnesotans. "For the first time in my twelve seasons coaching Hopkins, there is a team from Minnesota that has beaten us five times already this year. From what I have seen so far, Edina's' team is the best they have ever had by a large margin."
Edina Green Lantern coach Nate Wohl talks about the program's ambitions: "Hopkins has enjoyed a ton of success at Paideia Cup in the past representing Minnesota and with other central regional teams; we wanted to be the next central region team to compete and represent at Paideia Cup." The last time multiple Minnesota schools competed at Paideia Cup was in 2007, when Cretin Derham Hall made the trip with Hopkins.
While Green Lantern carry 25 regular players on their varsity roster, only 16 will be making the trip to Atlanta this weekend. Wohl thinks this core should still be enough to show off their competitive nature in Georgia. "As a first year [attendee], we hope that being a bit of an unknown outside the central region can be an advantage as teams may not know what to expect when seeing us."
Just as many other programs experience when starting out, Edina is turning multi-sport athletes into ultimate players who want to play the sport in high school and potentially beyond. "This is a big step for our program and we are honored to be recognized in an elite invitational tournament with a long prestigious history, as Paideia Cup has." Edina enters the weekend as a two seed in Pool C, starting their trip by playing regional competitor Neuqua Valley.
Tournament Layout
Girls Draw
Pool A: Holy Family Catholic Omega (OH), East Chapel Hill Combo (NC), Grady (GA), MELD (GA)
Pool B: Paideia Groove (GA), Neuqua Valley Envy (IL), Hopkins Hert (MN), University School Nashville (TN)
Boys Draw
Pool C: Carolina Friends School Quakers (NC), Edina Green Lantern (MN), Grady Gauntlet (GA), Neuqua Valley (IL)
Pool D: Amherst Regional Hurricanes (MA), Hopkins Hurt (MN), Holy Family Catholic Revolution (OH), Paideia Gruel (GA)
After a Saturday round robin, the top two teams in each pool will move on to the championship bracket while the bottom two compete in a consolation bracket on Sunday.
Paideia Cup places an especially high demand on spirited competition, one of the defining elements of the tournament. In addition to the trophy for that tournament champions, teams are also competing for a team spirit award, based on the WFDF format spirit scores (rules knowledge and use, fouls and body contact, fair-mindedness, positive attitude and self-control, communication), as rated by their opponents.