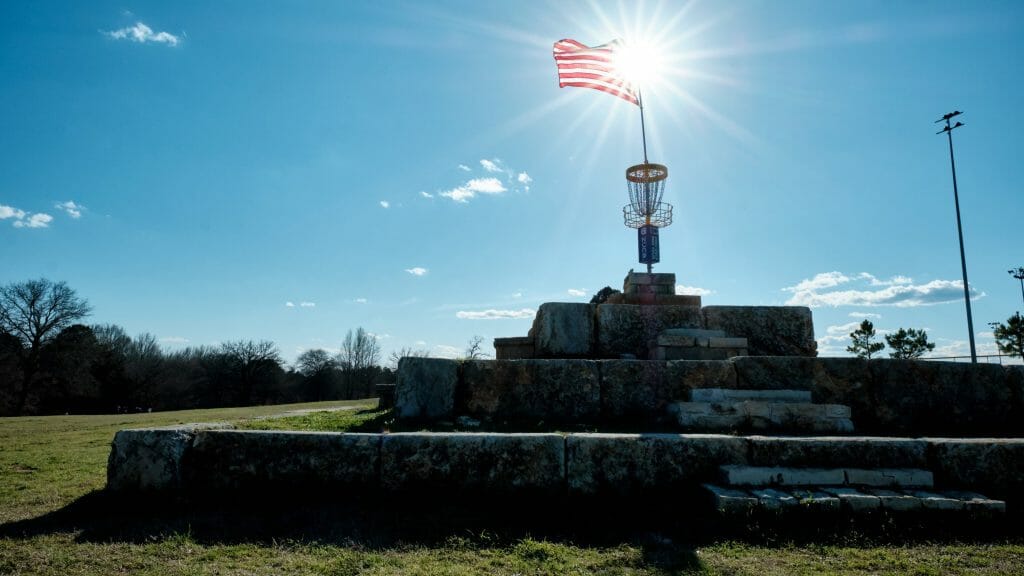 The Thorn is a nice course, lovely really, and I would be excited to play it myself. The Texas States crowd was well controlled, and there hasn't been any sort of indication that the tournament was anything other than a professionally organized and executed event. The weather looked nice, and there was plenty of action with players moving on and off the lead card in both divisions all weekend. So many great things to say about this tournament, which caps off a three stop tour of Texas which launched the 2022 season in exceptional fashion.
Except there's a damn baseball field fence. It was like having a commercial break in the middle of a movie at a theater. Like a rock in your shoe. Like a hair in your takeout order. Like hitting the band on a five footer. Unless we are in Winthrop, Elite Series events should not be utilizing other sports fields as features of a course. Can you imagine a professional baseball game being played with a disc golf basket in foul territory? No, you can't, because it's insane and would look unprofessional. With all due respect to the grassroots history of the game, and all the love to courses on mixed use, public facilities (shout out to Pye Brook in Topsfield, MA), it's time to expect that Elite Series holes are not playing around other sporting facilities.
I'm looking at you, Ledgestone.
Where were we? Ah, yes, the golf.
Tournament Talk: The Texas Swing Comes to a Close is only available to Ultiworld Subscribers
Already have a subscription? Log in
Whether you visit Ultiworld for our reporting, our podcasts, or our video coverage, you can help us continue to provide high quality content with a subscription. By becoming a subscriber, not only do you receive benefits like exclusive articles and full article RSS feeds, you also help fund all of Ultiworld's coverage in general. We appreciate your support!